We all crave delicious fried food from time to time. However, if those cravings become a regular habit, then those fried foods can really wreak havoc on our health! The perfect solution is to try using an air fryer!
Air fryer's work by circulating hot air around the food at fast speeds to simulate the flavor and texture of deep fried food. The best part is that it can accomplish the same texture and flavor with a small fraction of oil when comparing to the deep fried method. In addition, using this method will result in much less fat too. This week, stock up on a Costco-sized package of chicken because we're going to share delicious chicken recipes that are effortlessly prepared in an air fryer!
1. Air Fryer Chicken Parmesan
Enjoy crispy fried chicken parmesan without the extra fat! You'll be surprised to discover that the air fryer crips the chicken to golden perfection.
For this recipe, you'll use chicken cutlets. Dip them in a seasoned batter and top with spaghetti sauce and shredded cheese. Once cooked, pair with your favorite sides such as Caesar salad!
https://www.plainchicken.com/2019/01/air-fryer-chicken-parmesan.html PHOTOS AND RECIPE HERE: PLAIN CHICKEN
2. Popcorn Chicken
Skip the drive-through and use your air fryer to make this healthier version of fried popcorn chicken! These delicious fried chicken bites will please the whole family, especially those picky eaters!
Simply cut chicken tenders into small pieces and combine with the marinade in a ziplock bag. It's important to allow the chicken to soak in the marinade for at least 2 hours but up to 6. Then dip the chicken in the dry ingredients and cook in the air fryer.
https://www.urbanblisslife.com/air-fryer-popcorn-chicken/ PHOTOS AND RECIPE HERE: URBAN BLISS LIFE
3. Air Fryer Whole Chicken
Store-bought rotisserie chickens are the saving grace to busy weeknights. After all, it's a quick, easy and relatively inexpensive way to feed the whole family. The next time you're craving a rotisserie chicken be sure to try cooking it in your air fryer! It's just as easy and results in an irresistibly tender chicken!
The air fryer creates a wonderful crispy outer layer and tender juicy meat. The chicken does need about 50-60 minutes to cook in the air fryer but that time is spent hands off so you can catch up on your favorite shows.
https://jenniferbanz.com/air-fryer-whole-chicken PHOTOS AND RECIPE HERE: LOW CARB WITH JENNIFER
4. Whole30 Lemon Pepper Chicken
Do you have a craving for something light and healthy? Whip up this lovely lemon pepper chicken. It may be whole30-friendly, but it certainly doesn't lack any flavor!
This chicken is seasoned with a dash of salt, and pepper, garlic, chicken seasoning, and fresh lemon. To ensure the chicken is infused with the flavor, wrap it tightly in foil. Then, place the foil-wrapped chicken in your air-fryer and before you know it you'll have a lovely meal ready to dig into!
https://www.recipethis.com/whole30-lemon-pepper-chicken-in-the-air-fryer/ PHOTOS AND RECIPE HERE: RECIPE THIS
5. Crispy Air Fryer Chicken Tenders
You'll feel good about feeding these homemade chicken tenders to your kids and better yet, they'll go crazy for them! This recipe also shares a KFC copycat seasoning that makes these tenders seriously addictive!
Start by marinating the tenders in buttermilk for a minimum of 30 minutes! Then toss the tenders in the breadcrumb mixture and cook in the air fryer until they're a lovely golden color.
https://platedcravings.com/air-fryer-chicken-tenders/ PHOTOS AND RECIPE HERE: PLATED CRAVINGS
6. Air Fryer Chicken Wings with Buffalo Sauce
Buffalo chicken wings are a crowd-pleaser! So why not prepare a tasty batch effortlessly in your air fryer. You'll be happy to know that they still have that delicious crispy outer layer you love!
In addition to instructions on how to cook the wings, you'll also be provided with a recipe to make a homemade buffalo sauce. While the wings cook in the air fryer, you'll want to prepare the sauce and then complete by combining the two together.
https://lowcarbyum.com/air-fryer-chicken-wings-buffalo-sauce/ PHOTOS AND RECIPE HERE: LOW CARB YUM
7. Air Fryer Keto Fried Chicken
The next time you're craving "Finger-Lickin' Good" Chicken from KFC be sure to give this recipe a try! This recipe is a low carb version of your favorite southern staple and is cooked effortlessly in an air fryer.
The breaded coating is made from keto-friendly almond flour. In addition to the flour, it's seasoned with delicious Creole seasoning, paprika, and garlic powder. From prep to the table you can enjoy this delicious dinner in just 35 minutes!
https://www.thismomsmenu.com/air-fryer-keto-fried-chicken/ PHOTOS AND RECIPE HERE: THIS MOM'S MENU
8. Air Fryer Chicken Chimichangas
Chicken chimichangas are just like deep fried burritos. However, instead of grabbing them from your favorite restaurant, this homemade version is easily prepared in an air fryer.
You'll need ingredients such as store-bought rotisserie chicken and flour tortillas to help make this recipe quick and easy. Along with those two main ingredients, you'll also need other essential burrito fillings such as refried beans, shredded cheese, and taco seasoning. Once assembled, cook in the air fryer for about 7 minutes.
https://www.tablespoon.com/recipes/air-fryer-chicken-chimichangas/6fa07169-450c-4948-8d6e-3eb87750168b?utm_medium=social&utm_source=pinterest&utm_campaign=fall2018%3Fmktgimp%3DOEPCDMTS&crlt.pid=camp.jIG1meyk1nfL PHOTOS AND RECIPE HERE: TABLESPOON
9. Maple-Lime Chicken Thighs
Never eat boring chicken thighs again! These delicious air-fried chicken thighs are smothered in a sweet and tangy sauce that you are surely going to enjoy.
The sweet and tangy flavors come from maple syrup and lime juice and are balanced by a dash of savory thanks to Worcestershire sauce. Further, when air-fried, the maple syrup creates a lovely caramelized outer layer that is to die for!
https://ifoodblogger.com/air-fryer-chicken-thighs/ PHOTOS AND RECIPE HERE: I FOOD BLOGGER
10. Crispy Air Fryer Chicken Breast
Chicken breast can be delicious on its own but add a lightly breaded layer, and you'll have an unforgettable dinner. These golden chicken breasts are air fried with a dash of oil which makes this meal a much healthier alternative to deep fried chicken.
The breaded coating is made from bread crumbs and several delicious seasonings. Simply drizzle the chicken breasts with olive oil and then coat in the bread crumb mixture. Lastly, these chicken breasts only need about 15 minutes to cook in the air fryer.
https://littlesunnykitchen.com/air-fryer-chicken-breast/ PHOTOS AND RECIPE HERE: LITTLE SUNNY KITCHEN
11. Air Fryer Rotisserie Chicken and Cheese Taquitos
Try something different tonight and whip together these cheesy chicken taquitos. They're made with pre-cooked rotisserie chicken, cheese, and a few tasty seasonings.
Wrap the chicken filling in a flour tortilla and crisp up in an air fryer. Once the taquitos are crispy, serve hot and with a side of sour cream and salsa!
https://kellysthoughtsonthings.com/air-fryer-rotisserie-chicken-and-cheese-taquitos-recipe/ PHOTOS AND RECIPE HERE: KELLY'S THOUGHTS ON THINGS
12. Air Fryer Fried Chicken Sandwiches
These homemade chicken sandwiches may be healthier and tastier than your store-bought chicken burgers! They're effortlessly made from scratch using chicken breast, and a simple bread crumb coating and the air fryer will cook the chicken burgers to golden perfection.
In addition to the air fried chicken, you'll also be provided with a recipe to make a delicious chicken sauce, and a lovely crunchy slaw to serve on top! This delicious meal will surely become a new family favorite.
https://platedcravings.com/air-fryer-fried-chicken-sandwiches/ PHOTOS AND RECIPE HERE: PLATED CRAVINGS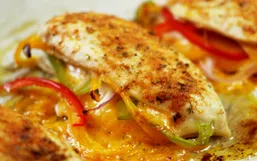 It's no surprise that chicken breast is such a popular dinner choice for so many families.
Chicken is a great staple in the kitchen. It tastes wonderful on its own and you can make it in many different styles.
Chicken stir-fry is an easy and healthy meal that has become a staple in many households.
Spring is officially upon us and there's no better time than now to start dreaming up some fresh and delicious meal ideas.
Chicken breast is an incredibly popular dinner main. Popular for its light taste, lean protein benefits, low price tag, and...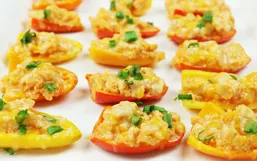 When you're starting or living on a low-carb diet, snacks and appetizers is often the biggest hurdle to overcome.
Chicken is a great go-to meal when you don't know what to make for dinner.
Chicken is a highly sought-after ingredient because it is rich in protein, is relatively budget-friendly, and you are almost...
A great way to add some flavor to your sandwich or wrap is by adding chicken.
Chicken fingers are one of the best foods to satisfy a fast food craving.
Chicken is a great supper option to fill up on tons of protein without overloading on fat or calories.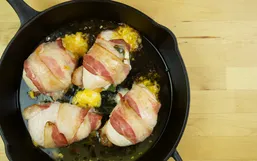 There's no denying that jalapeño poppers are a fan-favorite appetizer!