When you're starting or living on a low-carb diet, snacks and appetizers is often the biggest hurdle to overcome. Almost everything is laden with sugars and carbs, limiting your options when you're ready for some appetite-satisfying bites. That's why we started working on more recipes to solve that. After the success of the surprising combination of pickles & tuna in this recipe, we decided we wanted to explore more ways of serving up low-carb snacks. With the rising growth of individuals trying out that Ketogenic diet, it's awesome when you find just another amazing snack option to get you through. Thought you were going to miss carbs? Think again. These buffalo chicken bites will have you craving nothing more, than just more of these bites!
Ingredients
1 bag mini sweet peppers, seeded & halved
2 cans shredded chicken (leftover rotisserie chicken can also be used)
1/4 cup mayo (we used a sugar free variety)
3 tbsp buffalo wing sauce
1/2 cup shredded cheese
1/4 cup Green onions, diced
Method
Once you have all your mini sweet peppers cut in half, and seeded, line them up on a plate, ready for loading up!
Mix your chicken, mayo & buffalo wing sauce together. Spoon into the pepper boats!
Enjoy as is - or level up! Place all the buffalo chicken peppers onto a baking sheet, and top with shredded cheese and green onions. Broil for 3-5 minutes on HIGH until the cheese is melted to your liking.
Drizzle with additional buffalo sauce. Serve up, and store extras in the fridge!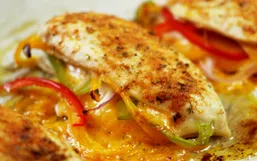 It's no surprise that chicken breast is such a popular dinner choice for so many families.
Chicken is a great staple in the kitchen. It tastes wonderful on its own and you can make it in many different styles.
Chicken stir-fry is an easy and healthy meal that has become a staple in many households.
A great way to add some flavor to your sandwich or wrap is by adding chicken.
Spring is officially upon us and there's no better time than now to start dreaming up some fresh and delicious meal ideas.
Chicken breast is an incredibly popular dinner main. Popular for its light taste, lean protein benefits, low price tag, and...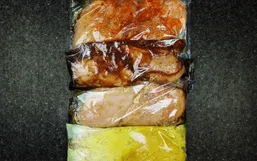 While summer brings out that desire to get marinading and grilling up a storm, these recipes for marinades will last you all year...
Chicken fingers are one of the best foods to satisfy a fast food craving.
Chicken is a great go-to meal when you don't know what to make for dinner.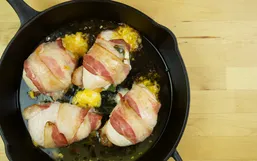 There's no denying that jalapeño poppers are a fan-favorite appetizer!
Sheet pan dinners are the answer to all your weekday dinner problems.
We all crave delicious fried food from time to time. However, if those cravings become a regular habit, then those fried foods can...