Chicken is an amazing protein-packed versatile ingredient. We've mastered how to cook delicious chicken breast but what about chicken thighs. They surely don't get the attention they deserve. Firstly, chicken thighs are often cheaper than chicken breasts, and they're often a lot juicer too. So why don't we cook with them more often? Perhaps it's because we just don't know how!
Today we're sharing 12 tasty ways to cook this awesome ingredient. You'll fall in love with chicken thighs all over again and you might find that you save yourself a few dollars too. The best part is that all of these recipes are quick and easy which means they're great contenders for busy weeknights!
1. Extra Crispy Oven-Fried Chicken Thighs
Enjoy the crispy goodness of deep-fried chicken just without all the extra calories! These extra-crispy oven-friend chicken thighs will surely capture the attention of everyone at your dinner table.
These thighs are coated in a simple seasoning mixture and then are cooked in the oven. Finish by tossing the thighs in your favorite sauce, serve with your favorite sides and enjoy!
https://cravingtasty.com/crispy-oven-fried-chicken-thighs/ PHOTOS AND RECIPE HERE: CRAVING TASTY
2. Creamy Jalapeno Popper Chicken Thighs
Your favorite party appetizer now served in a delicious dinner. This creamy jalapeno popper chicken dinner will surely be a hit in your house.
It's exploding in flavor and contains just enough heat to keep this dish interesting. This creamy dish is filled with ooey-gooey cheese and crumbled bacon pieces!
https://northernnester.com/creamy-jalapeno-popper-chicken-thighs-thm-s/?fbclid=IwAR1WjB6CdJlCbtrDBnywe1Jh4YfBC6ogrsfGLmEjRbaCMimjp21UA-i8t1c PHOTOS AND RECIPE HERE: NORTHERN NESTER
3. Chicken Stroganoff
I'm sure you've devoured beef stroganoff but have you ever thought of enjoying the same delicious flavors with chicken? Well, this recipe proves that it can be done and it can be done well!
Tender chicken thighs are engulfed in a creamy stroganoff sauce and are served over noodles. You'll need to make the sauce from scratch but rest assured, this lovely meal still comes together in just 20 minutes!
https://www.recipetineats.com/chicken-stroganoff/ PHOTOS AND RECIPE HERE: RECIPE TIN EATS
4. Bacon-Wrapped Chicken Thighs
Bacon makes everything better, right? So go ahead and wrap boneless chicken thighs with bacon and toss it in the oven.
This delicious dinner comes together in just 25 minutes which makes it an excellent weeknight contender. Experience savory bacon flavors with a dash of brown sugar that together create the perfect combination of sweet and salty. Your family will go crazy for these and they're bound to request them again!
https://www.courtneyssweets.com/bacon-wrapped-chicken-thighs/ PHOTOS AND RECIPE HERE: COURTNEY'S SWEETS
5. Crock Pot Honey Garlic Chicken
Honey garlic is one of the most popular flavors for chicken wings! So there is no question that this dinner will be a hit at your dinner table. After all, it's the perfect combination of sweet and savory!
Simply toss the ingredients into the slow cooker, set it and forget it! Let your slow cooker do all the hard work while you relax. Now you have loads of time for yourself or to spend it with your family.
http://www.forkly.com/recipes/crock-pot-honey-garlic-chicken/ PHOTOS AND RECIPE HERE: FORKLY
6. Baked Pineapple Chicken Thigh Marinade
What makes this chicken thigh dinner stand out from the rest is the outstanding marinade. The chicken thighs bathe in a luxurious mixture of sweet pineapple juice, savory soy sauce, and garlic!
It's recommended that you allow the chicken to marinate for at least 6 hours or overnight. So go ahead and get this dinner prepped the day before so that the next day all you have to do is toss it in the oven.
https://www.munchkintime.com/baked-pineapple-chicken-thigh-marinade/ PHOTOS AND RECIPE HERE: MUNCHKIN TIME
7. Honey-Orange Skillet Chicken Dinner
Honey-orange chicken dinner tastes like your favorite takeout meal but better because it's homemade! It's full of aromatic sweet and tangy flavors that you're going to love.
First, you'll need to simmer the sauce ingredients together so that the flavors can morphe into one enticing sauce. Finish the dish by cooking the chicken and serve it with your favorite sides!
https://therecipecritic.com/honey-orange-glazed-chicken/ PHOTOS AND RECIPE HERE: THE RECIPE CRITIC
8. Quick & Easy Instant Pot Chicken Ramen
Ramen is perfect for lunch and dinner and can be enjoyed all year round. When you find yourself craving something warm and inviting be sure to try our quick and easy chicken ramen recipe!
It comes together incredibly quickly thanks to the Instant Pot. You essentially dump the ingredients in, set the pot, and walk away until it beeps, notifying that it is complete! For this recipe, you'll use boneless, skinless chicken thighs! Finish the ramen by adding your favorite toppings! Some great options are sesame seeds, egg, and green onions.
http://www.forkly.com/recipes/quick-easy-instant-pot-chicken-ramen/ PHOTOS AND RECIPE HERE: FORKLY
9. Baked Buffalo Chicken Thighs
Buffalo chicken wings are a crowd favorite so you're bound to fall in love with these baked buffalo chicken thighs. After all, you won't be able to resist the spicy finger-licking good sauce!
This budget-friendly recipe requires just 5 ingredients and 30 minutes of your time. Serve the thighs with blue cheese crumbles, and veggie sticks!
https://www.ourlifetastesgood.com/2018/06/baked-buffalo-chicken-thighs.html PHOTOS AND RECIPE HERE: OUR LIFE TASTES GOOD
10. Greek Chicken Sheet Pan Dinner
Sheet pan dinners are amazing for 2 reasons. First, they allow you to prepare an entire meal all in one shot. This means no additional pots and minimal effort. Secondly, since you're cooking on one pan this also means fewer dishes to clean.
I don't' know about you but a quick and easy dinner and an easy clean up is a serious win in my books! Our delicious Greek chicken sheet pan dinner is infused with fragrant flavors and comforting ingredients.
http://www.forkly.com/recipes/greek-chicken-sheet-pan-dinner/ PHOTOS AND RECIPE HERE: FORKLY
11. Baked BBQ Chicken Thighs
This chicken thigh recipe will have you enjoying barbecued meat at any time of the year. These baked BBQ chicken thighs taste like they came straight from the grill but really, they were cooked in the oven!
The recipe provides a few tips and tricks on how to achieve the perfect texture. You'll also be provided with instructions on how to vamp up your BBQ sauce so that it tastes outstanding!
https://cravingtasty.com/baked-bbq-chicken-thighs/ PHOTOS AND RECIPE HERE: CRAVING TASTY
12. Sheet-Pan Honey Chili Chicken With Veggies
Cook your veggies and your protein all one sheet pan! Make it extra special by smothering the dinner in a dreamy honey chili sauce!
This colorful dinner will capture your family's attention and the flavor will have them asking for more! While this does serve well on its own, it would pair wonderfully with a side of rice too!
https://www.eatwell101.com/honey-chili-chicken-sheet-pan-dinner PHOTOS AND RECIPE HERE: EAT WELL 101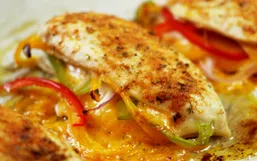 It's no surprise that chicken breast is such a popular dinner choice for so many families.
Chicken is a great staple in the kitchen. It tastes wonderful on its own and you can make it in many different styles.
Chicken stir-fry is an easy and healthy meal that has become a staple in many households.
A great way to add some flavor to your sandwich or wrap is by adding chicken.
Spring is officially upon us and there's no better time than now to start dreaming up some fresh and delicious meal ideas.
Chicken breast is an incredibly popular dinner main. Popular for its light taste, lean protein benefits, low price tag, and...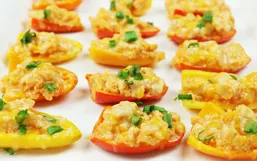 When you're starting or living on a low-carb diet, snacks and appetizers is often the biggest hurdle to overcome.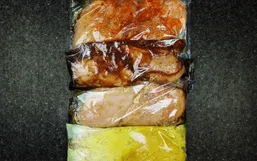 While summer brings out that desire to get marinading and grilling up a storm, these recipes for marinades will last you all year...
Chicken fingers are one of the best foods to satisfy a fast food craving.
Chicken is a great supper option to fill up on tons of protein without overloading on fat or calories.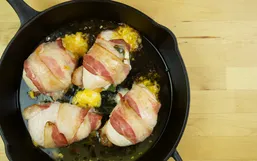 There's no denying that jalapeño poppers are a fan-favorite appetizer!
Sheet pan dinners are the answer to all your weekday dinner problems.