Spring is officially upon us and there's no better time than now to start dreaming up some fresh and delicious meal ideas. Cook up a zesty spring-inspired meal for your family this week using one of our citrus-infused recipes below. Adding a splash of fresh lemon or lime to any recipe will instantly make it test fresh and delicious. From honey lime chicken enchiladas to easy baked salmon, there's no shortage of great recipes that will keep your family healthy and satisfied this spring season.
Here are 10 Zesty Chicken and Fish Dinner Ideas for Spring:
1. Herb, Lemon and Butter Tilapia
I love to cook fish because it is so versatile and usually simple to make. This is one of my Mom's creations that helped instill my love of seafood at a young age. Creamy, lemony, herb butter coats the Tilapia and gives it great flavor. You could substitute any fish you like: salmon, halibut, etc. Serve it with some fresh steamed vegetables and you have a quick, healthy, meal!
2. Sticky Lemon Chicken
This is my kids' favorite recipe, which is great because it's not only delicious but it's so good for them as well. The lemon really adds a kick of freshness and the chicken ends up being so moist and tasty. I hope your family enjoys it as much as mine.
3. Lemon Rosemary Chicken
I adapted this recipe from one that I saw on a cooking show. They were grilling the chicken, but I didn't have a grill, so I figured sautéing the chicken would work just as well. It is relatively easy to make and pairs well with potatoes, pasta, or rice, and any vegetable. This recipe is actually pretty healthy as well. The rosemary and lemon give it a refreshing taste that is sure to please.
4. Grilled Lemon Thyme Chicken
This is a high protein, clean, yummy Grilled Chicken. The flavor is light and delicious and the yellow color from the tumeric is beautiful. Versatile dish that can be used to add to many recipes (sandwiches, salads, sauces, burritos, etc…)
5. Citrus Fish Fillets
Citrus flavors give these Orange Roughy fillets a light fresh flavor that everyone will love. This quick recipe is perfect for people who are watching their calories, but still want to enjoy a great tasting meal. Serve it up with a healthy salad, or some rice and vegetables. Refreshing!
6. Grilled Chicken Sandwich with Chipotle Mayo
I love chicken sandwiches, especially spicy ones! This is a simple recipe that you can make when you want something a little more exciting than the everyday sandwich. Spicy chipotle mayonnaise gives it some kick, while the avocado adds some creaminess. You could even make the chicken by itself and serve with some rice and veggies, instead of making a sandwich. There are so many ways to enjoy this simple recipe!
7. Grilled Chile Lime Chicken
This is a main dish and, trust me, the leftovers are as delicious as the actual meal (which is incredibly delicious). This recipe has been a favorite in our family for many years and once you try it you'll know exactly why!
8. Honey Lime Chicken Enchiladas
Spicy, sweet, tangy, and cheesy, these enchiladas are a delightful and delicious twist on a typical chicken enchilada. The chicken is marinated in a combination of lime juice and honey, making it tender and flavorful, and the enchiladas are smothered in a creamy, cheesy sauce. People will ask you for this recipe!
9. Sesame Salmon with Cucumber Salad
Don't let the long list of ingredients scare you off. This is a deliciously light, summer meal that really comes together quickly and will please the whole family! The recipe that follows mentions baking the salmon filets, but I've also grilled them with excellent results. Do whatever works for you!
10. Easy Baked Salmon
This is a family favorite recipe. Some of the people in my family don't even like salmon but they love this recipe. It's such a unique way to prepare salmon and you'll love the moist texture and citrus flavor from the lemons. Enjoy!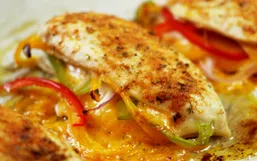 It's no surprise that chicken breast is such a popular dinner choice for so many families.
Chicken is a great staple in the kitchen. It tastes wonderful on its own and you can make it in many different styles.
Chicken stir-fry is an easy and healthy meal that has become a staple in many households.
Chicken breast is an incredibly popular dinner main. Popular for its light taste, lean protein benefits, low price tag, and...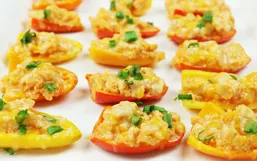 When you're starting or living on a low-carb diet, snacks and appetizers is often the biggest hurdle to overcome.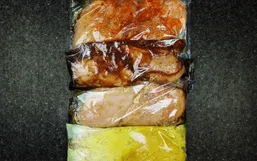 While summer brings out that desire to get marinading and grilling up a storm, these recipes for marinades will last you all year...
We all crave delicious fried food from time to time. However, if those cravings become a regular habit, then those fried foods can...
Chicken is a highly sought-after ingredient because it is rich in protein, is relatively budget-friendly, and you are almost...
A great way to add some flavor to your sandwich or wrap is by adding chicken.
Chicken fingers are one of the best foods to satisfy a fast food craving.
Chicken is a great supper option to fill up on tons of protein without overloading on fat or calories.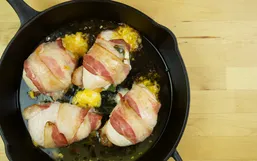 There's no denying that jalapeño poppers are a fan-favorite appetizer!