Chicken is a great go-to meal when you don't know what to make for dinner. It has a lovely mild flavor, and even picky kids love it. It can get boring when you make chicken the same way every time. Chicken also dries out really easily, leaving a tough and flavorless meal. A great way to spice up your chicken is by stuffing it! The chicken will stay moist and delicious, and you'll get an explosion of flavor.
1. Caprese Stuffed Balsamic Chicken
Fill your chicken breasts with fresh mozzarella, basil and tomato, then smother it with balsamic vinegar. Perfection!
https://cafedelites.com/caprese-stuffed-balsamic-chicken/ Photos and Recipe By: Cafe Delites
2. Grilled Hasselback Fajita Stuffed Chicken
The only way to make chicken taste better would be to stuff it with peppers and cheese. That's where this recipe comes in. It's a quick and simple dinner that your entire family will love. To add some spice, try using pepper-jack cheese.
http://thegirlonbloor.com/grilled-hassleback-fajita-stuffed-chicken/ Photos and Recipe By: The Girl On Bloor
3. Stuffed Chicken Roll-Ups
Why just grill boring old boneless skinless chicken breasts when you can roll 'em up with prosciutto, provolone cheese and basil? Serve with pasta, or lighter fare, serve on a salad!
http://www.bhg.com/recipe/prosciutto-provolone-stuffed-chicken-breasts/ Photos and Recipe By: BHG
4. Jalapeno Popper Stuffed Chicken
Looking for a way to jazz up a boring chicken dinner? Look no further! In this recipe, the flavors of a jalapeno popper are stuffed inside boneless skinless chicken breasts. The result? Absolute dinner perfection, and not boring in the least!
http://www.closetcooking.com/2012/11/bacon-wrapped-jalapeno-popper-stuffed.html Photos and Recipe By: Closet Cooking
5. Holiday Stuffed Chicken
Stuffed pounded chicken breast filled with apples, cranberries and herbs. It's extremely delicious and worth taking the time to make it – especially for special occasions.
https://paleoleap.com/cranberry-apple-stuffed-turkey-breasts/ Photos and Recipe By: Paleo Leap
6. Apple and Gouda Stuffed Chicken
Apples aren't just for pies! In this recipe, they're combined with sharp gouda and stuffed inside chicken breasts. The sweet apples pair perfectly with the sharp bite of the cheese!
http://www.rachelcooks.com/2016/03/07/apple-gouda-stuffed-chicken-breasts-smoky-roasted-sweet-potatoes/ Photos and Recipe By: Rachel Cooks
7. Ham and Cheese Stuffed Chicken Rolls
Ham and chicken go together beautifully. You can use any type of sliced ham, but go for smoked or honey for a unique flavor. Pair any favorite cheese with this dish. Swiss is a great option.
http://flavorite.net/2015/09/28/chicken-cordon-bleu/ Photos and Recipe By: Flavorite
8. Cream Cheese and Pesto Stuffed Chicken
In this recipe, chicken breasts are stuffed with a combination of cream cheese and pesto. The filling is creamy and earthy, the perfect thing to jazz up ordinary chicken breasts.
https://www.myorganizedchaos.net/2015/11/pesto-cheese-stuffed-chicken-rolls Photos and Recipe By: My Organized Chaos
9. Chicken Stuffed with Spinach and Feta Cheese
This recipe is a great way to add a little flavor to an otherwise boring chicken breast. The spinach keeps the bird moist, while the feta adds a great saltiness.
http://basilandbubbly.com/spinach-stuffed-chicken-breasts/ Photos and Recipe By: Basil and Bubbly
10. Asparagus Stuffed Chicken
Salty ham, earthy asparagus, and tangy provolone serve as the filling for chicken cutlets in this quick and delicious recipe. The presentation is pretty enough for company, but the recipe is easy enough for a weeknight meal.
http://www.primaverakitchen.com/asparagus-stuffed-chicken-breast/#recipe Photos and Recipe By: Primavera Kitchen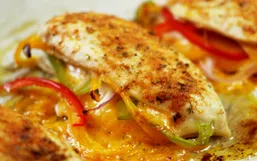 It's no surprise that chicken breast is such a popular dinner choice for so many families.
Chicken is a great staple in the kitchen. It tastes wonderful on its own and you can make it in many different styles.
Chicken stir-fry is an easy and healthy meal that has become a staple in many households.
Spring is officially upon us and there's no better time than now to start dreaming up some fresh and delicious meal ideas.
Chicken breast is an incredibly popular dinner main. Popular for its light taste, lean protein benefits, low price tag, and...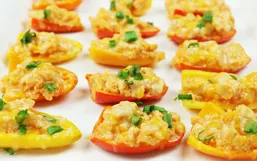 When you're starting or living on a low-carb diet, snacks and appetizers is often the biggest hurdle to overcome.
Chicken is a highly sought-after ingredient because it is rich in protein, is relatively budget-friendly, and you are almost...
We all crave delicious fried food from time to time. However, if those cravings become a regular habit, then those fried foods can...
BBQ Chicken is a common staple for any family who owns a BBQ in the summertime.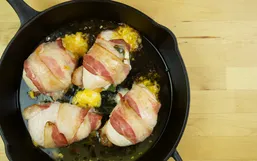 There's no denying that jalapeño poppers are a fan-favorite appetizer!
A great way to add some flavor to your sandwich or wrap is by adding chicken.
Sheet pan dinners are the answer to all your weekday dinner problems.