Chicken is widely popular because it's high in protein but low in calories and rich in essential vitamins. It's favored by both adults and children because when cooked, it has a soft and tender texture and a mild flavor that often won't turn away even the pickiest eaters.
Related Topics (Ads):
Chicken can be the star of the show for many family-friendly meals. If you're following the ketogenic diet and need to expand your meal lists then you need to add these chicken recipes. Each one is unique but equally exciting and better yet, the whole family will love them even if they're not following the keto diet too.
1. Easy Keto Chicken Ramen
Having a delicious soup recipe on hand is crucial when trying to get through the colder months, or worse, the Keto flu. Some symptoms may include fatigue, headache, irritability, and difficulty in focusing. This recipe was inspired and created to fix just that, the keto flu.
This soup is made up of a delicious broth, eggs, shirataki noodles to keep it low-carb and green onions. Even if you aren't going through the keto flu you'll love this warm and charming soup.
https://www.brokefoodies.com/easy-keto-chicken-ramen/ PHOTOS AND RECIPE HERE: BROKE FOODIES
2. Mini Keto Chicken Pot Pies
Anything that comes in miniature is automatically adorable. However, these mini chicken pot pies appearance isn't the only thing that makes them great, they're keto friendly too! These single serving mini pot pies freeze well so ensure you make a large batch so you can have a quick grab and go meal.
These pies are filled with fragrant and savory flavors that creates a comforting and delicious meal. The crust isn't any ordinary pot pie crust, to make it keto-approved it's made from almond and coconut flour, eggs, butter and loads of ooey-gooey cheese.
https://www.ruled.me/keto-mini-chicken-pot-pies/ PHOTOS AND RECIPE HERE: RULED
3. Bacon-Wrapped Keto Jalapeno Popper Chicken
Jalapeno poppers make great appetizers but this bacon-wrapped jalapeno popper chicken makes for one satisfying meal. We've created a recipe that transforms the delicious flavors of jalapeno poppers into a meal that the whole family will get excited about.
The recipe starts with boneless, skinless chicken breasts that are stuffed with shredded cheese, half a jalapeno, and cream cheese. To finish, you'll wrap the chicken in slices of bacon and cook until the bacon is nice and crispy and the chicken has been cooked through.
http://www.forkly.com/recipes/bacon-wrapped-keto-jalapeno-popper-chicken/ PHOTOS AND RECIPE HERE: FORKLY
4. Keto Chicken Parmesan Casserole
Are you missing a classic meal like chicken parmesan while on your keto diet? Stop neglecting your cravings and indulge with this easy casserole recipe.
Instead of a breaded chicken breast, this recipe calls for cubed cooked chicken in a casserole dish. You'll want to smother the chicken in a savory tomato sauce and top with loads of cheese. You can't forget about the breaded texture, this will come from crushed pork rinds. It's seriously delicious and the whole family will love it.
https://22recipe.com/keto-chicken-parmesan-casserole/ PHOTOS AND RECIPE HERE: 22 RECIPE
5. Keto Almond Crusted Chicken Dinner
Sheet pan dinners are the saving grace to your busy weeknights. Cooking this way allows you to throw your entire dinner onto one pan. In result, this means easy preparation, quick cooking, and a faster cleanup.
The chicken breasts in this recipe are covered in an almond crust made from crushed almonds, Italian seasoning, paprika, and salt. Make sure to use your food processor to finely chop up the almonds and seasonings. The vegetables in this recipe will only need a gentle tossing in olive oil and Italian seasoning.
http://www.forkly.com/recipes/low-carb-almond-crusted-chicken-dinner/ PHOTOS AND RECIPE HERE: FORKLY
6. Copycat Chik-Fil-A Keto Fried Chicken Tenders
We all have cravings and many of those cravings aren't always the healthiest choices. When that deep-fried chicken craving creeps up don't' run to your nearest drive-thru, make this recipe instead.
You'll experience the crispy texture you love about fried chicken but without the carby batter. The secret in this recipe to achieving the perfect crunchy deep fried layer is to cover the chicken tenders in a mixture of almond flour and pork panko.
https://www.meganseelinger.com/blog/ketofriedchickentenders PHOTOS AND RECIPE HERE: MEGAN SEELINGER
7. Buffalo Chicken Meatballs
Many meatball recipes call for breadcrumbs or the like that quickly make them a non-keto-friendly meal. By substituting a few simple ingredients like in this recipe, you'll soon see how easily adaptable a classic can be transformed to be keto approved.
Almond flour assists in this recipe to make it low carb and cheddar cheese and an egg help make these meatballs delicious and high in fat. What makes these meatballs stand out from any other ordinary recipe is the delicious buffalo and ranch sauce.
https://www.bunsinmyoven.com/buffalo-chicken-meatballs-low-carb-keto-gluten-free/ PHOTOS AND RECIPE HERE: BUNS IN MY OVEN
8. Keto Butter Chicken
Indian cuisine has some of the most flavorful dishes. Many of them are overflowing with luscious spices that make traditional dishes so alluring. Among many Indian dishes, butter chicken is one of the most popular.
This recipe proves how easy it is to transform a classic into a keto-friendly dinner that the whole family will love. Serve this meal with cauliflower rice for an unforgettable meal.
https://www.gnom-gnom.com/low-carb-keto-butter-chicken/?ct=t(BoneBroth_04_19_2018) PHOTOS AND RECIPE HERE: GNOM-GNOM
9. Keto Chicken Enchilada Bowl
These chicken enchilada bowls would be great for whenever you have a craving for Mexican cuisine. This recipe puts a twist onto a classic meal like enchiladas to adapt it to be low carb and keto-friendly.
Traditionally, enchiladas are made by rolling a tortilla with filling that is then smothered in a chili pepper sauce, however, in this recipe, you'll skip the tortilla altogether. To recreate flavors of traditional enchiladas the chicken will simmer in a homemade enchilada sauce. When complete you can top off your bowl with your favorite keto-approved toppings.
https://www.heyketomama.com/keto-chicken-enchilada-bowl/?epik=09H2XE_IWH-Vy PHOTOS AND RECIPE HERE: HEY KETO MAMA
10. Easy Cashew Chicken
You'll want to take 25 minutes out of your day to try this cashew chicken recipe. It's so easy to prepare and will be a new family favorite.
A skillet will help you cook this dish to perfection. It might be better than your favorite takeout and could save you some money too. Enjoy this meal on its own or add to a bed of cauliflower rice.
https://www.ketoconnect.net/easy-cashew-chicken/ PHOTOS AND RECIPE HERE: KETO CONNECT
11. Caprese Hasselback Chicken
Add the ingredients for this recipe to your shopping list this week because this meal is perfect for your busy weeknights. This dinner will surely please those picky eaters and non-low-carb eaters too.
You can expect nothing but deliciousness out of this meal. It combines a simple Italian salad like a Caprese salad with chicken for an easy yet filling and satisfying meal.
https://www.lowcarbmaven.com/low-carb-caprese-hasselback-chicken/ PHOTOS AND RECIPE HERE: LOW CARB MAVEN
12. Buffalo Chicken Taquitos With Bakes Cheese Shells
Experience a taquito-like you've never experienced before. This recipe is low carb, keto-approved and incredibly delicious. To save time, pick up a supermarket cooked rotisserie chicken and shred it. Smother the chicken with spicy hot sauce and bake in the oven.
While the chicken is cooling you'll want to get started on the shells. Ditch the flour or corn tortillas because you won't need it. Instead, you'll make an ooey-gooey cheese shell. Make sure to roll the taquitos before the cheese hardens!
http://www.culinaryenvy.com/buffalo-chicken-taquitos-with-baked-cheese-shells/ PHOTOS AND RECIPE HERE: CULINARY ENVY
Related Topics (Ads):
Switching to any new diet can be difficult. Often, you're forced to give up the foods you love but I believe the key to success is...
Starting a new diet isn't the hard part but being consistent and dedicated is!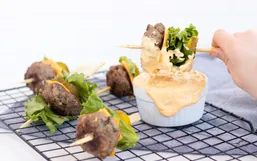 These Big Mac Bites are absolutely drool-worthy and the Copycat Big Mac Sauce is spot on - you wouldn't even know it didn't come...
Summer is in full swing and what better way to celebrate the warm weather than to dig into delicious food!
Diets can be so hard to follow especially when strong cravings hit.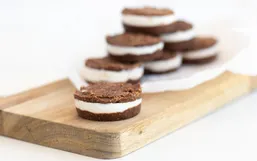 Fat bombs are an essential part of the Keto diet, allowing you to intake a large amount of healthy fats in just a couple of bites.
Starting a new diet can be daunting and difficult and staying committed to that diet can be even harder.
Following the keto diet means that you've committed to eating a diet that is high in fat, low in carbs and moderate in protein.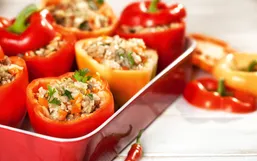 Committing to the keto diet requires hard work and dedication, especially if you want to remain in ketosis.
Following a diet is never easy -- it requires planning, motivation, and most of all, dedication.
Holidays are great because they generally mean you get to spend more quality time with friends and family and feast on delicious...
There is a lot to look forward to in fall. For starters, the crisp air brings on beautiful changing leaves, apples are ready to be...