Celebrate National Macaroni Day on July 14th with us! In our research we found out that there are two holiday days for macaroni- one the 7th of July and one the 14th. This gives us two yummy weeks of cheesy goodness!
The American idea of macaroni in an elbow shape is only one of the types of macaroni pasta. The name comes from the type of pasta dough. It generally is egg free and has a hollow shape. The name macaroni comes from the Italian "maccheroni" but is more commonly referred to as rigatoni.
Check out our top 10 recipes for Macaroni Day!
1. Mom's Macaroni Salad
[Source: simplyrecipes.com]
2. Deviled Egg Pasta Salad
[Source: halfhourmeals.com]
3. Asian Style Macaroni Soup
[Source: m3rni3.blogspot.ca]
4. Classic Baked Macaroni and Cheese
[Source: halfhourmeals.com]
5. Healthy Macaroni Stew
[Source: recipebridge.com]
6. Ground Beef Macaroni Dinner
[Source: halfhourmeals.com]
7. Bacon and Leek Macaroni
[Source: jennyeatwellsrhubarbginger.blogspot.ca]
8. Pumpkin Macaroni Casserole
[Source: halfhourmeals.com]
9. Italian Macaroni And Cheese
[Source: halfhourmeals.com]
10. Macaroni and Mascarpone Dessert
[Source: darbyoshea.wordpress.com]
Macaroni and cheese is the best comfort food - it's also a meal that you know your kids will love every time you make it.
There's no denying that most kids love mac and cheese. There's no denying that most adults do as well.
There's been studies that show that cheese is as addictive as drugs.
Canada Day weekend is almost here and what better way to celebrate it than with poutine!
It's National Cheeseburger Day and what better way to celebrate this amazing food holiday than with 5 of the most unique...
After the holiday season is over, you might find yourself piled high with leftovers.
Today marks Veteran's Day (in the U.S.) and Remembrance Day (in Canada).
From humble peasant food to ultimate comfort cuisine, potatoes have proven to be our favorite starch for centuries.
We've all been there. You've had a long day, and you want a simple dinner idea that isn't going to leave you in the kitchen...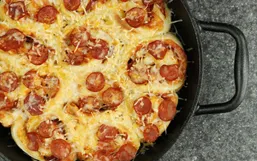 Years back my Mom taught me the life hack of using store bought pre-made pizza dough for cinnamon rolls.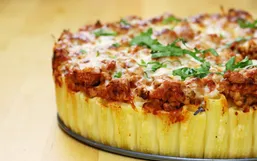 Forget traditional pasta casseroles! With the noodles standing upright, the sauce and cheese bake down into the pasta making each...
In a fast-paced world, with large group dinners out a real difficulty for both diner and restaurant, many restaurants are...