It's been said a million times and it will continue to be said a million times more: Breakfast is the most important meal of the day! What you decide to eat (and serve your family) for breakfast will have a huge impact on their day. Giving them a hearty, energy-packed breakfast will make sure they kick off their day on the right foot. Sometimes, however, it's tricky to provide such a well-balanced breakfast when you're in a hurry. That's where casseroles come in. Not only can most casseroles be made the night before but they also make for great leftovers. Make one casserole on Sunday and you'll have great breakfasts lined up for the first few days of the week.
Related Topics (Ads):
Breakfast casseroles come in many varieties. From sweet to salty, there's no shortage of amazing casserole recipes you can choose to make. Here are 8 of our favorites:
1. Ham and Swiss Quiche
Quiche is a very popular breakfast casserole choice. The ham and swiss compliment each other very well and almost everyone loves these two breakfast ingredients. You can throw in as many vegetables as you want to make this delicious dish even tastier.
2. Cinnamon Bun Casserole
This mouth-watering breakfast dish is perfect for those of you with a sweet tooth. Whipping up a cinnamon bun breakfast casserole will be a huge hit with your entire family. Enjoy it with a nice cup of coffee and consider serving up the leftovers for dessert!
[Source: NormalCooking.Wordpress.com]
3. Ham, Cheese and Spinach Breakfast Casserole
Another ham and cheese combo, this delicious breakfast casserole has become a staple in many homes. Everything can be prepared the night before and then just pop them in the oven in the morning for a hearty and delicious breakfast.
[Source: HomeisWheretheHolmansAre.blogspot.ca]
4. Omelette Breakfast Casserole
Much like the ham and swiss breakfast casseroles, this tasty dish combines all of the ingredients you might use in an omelette into one amazing casserole. Fresh peppers, ham, cheese and bacon are combined with other delicious ingredients to make this a go-to casserole for any breakfast.
[Source: BlogChef.net]
5. Peach French Toast Bake
Looking for other sweet casserole recipes to make for your family? This peach French toast bake is the perfect choice! This creamy, decadent French toast casserole is a great use for fresh seasonal peaches. Serve topped with a dollop of whipped cream for a delicious breakfast that tastes more like dessert!
6. Ham and Cheese Breakfast Bake
Yes, another ham and cheese breakfast casserole. What can we say, people love them! There are so many variations of this traditional breakfast dish and this one is one of the most delicious. You can use fresh vegetables like broccoli – but it tastes just as good without!
7. Blueberry French Toast Casserole
Not a fan of peaches? Try this blueberry french toast casserole instead. Not only does this amazing casserole contain tasty blueberries but it combines the flavor of blueberries with delicious pecans, making it one of the most unique breakfast dishes we've come across.
[Source: TasteofHome.com]
8. Annabelle's Breakfast Casserole
Annabelle's breakfast casserole is our most popular breakfast dish and it's no secret why. Made with southern-style hash browns, bacon, breakfast sausage, eggs, onions and peppers, this incredible breakfast casserole has so many delicious ingredients your family will be begging for more.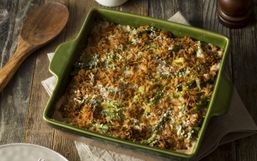 After all the hours and hard work you put into Thanksgiving dinner, it's eaten within half an hour and you're left with a ton of...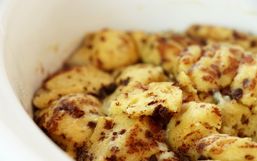 Looking for a warm breakfast that fills the house with the aroma, waking everyone with an appetite for a delicious homemade...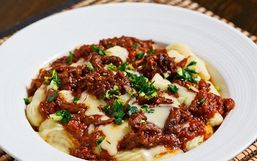 Canada Day weekend is almost here and what better way to celebrate it than with poutine!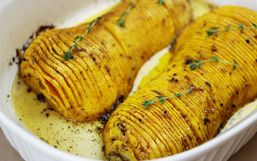 We've seen hasselback potatoes and chicken, breads and more. It's no wonder that this favorite fall squash side would cook up...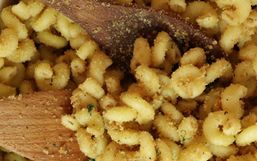 Garlic bread has long time been a best friend of pasta dinners.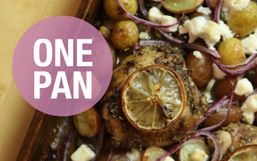 Most of us love to cook a whole well-rounded meal for our friends and family, but the reality is - we often just lack time and...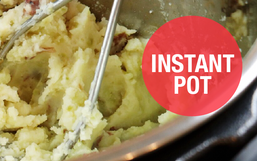 When it comes to making mashed potatoes, one word may enter your mind..."tedious".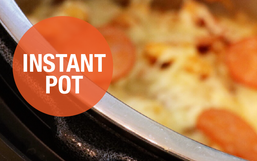 When the Instant Pot first arrived into your home, you likely did what most of us did...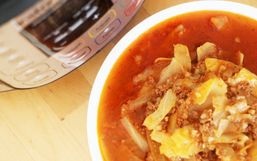 Growing up I watched my mother hand-make cabbage rolls from scratch.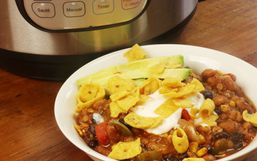 There's nothing quite like a bowl of chili on a cold, dreary day. It warms you up from the inside out and you can batch cook it,...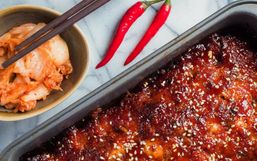 I hate to admit it, but growing up meatloaf was a dinner I never looked forward to. Mashed meat with sauce slabbed on top.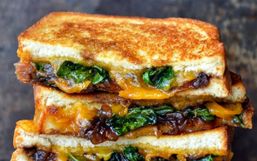 Is it time to give your grilled cheese a makeover? Grilled cheese is well known to be America's favorite sandwich.