It wasn't until recently that a friend and I went out for Brunch and I was introduced to Eggs Benedict for the first time – ever. You must be asking if I've lived under a rock for the last 24 years, no actually, but somehow I've seemingly dodged every opportunity to have this egg-licious experience of a lifetime. Needless to say, my first order of traditional eggs benny has completely changed the way I brunch forever. My next goal is to master the following recipes at home so I don't have to spend $13.99 anytime I want this mouth watering breakfast. The following list of recipes includes pineapple, coconut, avocado and even the recipe for Eggs Benny from the Waldorf Astoria hotel in NYC. I'll just say it now before you finish reading – you are welcome. Happy Brunching!
Related Topics (Ads):
1. E.B. with Bacon, Avodaise and Harissa
Calling all Avocado lovers! Sub out the Hollandaise Sauce for a different sauce – Avodaise. It's a delicious alternative for those dairy free eaters who are still craving that creamy sauce.
http://www.closetcooking.com/2014/05/eggs-benedict-with-bacon-and-avodaise.html Photos By: Closet Cooking
2. Cajun E.B.
Send your tastebuds on a trip to New Orleans with these beer biscuits and spicy sausage. It is sure to wake you up and jump start your day with a little spice in your step! Next time you host brunch, surprise your guests with this exciting way to make Eggs Benny.
http://www.lifeasastrawberry.com/cajun-eggs-benedict/ Photos By: Life As A Strawberry
3. E.B. on Polenta Cakes with Pesto Hollandaise *Gluten Free
Eggs Benedict is usually served on gluten filled bread, but we know not everyone can eat that. So here's your alternative that will settle your stomach and fill you with lots of protein.
http://realfoodfamily.com/food/recipes/eggs-benedict-on-polenta-cakes-with-pesto-hollandaise-gluten-free/ Photos By: Read Food Family
4. E.B. with Cauliflower Waffles
Low Carb Waffles and Eggs Benny for the win! Wake up to your favorite breakfast foods combined into one crave-able dish. Cauliflower has officially made it's way into our breakfast menu and we aren't mad about it at all!
http://ourlifetastesgood.blogspot.ca/2016/06/eggs-benedict-cauliflower-waffles.html Photos By: Our Life Tastes Good
5. California E.B.
It's not summer quite yet, but you can eat like it is! It's a simple recipe that you may actually have all the ingredients for at home. Grab some avocado, eggs, tomato and english muffins and whip up a creamy sauce.
http://www.frugalmomeh.stfi.re/2015/04/california-style-eggs-benedict-canadianeggs.html?sf=jejpjyb#_a5y_p=5106056 Photos By: Frugal Mom Eh
6. Poached Egg On Avo Toast with Blender Hollandaise
Avo Toast is all the rage – now imagine a perfectly poached egg on top, coated with a creamy hollandaise sauce. Sometimes it's difficult to make that Hollandaise sauce the consistency you want. This recipe has you covered with a sauce concoction to throw in your blender!
https://www.lowcarbmaven.com/poached-egg-on-avocado-toast-with-blender-hollandaise/ Photos By: Low Carb Maven
7. Mexican Eggs Benedict with Chorizo Biscuits and Chipotle Hollandaise
Mexican Food meets Egg Benedict and it's a beautiful thing! We are all looking for reasons to eat more Mexican food and this recipe is just another reason to crave a little more Mexico.
http://www.wearenotmartha.com/2012/08/mexican-eggs-benedict-with-chorizo-biscuits-and-chipotle-hollandaise/?utm_source=feedburner&utm_medium=feed&utm_campaign=Feed:+wearenotmartha+(We+are+not+Martha) Photos By: We Are Not Martha
8. Skinny Avocado E.B. with Polenta Patties
Skip the fattening aspect of Eggs Benny and dig into Avocado, Eggs and Polenta. A beautiful combination that will save you the calories and fill your belly.
http://www.forkknifeandlove.com/skinny-avocado-eggs-benedict-polenta-patties/ Photos By: Fork Knife and Love
9. Crepes E.B.
Yes, that's right. Crepes. The perfect Saturday Brunch meal: a sweet, thin pastry with all your favorite Eggs Benny fixings. Your family will love this flavorful and fun recipe that adds a great twist on the average Eggs Benny recipe.
http://innocentdelight.com/easy-crepes-benedict-recipe/ Photos By: Innocent Delight
10. E.B. with Asparagus on Portobello Mushrooms with Goat Cheese Sauce
I cannot wait to try this one! This low carb option actually looks better than an english muffin. Don't be afraid to add your favorite roasted veggies into the mix to add extra color and nutrients.
http://gourmandeinthekitchen.com/eggs-benedict-with-asparagus-on-portobello-mushrooms-with-goat-cheese-sauce/ Photos By: Gourmande In The Kitchen
11. Caprese E.B.
Get your Italian food fix straight away in the morning. The addition of basil makes it have a fresh taste while still maintaining our favorite sauce and eggs!
http://www.lifeasastrawberry.com/caprese-eggs-benedict/ Photos By: Life As A Strawberry
12. Grilled Pineapple Caprese E.B. with Coconut Almond Hollandaise
I feel like this recipe should have come from Hawaii. The pineapple makes it sweet and the coconut adds a nutty finish to this incredible brunch. This recipe has Summer written allll over it.
https://www.halfbakedharvest.com/grilled-pineapple-caprese-eggs-benedict-with-coconut-almond-hollandaise/ Photos By: Half Baked Harvest
13. E.B. on Hash Browns
Skip McDonald's and create your own hash browned wonder at home. In your pyjamas. No shower required. Some healthy greens are added to this recipe along with your favorite ham and egg combo.
http://simply-delicious-food.com/eggs-benedict-on-hash-browns/ Photos By: Simply Delicious Food
14. Waldorf Astoria Famous E.B.
I've always wanted to dine at the Waldorf Astoria. Maybe even just go inside. With this recipe, I won't have to wait for my next trip to NYC, I can make this insanely good recipe at home.
http://honestcooking.com/waldorf-astorias-famous-eggs-benedict/ Photos By: Honest Cooking
15. Cheesy E.B. Breakfast Enchiladas
Make Eggs Benedict for the whole family in one dish – and save some for tomorrow! Your kids will be so excited about this new recipe, their friends will even hear about it. Have fun hosting all those sleepovers!
http://www.thecreativebite.com/cheesy-eggs-benedict-breakfast-enchiladas/ Photos By: The Creative Bite
It's been said a million times and it will continue to be said a million times more: Breakfast is the most important meal of the...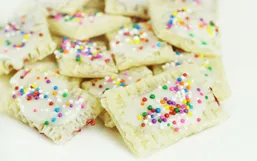 Forget the prepackaged hard pastry from your childhood! Create a copycat version of the Pop Tart, but homemade, and MINI (because...
French toast is such a simple recipe. Eggs, milk, bread. It's an easy and impressive breakfast to whip up. It's just that...
Easter is just around the corner and there's one essential item on everyone's Easter dinner menu: hard-boiled eggs.
Mothers Day is coming up and let's be honest, not everyone is prepared to make a huge spread of delicious food for breakfast.
Rise and shine! It's an early morning before work and you sleepily walk into the kitchen, grabbing whatever food is within reach.
It's Saturday morning. You wake up, start to make coffee and contemplate what you will make your family for breakfast.
Breakfast is the most important meal of the day, but it can also become the most uninspiring meal when you have limited time to...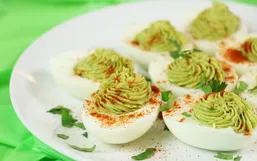 With a combination this good, we just had to make it! By simply mixing in avocado into the yolks along with a small amount of...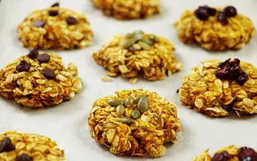 When we think of pumpkins we are often quick to bring our minds to fond memories of pies, lattes and carvings, right?
Worried you're spending too much money on takeout? You're not alone!
Are you tired of making the same meals over and over again? Perhaps you're feeling uninspired in the kitchen.