Mothers Day is coming up and let's be honest, not everyone is prepared to make a huge spread of delicious food for breakfast. Sometimes the best thing to do is quality over quantity – which means one dish meals! These creative and colorful Brunch casseroles will have your Mom kissing you on the cheek and giving you some big hugs after she tries out the recipe you whipped up from this article. So let's dig in!
Related Topics (Ads):
1. Goat Cheese Quiche with Sweet Potato Crust
This all natural, easy peasy quiche is so scrumptious and will fill you up with some seriously good energy. Add Mom's favourite veggies to make it a personalized Quiche.
http://www.farmgirlgourmet.com/2013/03/goat-cheese-quiche-with-sweet-potato.html Photos By: Farm Girl Gourmet
2. Breakfast Enchiladas
Have you noticed we have a deep love for Mexican food these days? This enchilada will be a surprising twist to the average eggs and bacon breakfast in the best way possible!
https://www.countrysidecravings.com/breakfast-enchiladas/ Photos By: Countryside Cravings
3. Lemon Raspberry French Toast Casserole
Mmmmm, breakfast and dessert become one. It's so fresh and sweet, not to mentioned quite pretty! Serve up some freshly squeezed orange juice for another citrus flavor.
http://www.greensnchocolate.com/2016/03/lemon-raspberry-french-toast-casserole-2/ Photos By: Greens N Chocolate
4. Make Ahead Baked Monte Cristo Casserole
Serve Mom's favourite breakfast sandwich in a casserole format. Gooey cheese, ham and some eggs make the perfect casserole.
https://www.sprinklesandsprouts.com/make-ahead-baked-monte-cristo-casserole/ Photos By: Sprinkles and Sprouts
5. Baked Cream Cheese French Toast
Looking to make a special treat for mothers day? This french toast recipe is no ordinary one. Filled with rich and creamy cream cheese, there's no way you can go wrong with this recipe!
http://sallysbakingaddiction.com/2015/12/19/baked-cream-cheese-french-toast-casserole/ Photos By: Sallys Baking Addiction
6. Challah Breakfast Casserole
Serve up some gourmet comfort food! This dish has some rich gruyere cheese and Italian sausage. It's definitely a savoury dish that will be loved by all!
https://www.macheesmo.com/challah-breakfast-casserole/ Photos By: Machismo
7. Easy Cheesy Breakfast Casserole
Looking for a new way to serve up your eggs and home fries? This colorful casserole has been made with you in mind! Fill up your plate (and Mom's) with this high protein goodness and you won't be disappointed.
https://www.gimmesomeoven.com/easy-cheesy-breakfast-casserole-recipe/ Photos By: Gimme Some Oven
8. Turkey and Egg Breakfast Casserole
Scramble up your regular breakfast casserole for one filled with some beautiful green spinach and low fat turkey! You'll feel like you're eating something bad when it's actually really good for you!
http://www.aimeemars.com/turkey-egg-breakfast-casserole/ Photos By: Aimee Mars
9. Easy Overnight Blueberry French Toast Casserole
I. love. easy. recipes. When I can make something ahead of time, I get really pumped about it! So instead of waking up early on Mother's Day, prep this dish the night before, and throw it in the oven as you get ready to see Mom in the morning.
http://thesaltymarshmallow.com/easy-overnight-blueberry-french-toast/ Photos By: The Salty Marshmallow
10. Baked Blueberry Pancake
What's better than a normal pancake? A massive, breakfast pancake. That's right, cut Mom a slice first (obviously, not me first) and top with yogurt, Maple Syrup and berries. It pairs nicely with a hot cup of coffee.
http://gourmandeinthekitchen.com/baked-blueberry-pancake-gluten-free-paleo/ Photo By: Gourmande In The Kitchen
11. Caramelized Onion Spinach Feta Savoury French Toast Casserole
I love anything that has caramelized onions in it. They are sweet and salty at the same time and fill any dish with a dynamic flavor. Serve with some roasted veggies for extra Mom points!
http://littlespicejar.com/caramelized-onion-spinach-feta-savory-french-toast-casserole/ Photos By: Little Spice Jar
12. Baked Ham and Cheese Omelet
It's a classic but is a winner every time! Cook this up for Mom and she will definitely be asking for seconds. Serve with some fresh fruit and a tall glass of OJ.
http://www.theseasonedmom.com/baked-ham-cheese-omelet/ Photos By: The Seasoned Mom
13. Overnight Cinnamon Roll Casserole
I'm totally making this! This needs to be my cheat food every week – I mean, how amazing does this look? Your Mom's jaw will drop when she sees all this deliciousness waiting for her.
https://www.gimmesomeoven.com/overnight-cinnamon-roll-casserole/?utm_source=bloglovin.com&utm_medium=feed&utm_campaign=Feed:+gimmesomeoven+(Gimme+Some+Oven) Photos By: Gimme Some Oven
14. Easy Vegetarian Made Ahead Breakfast Casserole
If Mom doesn't eat meat – don't worry! We have you covered. This vegetarian casserole will make meat eaters want to be vegetarians. It's so good and filled with so many good veggies.
https://umamigirl.com/make-ahead-vegetarian-breakfast-casserole/ Photos By: Umami Girl
15. Smoked Salmon Asparagus Quiche
CLASSY! Your mother will be at a loss for words when she sees this work of art awaiting her on Mother's Day Morning. You can also serve as a lunch or supper option with a fresh spring salad.
http://greenhealthycooking.com/smoked-salmon-asparagus-quiche/ Photos By: Green Healthy Cooking
You don't have to spend hours in the kitchen to achieve a drool-worthy breakfast!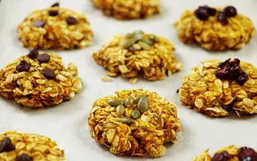 When we think of pumpkins we are often quick to bring our minds to fond memories of pies, lattes and carvings, right?
It's been said a million times and it will continue to be said a million times more: Breakfast is the most important meal of the...
French toast is such a simple recipe. Eggs, milk, bread. It's an easy and impressive breakfast to whip up. It's just that...
It can be relatively easy to find dinners and meal prep lunches to go along with a healthy lifestyle you're working for.
Easter is just around the corner and there's one essential item on everyone's Easter dinner menu: hard-boiled eggs.
Rise and shine! It's an early morning before work and you sleepily walk into the kitchen, grabbing whatever food is within reach.
Eating a hearty breakfast will set you up for a day filled with energy and positivity.
It's Saturday morning. You wake up, start to make coffee and contemplate what you will make your family for breakfast.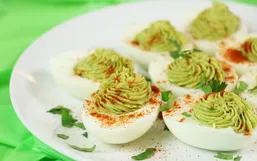 With a combination this good, we just had to make it! By simply mixing in avocado into the yolks along with a small amount of...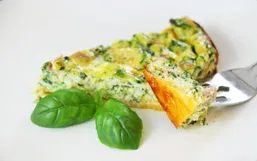 One of the main Ketogenic Diet essential foods is eggs. Rich in protein and the fats you need to keep fueled, it's no wonder...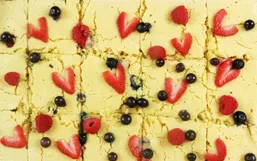 When it comes to a perfect family breakfast or brunch, pancakes rank pretty high on the popularity scale.