Cinco de Mayo is nationwide celebration that occurs every year on May 5th. On this day, friends and families come together and enjoy traditional Mexican food and drinks while celebrating Mexican heritage and pride. As with most holidays, the most important part of any party is the food. For that reason, we've put together a list of 8 delicious appetizers that will make this Cinco de Mayo celebration one to remember.
Here are 7 great recipes to consider serving at your Cinco de Mayo party this year:
(Click images for full recipes)
1. Cheese and Bacon Jalapeno Poppers
[Source: KraftRecipes.com]

2. Spicy Mango Salsa
[Source: ChefHeidiFink.com]
3. Chicken Tequila Taquitos 
[Source: Food.Gather.com]
4. 7-Layer Mexican Dip
[Source: PennyMaxwell.wordpress.com]
5. Spicy Guacamole
[Source: FancyLittleThings.com]
6. Mini Taco Salads
[Source: jpvpk.gov]
7. Mini Mexican Pizzas 
[Source: KidsFunReviewed.com]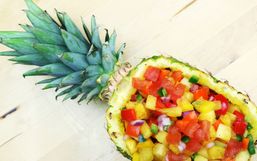 Ok I'll admit it. I'm a little leery sometimes when it comes to mixing spicy and sweet, or savory & sweet, or even salty &...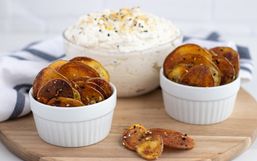 When I dip, you dip, we dip! Chips that is. I'm a sucker for a good chip and dip combo whether it's a Friday night movie in or I'm...
Who doesn't love a good potluck? You get to hang out with friends and dig into a delicious assortment of food.
Going out to eat is a great way to treat yourself plus it means you don't have to put any effort into cooking and not to mention,...
You can never go wrong with buttery flaky crescent rolls but did you know a tube of crescent roll dough can be so much more than...
Kitchen gadgets are getting more and more impressive every year. The Instant Pot has been the most sought after kitchen appliance...
Charcuterie boards may not be new but they have become one of the hottest food trends as of late and for good reason!
Disney has been sharing some of their most coveted recipes over the last few months.
Spooky season is here and it's time go all out for this fun holiday.
Appetizers are an essential part of any party or gathering. These small dishes stimulate our taste buds and fill our bellies while...
Every year families gather around the table, give thanks, and enjoy delicious food on the Thanksgiving holiday.
Apple picking season is upon us so be sure to make the best of this fun fall activity.