Parties happen all year round and instead of taking on the task of cooking for a crowd, make your next party a potluck party! This will not only alleviate work for you but will allow you and your guests to dive into a variety of delicious food!
The Instant Pot can cook food in a snap so you should definitely utilize this amazing multi-cooker when preparing food for your next potluck. We searched the web to find you the best recipes that will impress every guest. From artichoke and spinach dip to savory ribs and even a delicious Instant Pot dessert — there is something for everyone!
1. Instant Pot Buffalo Chicken Sliders
Buffalo chicken wings and buffalo dip is a crowd-pleaser so there is no question that your guests will adore these buffalo chicken sliders! The Instant Pot will help you cook the chicken quickly and you'll find that it shreds effortlessly.
Once the chicken is cooked, smother it in the most delicious creamy buffalo sauce. Serve the meat on slider buns with ranch sauce and garnish with a pickle. These sliders will disappear quickly!
2. Instant Pot Baked Beans
You can never go wrong with baked beans. They're savory and a little bit sweet and so darn filling! The cool thing about the Instant Pot is that it can cook dried beans quickly with no overnight soaking required!
Once the beans are cooked you'll be able to use the saute function to cook the bacon and onions. Then combine the remaining ingredients and cook for an additional 30 minutes in the Instant Pot.
3. Instant Pot Citrus Beer Ribs
You and your guests can enjoy finger-licking good ribs with the help of an Instant Pot! Cooking ribs low and slow in the oven does results in tender juicy meat but you'll discover that the Instant Pot can produce the same results but in a fraction of the time.
These ribs are cooked in the pot with a can of beer and come together in about 20 minutes! Once cooked you'll cover the ribs in a delicious citrusy BBQ sauce. Take this one step further and broil the ribs in the oven to create a perfectly crispy outer layer.
4. Instant Pot Honey BBQ Cocktail Meatballs
Meatballs are great for any type of party! Serve them right out of the pot or transfer them to a tray and add toothpicks to create perfect finger food — your choice!
These meatballs are made from scratch but they still come together quickly and you'll surely taste the difference! First, brown the meatballs in the Instant Pot using the sauté function and then pressure cook the meatballs in the sauce afterward.
5. Instant Pot Pizza Pasta
There are two things that many people love, pizza and pasta, and this recipe combines both popular favorites to create one epic meal! The pasta is cooked in pizza sauce, pasta sauce, and water which helps cook the pasta as well as infuse it with flavor.
Once cooked, top the pasta with cheese and pepperoni and put the lid back which will help the cheese melt. Keep in mind this step is done while the Instant Pot is off but there will be enough heat left in the pot to melt the cheese.
6. Instant Pot Buffalo Chicken Chili
Classic ground beef and bean chili is delicious but share something different at your next potluck like this buffalo chicken chili recipe! It'll surely be a hit.
This chili is full of tender shredded chicken, veggies, and a creamy buffalo sauce base. This two-step recipe instructs you to pressure cook the chicken in broth, buffalo sauce, and a few seasonings. Then you'll turn the pot to sauté and add in cream cheese to make it perfectly creamy and cheesy!
7. Instant Pot Flamin' Hot Cheetos Mac And Cheese
Step up your mac and cheese game and share a pot of this Flamin' Hot Cheetos mac and cheese! Your guests will seriously love the flavor and are bound to beg you for the recipe.
The pasta is cooked in the Instant Pot with a few drops of sriracha that provide the perfect amount of heat. One cooked, mix in shredded cheese and serve with crushed Flamin' Hot Cheetos.
8. Instant Pot Easy Mac And Cheese
Not everyone is a fan of spicy flavors and that is totally okay! If you'd rather skip the spiciness altogether then make this simple mac and cheese recipe instead!
This homemade mac and cheese will come together as effortlessly as a box of mac and cheese but this method doesn't require supervision! Cook the pasta then top it with shredded cheese. Give it a good stir and serve hot!
9. Instant Pot Chicken Wings
You can never go wrong with a platter of chicken wings! This too can be prepared effortlessly in an Instant Pot.
Before pressure cooking, you'll want to toss the wings in seasonings for added flavor. And after pressure cooking, set the wings on broil in the oven to create a perfectly crispy outer layer. Serve with dipping sauce if desired!
10. Instant Pot Sloppy Joes
The Instant Pot will help you cook delicious sloppy joes from scratch with ease. You'll also appreciate that homemade flavor that far surpasses the canned version.
The sloppy joe meat is made from ground beef, tomato sauce, and loads of flavorful seasonings. This recipe also includes brown sugar which provides the perfect amount of sweet flavor that you'll surely enjoy. Serve the meat on a soft bun and dig in!
11. Instant Pot Pulled Pork BBQ Tacos
You've surely enjoy pulled pork on a bun but have you ever thought about enjoying that delicious filling in a tortilla? These pulled pork tacos are easy to make and are a serious game-changer!
Cook the meat in the Instant Pot and then set up a taco station at the potluck. Allowing your guests to build their tacos will alleviate some of the work for you and it also allows them to customize the toppings to suit their liking. These tacos serve well with coleslaw but can also be enjoyed with additional BBQ sauce, chopped avocado or whatever other toppings you desire.
12. Instant Pot Red Lentil Chili
This may be a meatless chili but it's full of impeccable flavor and texture that your guests will love. Odds are they won't even notice the meat is missing and as a bonus, it caters to your vegetarian and vegan friends!
This chili is full of protein-rich lentils, loads of veggies, and wonderful seasonings that will excite your taste buds. Serve the chili with fun toppings such as sour cream, avocado, and corn chips!
13. Instant Pot Quick And Easy Potato Salad
You can never go wrong with a bowl of potato salad. While this salad is often enjoyed during the summer with BBQ, you can really enjoy it all year round at any type of party.
Say goodbye to your old cooking methods and start cooking potato salad in the Instant Pot. Not only does it cook the potatoes effortlessly but you can hard boil the eggs simultaneously! If that isn't impressive then we don't' know what is.
14. Instant Pot Buffalo Chicken Dip
We've talked about buffalo chicken sliders and buffalo chicken chili so now it's time to dive into another crowd favorite, buffalo chicken dip! This dip is creamy, spicy and so darn addictive!
You'll need to pressure cook the chicken first and then combine the remaining ingredients and finish cooking on the sauté function. If you want to melt the cheese on top until it's golden and bubbly, simply transfer the dip to an oven-safe dish, sprinkle the cheese on top and then broil it in the oven. Finally, serve the dip with chips and veggies.
15. Instant Pot Drool-Worthy Artichoke And Spinach Dip
Spinach and artichoke dip is a restaurant favorite so it would certainly be a great dish to share at a potluck. Toss the ingredients into your Instant Pot so that the cheesy ingredients melt and the flavors morphe together.
Once cooked, serve the dip with bread or your favorite crackers. Or better yet, serve the dip in a bread bowl and watch the bowl and dip disappear quickly!
16. Instant Pot Corn On The Cob
You can usually get corn on the cob all year round at the grocery store but nothing quite beats the flavor of freshly picked corn from the farm! Whatever time of year you choose to enjoy it, be sure to try cooking it in your Instant Pot!
The Instant Pot cooks the corn quickly and you can fit up to 8 cobs in a 6-quart pot. This will help you feed a crowd effortlessly and who wouldn't love biting into sweet corn at a potluck?
17. Instant Pot Quick And Easy Chicken Ramen
Ramen can be enjoyed all year round and because the Instant Pot can cook a large quantity at once, you can serve it to a crowd. For this recipe, you'll use both the sauté function and the pressure cook function.
It's important to brown the chicken first on sauté and then pressure cook all the ingredients together after. That said, don't add the noodles until the end as they can become soggy if overcooked. Serve with a boiled egg and garnish with sesame seeds and chives.
18. Instant Pot Cheesy Bacon Ranch Potatoes
While these cheesy bacon ranch potatoes would make an excellent side dish for your next family meal, they will also be a great dish to share at a potluck. This recipe will help you cook tender potatoes with ease.
Be sure to coat the potatoes with ranch dressing mix before cooking as this will provide flavor. You'll also cook the potatoes with bacon bits and serve with additional cheese!
19. Instant Pot Chicken Pot Pie
While this may be an untraditional way to eat chicken pot pie, you'll still enjoy the same flavors. Instead of cooking the fillings in a pie crust, serve it with biscuits on the side!
The Instant pot can cook chicken pot pie in about 25 minutes or less. While the ingredients are cooking in the pot, bake the biscuits in the oven! To help make this step quick and easy be sure to use a tube of store-bought biscuit dough!
20. Instant Pot Cinnamon Apples
Last but certainly not least is a delicious dessert idea! Every potluck needs a sweet dish and these cinnamon apples will not disappoint.
The Instant Pot will help you cook sweet soft apples in a hurry! Serve the apples with pound cake and/or ice cream!
Do you know what FOMO is? Fear of missing out. I've been experiencing it ever since everyone under the sun got an Instant Pot for...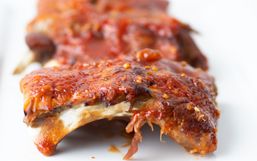 Ribs can be insanely delicious especially when they're cooked low and slow in the oven.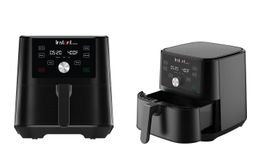 Deep-fried foods are delicious but they come with a cost. Often dripping in oil and full of fat, these not so healthy foods can...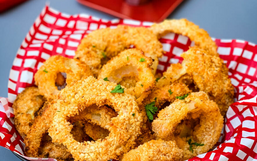 Everyone and their besties have an Instant Pot pressure cooker these days, and if you don't have one yet, you really need to get...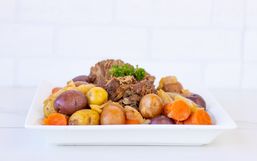 Roast beef is one of those meals that's an oldie but a goodie. If you have company coming over for supper - it doesn't matter who...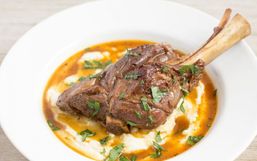 I love Easter because it's the first holiday that really signifies that spring is here!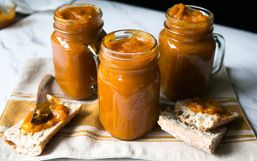 The season of fall is a favorite for many because it means crisp air, cozy layered clothing, and of course comforting meals.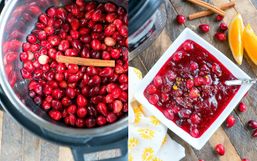 The holidays are a busy time of year, between hosting guests, planning a dinner, and catering to everyone's needs it can get...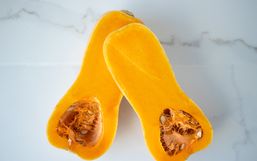 How many times have you pulled out your butternut squash just before supper and realized you don't have enough time to cook it...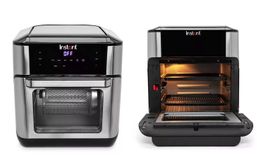 With so many kitchen gadgets on the market, it's hard to know which ones are worth the prime real estate in your kitchen.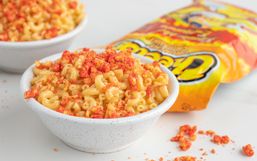 There is no comfort food like mac and cheese - the carbs and cheese are oh so delicious!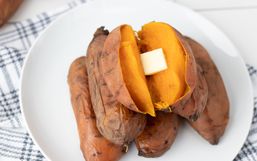 The thing about root vegetables is that they often take a lot of time to cook, especially in the oven.