Ramen is a delicious lunch or dinner in all seasons, but I've especially been craving it with the cold, wet weather we've been having lately. I don't live in a massive city, so there's only one great ramen restaurant close to where I live and it's small and I can never find seating and if I do takeout, it's room-temperature at best by the time I get home. So I wanted to see if I could make my own using my Instant Pot to get the depth of flavor ramen is known for! Sure enough, there's nothing quite like a pressure cooker to make a complex dish come together in a record amount of time.
Don't have an Instant Pot? Check out our other favorite Noodle Recipes for Dinner here!
Want New Instant Pot Recipes and Content Delivered Straight To Your Inbox? Sign up for our Instant Pot Email Newsletter!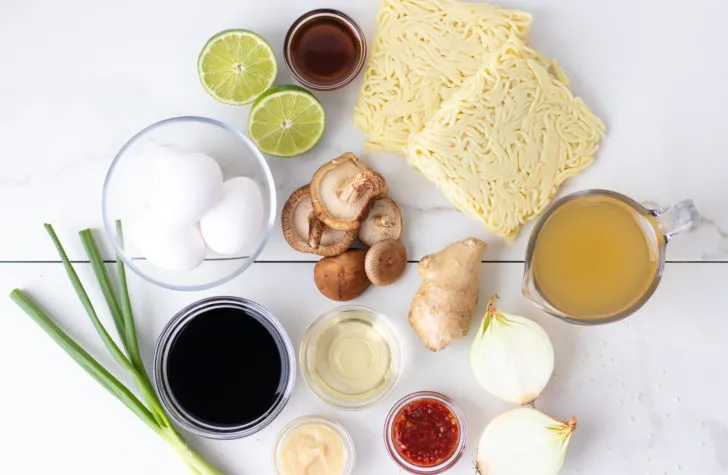 While many recipes call for using olive oil for sautéing, this recipe uses sesame oil. It's rich in flavor and commonly used in Indian, Middle Eastern, African, and Southeast Asian cuisines. Using the Sauté function, you can brown the chicken and ensure the ginger and garlic become fragrant before adding in the broth and cooking the soup. This will help give the dish a deeper flavor! Traditional ramen restaurants cook the broth anywhere from 18 to 72 hours to extract and build flavor, so you definitely don't want to skip the sautéing step.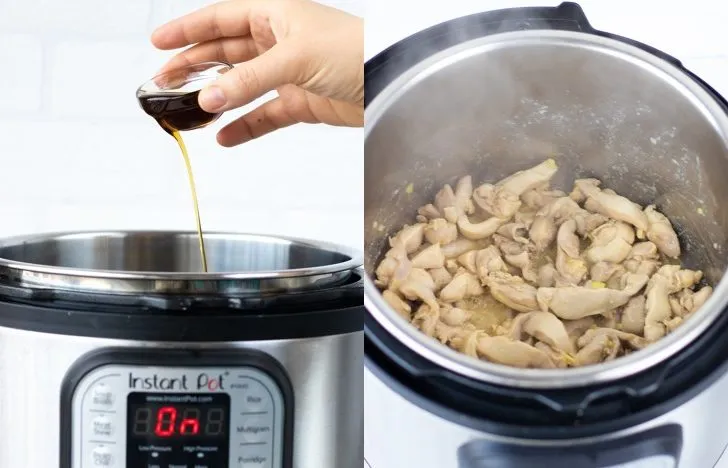 After sautéing, add in the remaining ingredients (except the pasta) – it'll all cook together, including the eggs! Gently lower the eggs into the pot after adding all the liquid and they'll cook right in there. Full disclosure, our eggs came out hardboiled instead of softboiled, which is what is more commonly served in ramen. If you'd prefer, you can soft boil the eggs on the stovetop while the rest of the ramen cooks in the Instant Pot. For us, the convenience of dumping it all in the pressure cooker outweighed having the perfect softboiled egg, but the decision is yours.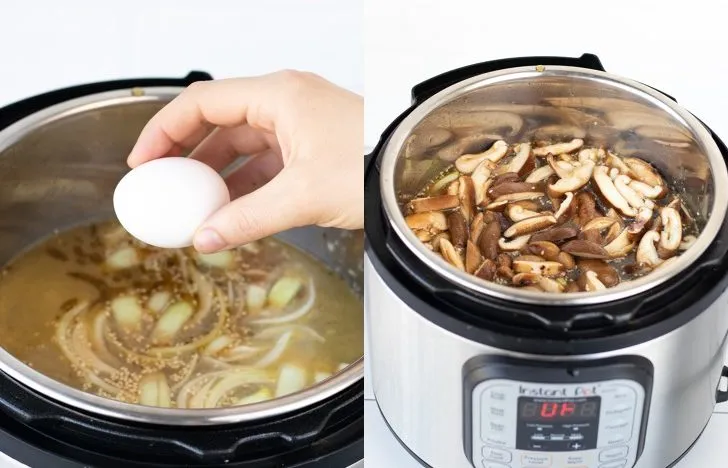 This recipe cooks in 4 minutes on Manual/Pressure Cook HIGH, but make sure you account for the time it'll take to come to pressure. Our 6-quart Duo took 24 minutes to reach pressure, but your time may vary depending on the model and size you're using. This may seem like quite a while, but it needs the time because of all the liquid – you're essentially cooking a soup! Regardless, it's nothing compared to the time that traditional ramen takes, so consider yourself lucky that it's still done and on the dinner table in less than 30 minutes and from the comfort and convenience of your home.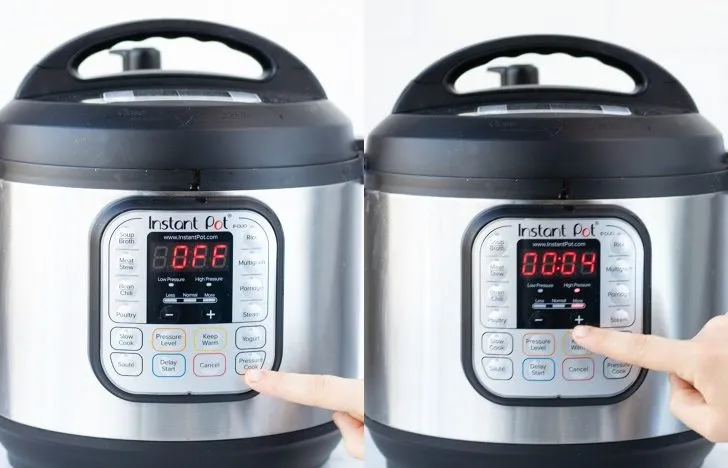 Once the cook time has elapsed, quick release the pressure and remove the lid. Have an ice water bath prepared and use a slotted spoon to quickly remove the eggs, plunging them into the ice bath to stop the cooking process. The best part of eggs done in the Instant Pot is how easily they peel. It's incredible! If this intrigues you, take a look at our Step-By-Step How To Hard Boil Eggs in an Instant Pot here. It's far easier than stovetop and you can set it and forget it, but still get perfectly-done hardboiled eggs every single time.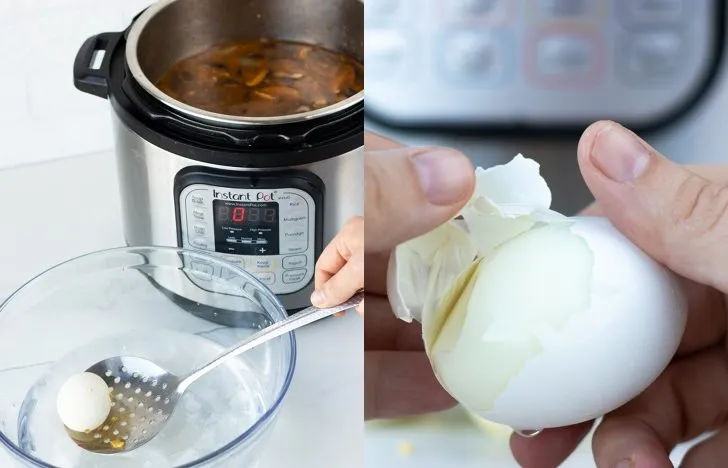 The big question you'll have to answer is what type of ramen noodles you want to use – there are plenty of options and each will produce a slightly different end result. We used a partially pre-cooked soft ramen noodle that we found in the International aisle of our local grocery store. They're inexpensive and have a decent shelf-life, but that means they aren't super fresh. You could also use the hard ramen noodles (think Mr. Noodle packages), and just discard the mysterious flavor package that comes with them. Alternatively, if you have access to an Asian grocery store where you live, stop in to see if they have fresh ramen noodles! These are definitely your best option and will result in the most authentic (and likely delicious) ramen.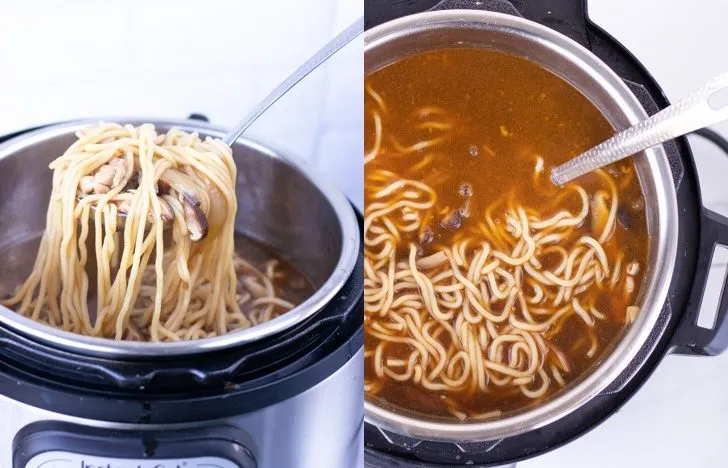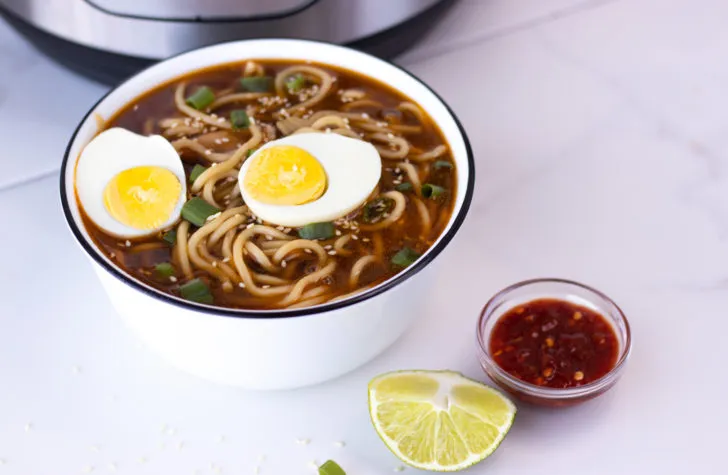 Ingredients
2 tbsp sesame oil
1 medium yellow onion, sliced
1 tbsp garlic, minced
1 tbsp ginger, minced
1 tbsp chili garlic sauce
1 package shiitake mushrooms, sliced (about 220g)
1/2 cup soy sauce
¼ cup rice vinegar
1 lb boneless skinless chicken thighs, cut into 1" pieces
6 ½ cups chicken broth
4 packages ramen noodles
4 eggs
Green onion, for garnish
Sesame seeds, for garnish
Fresh lime, for garnish
Method
Turn the Instant Pot to Saute mode. Add 1 tbsp of sesame oil, followed by the garlic, ginger, and chicken. Brown for 4-5 minutes. Turn off Saute mode
Add ½ cup of broth and stir to release any stuck on food bits. Add the remaining sesame oil, onion, mushrooms, soy sauce, chili garlic sauce, rice vinegar, and remaining broth to the Instant Pot.
Carefully lower 4 eggs into the pot.
Lid the pot and cook on Manual/Pressure Cook HIGH for 4 minutes. Once the cook time has elapsed, quick release the pressure.
Using a slotted spoon, immediately remove the eggs and place into a ice water bath to stop the cooking process.
Add the noodles into the pot (still on Keep Warm mode) and lid the pot again, letting sit for 5 minutes until fully cooked.
Remove the lid and serve in bowls, peeling the eggs and slicing them in half before adding them to the bowls. Add other toppings of your choice (green onions, sesame seeds, lime wedges) and serve hot!
Notes
It took our 6 Quart Instant Pot Duo 24 minutes to come to pressure but this will vary depending on the model and size of your Instant Pot.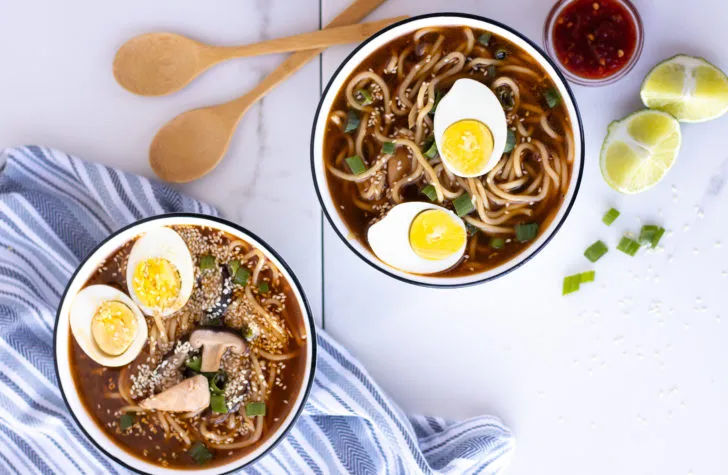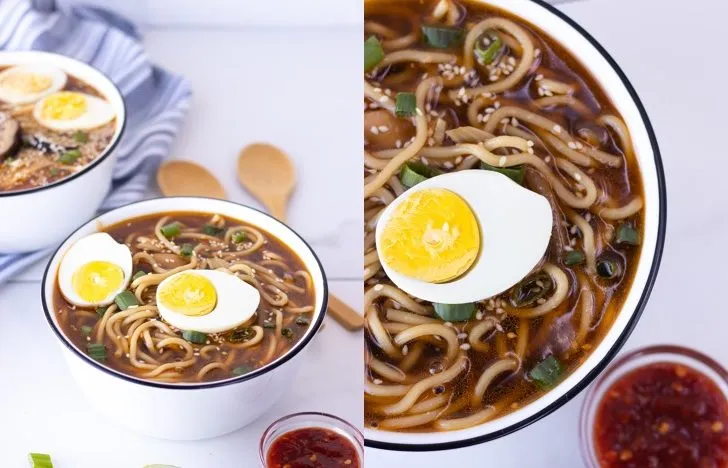 While experimenting with the Instant Pot I quickly discovered that it can not only cook a quick and easy weeknight meal but it can...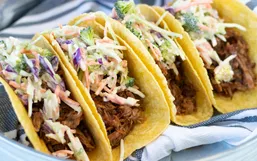 Taco Tuesday is one of my favorite nights of the week! It turns dinner time into a fiesta and it's something exciting for...
If you're like me, odds are you've jumped onto the Instant Pot bandwagon!
The Instant Pot has many amazing capabilities. For example, it can cook a meal without heating up the kitchen (perfect for...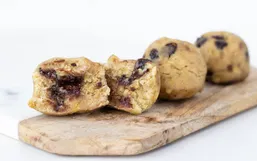 Is there anything better than biting into a warm gooey piece of banana bread? I don't think so.
Often, the main entree steals the spotlight but the sides are what really complete a meal.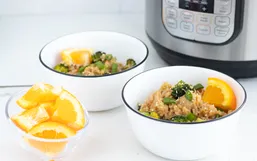 Get ready friends, it's time to enjoy some delicious takeout made at home!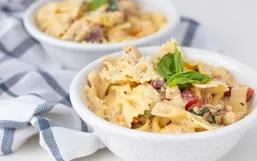 You've spoken and we heard you! Quick and easy Instant Pot weeknight meals that can feed the whole family are top of mind.
Let Mom put her feet up this Mother's Day while you prepare her some delicious food.
We've been told time and time again that breakfast is one of the most important meals of the day.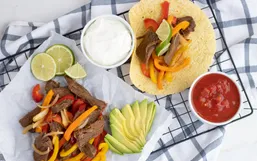 Mexican food is my absolute favorite type of cuisine. It's flavorful, quick to make, and a crowd-pleaser at my house!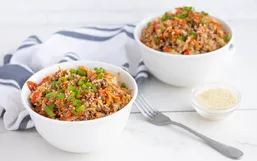 Egg rolls are delicious, let's be honest. But they're crazy unhealthy because they're usually deep fried in those little wrappers!