The hot days are rolling in and we are loving it! Our pools are open, the beaches are waiting for day trippers with a day off, and the sunglasses are out. When you're out in the sunshine all day, you can get really hungry! Instead of heading inside for a snack, bring these delicious treats out to the beach or poolside with you so you don't have to miss even a few moments of sunshine.
1. Cowboy Caviar
Throw together this filling dip that goes perfectly with some nacho chips. Filled with beans and veggies, this dip can be a lunchtime meal/snack. Perfect for those sunny days!
http://www.forkly.com/recipes/avocado-cowboy-caviar/ Photos and Recipe By: Forkly
2. Salads To Go
No need to buy those pre-made salads at the grocery store when you have all the ingredients at home to make a delicious salad. Store in the fridge so you can grab them on the run or when you want to keep tanning in the sunshine.
http://thechicsite.com/2015/07/14/salads-to-go/ Photos and Recipe By: The Chic Site
3. Pineapple Lemonade Popsicles
The perfect snack for a heat wave! When it's unbearably hot out and you aren't even that hungry, make sure you stay hydrated with these pretty and colorful popsicles.
https://www.courtneyssweets.com/pineapple-lemonade-ice-pops/ Photos and Recipe By: Courtney Sweet
4. Sandwich Kabobs
Craving a sandwich but don't want all those carbs? These kabobs have your favorite sandwich fillings on a kabob stick. Make them ahead of time to bring out on the patio or to work.
http://www.momontimeout.com/2016/07/six-easy-lunch-kabobs-for-back-to-school/ Photos and Recipe By: Mom On Timeout
5. Watermelon Feta Mint Skewers
For all those foodies in the crowd, a popsicle may not do it! Bring out these gourmet skewers that have the perfect combination of sweet, salty and tangy.
http://bitesofbri.com/2014/05/watermelon-feta-mint-skewers/ Photos and Recipe By: Bites of Bri
6. Loaded Creamy Ranch Dip
If you're throwing a big pool party, this dip is sure to fill up many bellies with tons of flavor so you can keep the party going all night!
https://therecipecritic.com/2016/07/loaded-creamy-ranch-dip-poolside-dip/ Photos and Recipe By: The Recipe Critic
7. Chocolate Dipped Pineapple
For all those sweet lovers out there, this is a light, tropical snack that will satisfy your sweet tooth while filling you with some great vitamins.
http://thebeachhousekitchen.com/2016/05/21/chocolate-dipped-pineapple-slices-toasted-coconut/ Photos and Recipe By: The Beach House Kitchen
8. Low Carb Keto Tuna Boats
Fill up with these low calorie, high protein snacks! They are salty and tangy like dill pickle chips but actually add to your nutrients instead of being a cheat day. They're perfect for the poolside and are super flavorful.
http://www.forkly.com/recipes/low-carb-keto-tuna-pickle-boats/ Photos and Recipe By: Forkly
9. Blueberry Kiwi Smoothie
Do you have a few hours in the morning to lay by the pool? This smoothie is the perfect breakfast to sip by the pool and is definitely Instagram worthy.
http://diethood.com/blueberry-kiwi-slushies/ Photos and Recipe by: Diethood
10. Blueberry Watermelon Feta Mint Salad
Serve this up as a wonderful lunch on the patio. You can add some grilled chicken for more protein and a little kale for some greens.
https://shewearsmanyhats.com/blueberry-watermelon-feta-mint-salad/ Photos and Recipe By: She Wears Mean Hats
11. Avocado Greek Yogurt Ranch Dip and Veggies
It's so simple yet so delicious! Combine avocado, greek yogurt, ranch powder and lime to make an oh so perfect snack.
http://www.cookingclassy.com/avocado-greek-yogurt-ranch-dip/ Photos and Recipe By: Cooking Classy
12. Your New Favorite Summer Snack
How genius is this?! Make a little taco salad with these Way Better chips that are actually good for you. Add in some taco flavored meat or beans and you have yourself a fresh and yummy lunch!
http://camillestyles.com/food-and-drink/from-camilles-kitchen/healthy-frito-pie/ Photos and Recipe By: Camille Styles
13. BLT Summer Rolls with Avocado Dipping Sauce
These summer rolls store perfectly in the fridge and are ready for you when those hunger pains hit you hard! Filled with all those BLT fixins', you are going to be reaching for a second and third one of these.
http://hapanom.com/blt-summer-rolls-avocado-dipping-sauce/ Photos and Recipe By: Hapanom
14. No Bake Lime Tarts
Looking for a summery dessert to accommodate some eating restrictions? This tart is a refreshing lime taste with some serious goodness inside. Garnish with some fresh limes and you have yourself one amazing meal.
http://www.bakerita.com/no-bake-lime-tarts-gluten-free-paleo-vegan/ Photos and Recipe By: Bakerita
15. Mexican Corn Dip
This Mexican Corn Dip is yet another amazing dip to have at the beach or by your pool. It tastes like it's a take-out snack when really, it's been made in your kitchen. Perfect.
http://damndelicious.net/2014/07/28/mexican-corn-dip/ Photos and Recipe By: Damn Delicious
Happy National Chip and Dip Day everyone! To help you celebrate this special occasion, we've collected the 10 best dip recipes we...
Ahhhh movie nights! Where everyone puts on their slippers and cozies up under a big quilt to watch a new release or an old...
You know them, you love them, you quietly whisper "melts in your mouth, not in your hands" as you tip your head back and toss...
Soft or crunchy, salty or sweet - there are oh-so-many ways to enjoy a pretzel.  Mixed, dipped, crunched, munched.
Admittedly, I'm a rice krispie treat addict. I'll take a fresh batch of homemade (yes, homemade is a must) rice krispie treats...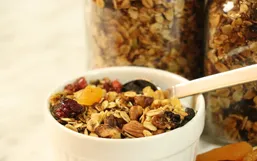 Granola costs a small fortune at the grocery store, yet it's incredibly easy and cost-efficient to make it yourself at home.
Snack time is the best time! So fill your belly with some seriously mouth-watering snacks that won't load you up with sugar and...
From Fruit Gushers to Fun Dip, the 90's came up with some pretty crazy snacks for us to munch on at school.
Summertime is road trip time! I remember munching on apples and granola bars for hours on end when my family went on road trips.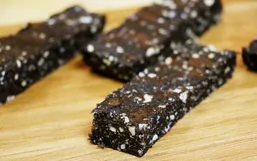 It may seem so much easier to just toss a couple boxes of snack bars in your cart at the store, but this recipe will challenge...
Dinner parties are so much fun to throw with friends and family. You sit down at a lovely table and enjoy good quality food over...
Popcorn is a fantastic snack to munch on when you're watching a movie or just have the munchies but aren't too hungry.