Christmas breakfast and brunch are a great family tradition. Christmas morning is chaotic, with children waking up early to see what Santa has brought them. It can be hard to find time for a good breakfast when you're busy unwrapping presents and getting ready for guests later that day. We love the idea of a Christmas brunch family tradition, where everyone has to sit down and eat together. To make breakfast faster, and still special, we adore casseroles and quick recipes.
Related Topics (Ads):
We're sharing some of the best Christmas breakfast and brunch recipes. What is your Christmas morning tradition?
1. Hot Cross Buns
There's nothing like a hot cross bun in the morning. These soft and pillowy pieces of heaven are definitely worth making for Christmas. You can follow this Delish recipe to make it from scratch, which yields about one dozen servings. The homemade dough, waiting for the dough to rise, and baking the bread is completely worth the effort.
What brings hot cross buns to the next level is drizzling on a sweet glaze. All you need is powdered sugar, whole milk, and lemon zest to make it from scratch. The bread combined with the glaze will melt in your mouth, especially when the buns are fresh out of the oven.
2. Breakfast Casserole
For anyone craving a savory breakfast on Christmas Day, consider whipping up a breakfast casserole. This hash brown breakfast casserole is one variation to consider. It's loaded with eggs, sausage, and hash browns. These mouthwatering layers are topped with a cheddar cheese.
To balance out the heartiness of this meal, serve alongside some fresh fruit. You can give yourself less work to do on Christmas morning by making the casserole ahead of time. Simply cover and refrigerate the uncooked casserole for up to two days. Let it sit at room temperature for at least half an hour before baking, toss it in the oven, and you'll be dining in no time.
3. Super Simple Mini Cinnamon Bun Pops
What's great about cinnamon buns is they're basically dessert in disguise. The soft, gooey, and warm buns topped with a sweet glaze is definitely something to indulge in on Christmas morning. For a bite-sized option, consider making these Forkly mini cinnamon bun pops.
Despite these cinnamon buns being made at home, they are actually really easy to whip up. The recipe uses one roll of Pillsbury cinnamon rolls which prevents you from making them completely from scratch. The cinnamon bun pops are also much less messy compared to traditional buns. These treats could be a sweet side to the main course you're serving at breakfast.
4. Chocolate Pancakes
Chocolate makes everything better, especially when you're following this chocolate pancake recipe. This decadent breakfast brings sweetness to a whole other level that you'll end up craving it long after Christmas morning. As if the pancakes being chocolate flavored isn't enough, they are topped with a homemade chocolate ganache sauce.
Skipping the boxed pancake mix will ultimately be worth it. The recipe calls for cocoa powder, vanilla extract, and chocolate chunks to achieve max chocolatiness. It yields about 12 medium-sized pancakes. If you need to rewarm the chocolate sauce, simply heat in the microwave for a few seconds.
5. Instant Pot French Toast Croissant Casserole
Put your pressure cooker to good use this Christmas by making this Instant Pot French toast croissant casserole. It delivers sweet, cinnamon flavored French toast but without needing to use the stove. This is great for people who want to whip up eight servings at once, rather than making one at a time by using a pan.
This Forkly recipe puts a twist on traditional French toast by using croissants instead of white bread. Although it's not completely necessary to broil the casserole, it's recommended so the tops crisp up and appear golden brown. Dust the toast with powdered sugar, pour on some maple syrup, and bon appetit!
6. Tomato and Feta Tart
Those who desire something savory on Christmas morning will love this tomato and feta tart recipe. The pastry is loaded with mustard, caramelized onion, tomato, feta cheese, and fresh herbs. Feel free to put your own spin on the recipe by adding in your favorite ingredients or whatever you're craving that day.
The recipe yields anywhere from four to eight servings and takes just over half an hour to make. To make things easier for home chefs, the recipe uses store-bought puff pastry. You can achieve a crispier tart by pre-baking the crust five minutes before adding your other ingredients to the tart.
7. Eggnog Pancakes
Take full advantage of the Christmas season by consuming eggnog in every possible way. You can include this creamy drink by making some fluffy eggnog pancakes. All you have to do is replace the milk in your regular pancake recipe with eggnog. It's really just that simple!
This recipe shows you how to whip up the eggnog batter in five steps. It yields up to eight servings and takes no more than 20 minutes to prepare. The writer also teaches you how to make a homemade vanilla syrup, which will bring any type of pancake breakfast to a whole other level.
8. Smoked Salmon Eggs Benedict
For a lighter breakfast that's rich in flavor, make smoked salmon eggs benedict. There's no need to pay overpriced menu prices to indulge in this dish at a restaurant — make it homemade instead! This recipe teaches you how to easily do it. It yields two servings, takes 15 minutes to prepare, and just 10 minutes to cook.
This recipe delivers an English muffin loaded with smoked salmon, sliced avocado, and poached egg. The hollandaise sauce elevates the dish with a fusion of flavor. It's made up of egg yolks, lemon juice, cayenne, salt, and butter. Pour it on top of the poached egg and serve immediately!
9. Oatmeal Cookie Pancakes
Make your pancakes a little more filling this Christmas by trying out this oatmeal cookie pancakes recipe from the Food Network. It takes 10 minutes to prepare, 12 minutes to cook, and yields about 12 pancakes in total. Make sure to have maple syrup or honey at the table to complete the pancake breakfast experience.
These pancakes are flavored with brown sugar, ground cinnamon, chopped walnuts, vanilla extract, and others that perfectly blend together. It also calls for ripe bananas. If you don't have any ripe options on hand, simply heat them up in the microwave for 15 seconds to get them soft enough for mashing.
10. Ham and Cheese Brunch Bake
Not everyone's Christmas Day starts at the crack of dawn, which is why we're including a ham and cheese brunch bake on this recipe round-up. It's made with eggs, shredded white cheddar, ham, and seasoned with a handful of other ingredients. Since it uses a 9×13-inch baking dish, the recipe yields up to 10 servings.
It takes just an hour and 15 minutes to prepare. All you have to do is add the bread, ham, and cheddar to your baking dish. Pour on the egg mixture and bake until the eggs are fully cooked and the ham appears golden. Garnish with some extra thyme before serving and enjoy!
11. Sheet Pan Apple Pie
Whoever believes that apple pie cannot be eaten for breakfast is sadly mistaken. Especially since this sheet pan apple pie recipe is too tasty to resist! The sweetness of the apples mixed with the flavor of cinnamon will pair excellently with your morning coffee on Christmas Day.
The Forkly recipe calls for pre-made pie crust rolls, so no need to panic over making the crust homemade. All you have to do is roll the crust and pour the apple mixture evenly onto the sheet pan. It also teaches you how to make the crumbly streusel topping using just four ingredients.
12. Ham and Swiss Quiche
We love quiche for breakfast and brunch. The creamy egg custard makes it a really special dish. It's a restaurant-worthy meal that can easily be prepared in the comfort of your own home by following this recipe. It uses store-bought crust and simple ingredients to make things as quick as possible.
Be careful not to overbake the quiche. You want it to still jiggle a little once it's done so that it remains creamy and delicious. It's also recommended that you bake it on the lower oven rack to guarantee the crust is golden brown and the right amount of crispy.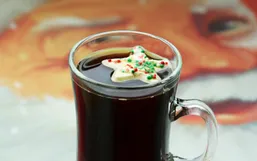 During the holidays, depending on where you live of course, it often involves gathering around with warm beverages in hand.
There's something...well...magical...yes, Christmas magical about a Reese's Peanut Butter Cup.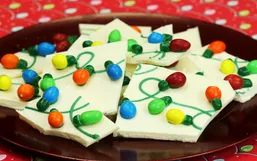 Chocolate barks are my absolute favorite go-to for large batch treats you can store for weeks and hand out as needed to neighbors,...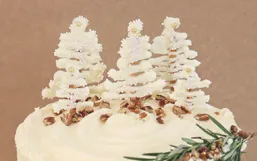 Last year, we created these adorable festive Christmas Tree Brownies, and well...the video recipe for them went viral overnight!
The holidays are known to be the hardest season of the year in terms of the age-old battle of the bulge.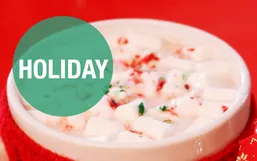 It's that time of year, the season of giving. It's magical and wonderful - and oh, don't forget the mailman!
The centerpiece for your Christmas dinner is a great turkey or ham, but the side dishes are just as important.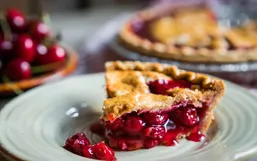 Christmas pies are a delicious addition to the holiday season. While we love the classic pumpkin pie, there are a ton of other...
A Christmas cake is the centerpiece of your holiday meal. After you're stuffed with turkey and all the fixings, the only thing...
Decorating the tree always gets me into the mood for the holidays. As soon as the tree is up I'm in full force Christmas mode.
So you've volunteered to host Christmas dinner this year. The initial voluntary statement may have sounded exciting but if you...
When the holidays roll around the first order of business is setting up the Christmas tree and decorations.