What's better than breakfast? Brunch! Combining lunch and breakfast is such a brilliant idea and allows us to feast on an array of amazing food without committing to just one meal. We're quite comfortable cooking dinners in our Instant Pot so we wanted to test the waters with a new menu item: breakfast casserole! So we whipped up a French toast casserole with sweet berries and a maple syrup drizzle using another fav breakfast bread – croissants. Are you drooling yet?
All you'll need is your Instant Pot and a springform pan that fits nicely in your pot. When choosing a pan, ensure that there is at least an inch of space left between the pan and the pot. A 7-inch springform pan fits perfectly in a 6 Quart Duo Instant Pot. Preparing the casserole is easy but cooking it in the Instant Pot is even easier! This dish is perfect for brunch on a lazy weekend, but actually sweet enough to even be served as a dessert! So grab your whisk and apron and let's start cookin' because you won't want to miss out on this!
Want New Instant Pot Recipes and Content Delivered Straight To Your Inbox? Sign up for our Instant Pot Email Newsletter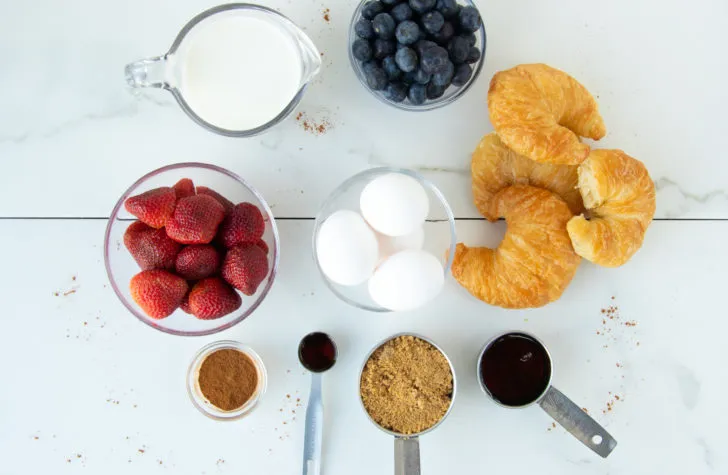 While traditional French toast is made with slices of bread we wanted to step up our game and use croissants. Croissants are perfect for an elevated casserole like this because they're soft, flaky and elegant. Plus this upgrade turns this dish into an Instagram-worthy meal! To make this super easy, grab some pre-baked croissants from your local grocery store bakery and allow the container to sit open overnight (stale is a good thing here)! If you happen to have stale croissants lying around already, even better!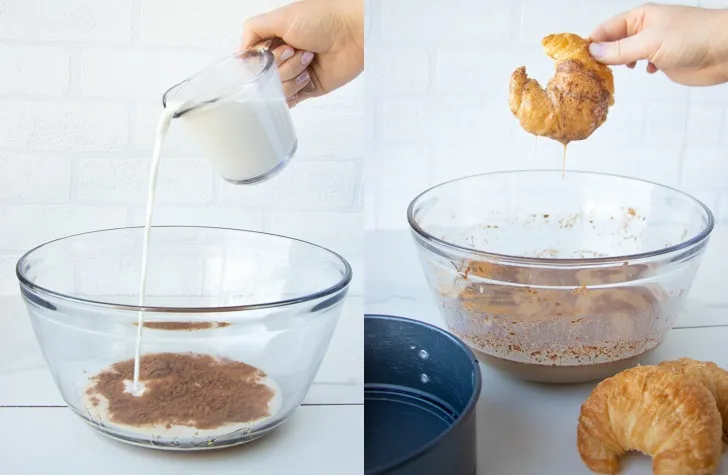 There are a few key ingredients that make the egg mixture extra special. We chose to add in light cream (for richness), brown sugar, and enough cinnamon to really give this casserole some sweetness (but it's not overpowering, we promise!). Once you've dipped the croissants, it's important to pack them down into the pan. This allows you to fit more croissants in, but more importantly, it binds the ingredients together. When adding the fresh berries, be sure to tuck them in between the croissant layers so that the fresh burst of berries is present throughout the casserole.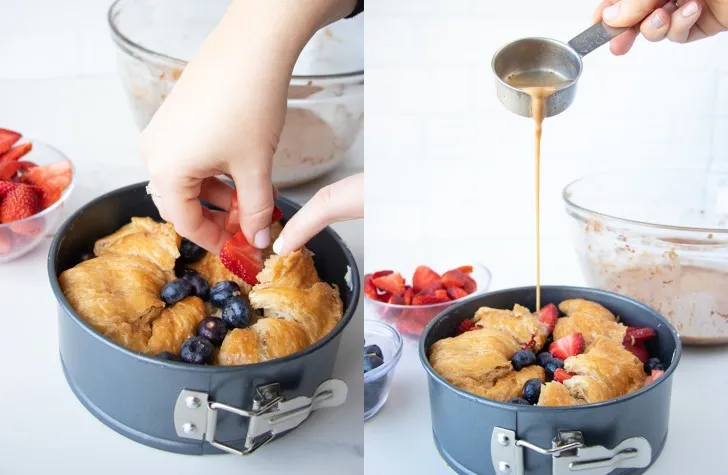 Before adding the extra liquid and placing the casserole into the pot, you need to wrap it in foil. Put a piece on the counter before placing the springform pan on top. Wrapping the foil bottom-up instead of top-down will prevent any leakage when you add the extra cup of liquid to the pan. If you skip this step, we can almost guarantee that the egg/cream mixture will spill out onto your countertop! Once you've added the liquid and before placing the casserole into the Instant Pot, let it rest for about 30 minutes. This allows the croissants to soak up all the liquid and prepare it for cooking. Lastly, pour water into the pot and place the trivet inside so that the pan can sit on top. Otherwise you risk a soggy-bottomed casserole!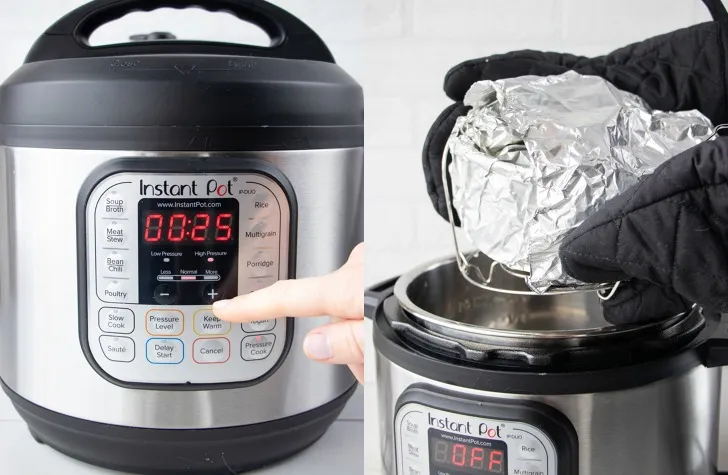 Once cooked and the pressure is quick released, allow the casserole to cool slightly before removing it from the springform pan. You can enjoy as is, or set it in the oven to broil for 5-10 minutes. While this step is completely optional, we highly recommended it if you have the time because it results in a lovely golden and slightly crispy top layer. Serve with a drizzle of maple syrup and a sprinkle of powdered sugar and enjoy!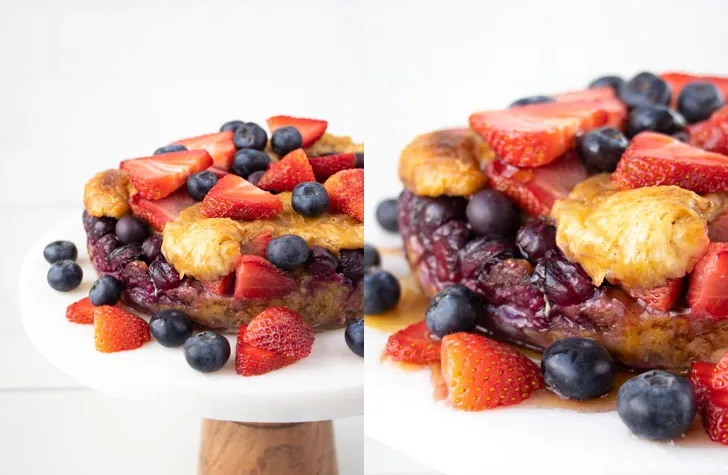 Ingredients
7 croissants, cut in half lengthwise, left to dry out overnight
1 cup milk or light cream
1 tsp pure vanilla extract
4 eggs
1/2 cup brown sugar
¼ cup maple syrup
2 tsp ground cinnamon
1/4 tsp salt
1 cup sliced strawberries
1 cup blueberries
Powdered sugar, for dusting
Maple syrup, for serving
Equipment
Instant Pot
7" springform pan
Method
Lightly grease the springform pan and set aside.
In a bowl, mix together the cream, vanilla, maple syrup, eggs, sugar, cinnamon, and salt. Dip each croissant half in the mixture, coating it completely and moving to the pan.
Arrange the croissants to fit in the pan, overlapping. Press down to compact the croissants as you add them.
Add 1 cup of mixed berries to the top of the casserole, carefully tucking them into the layers.
Wrap the entire pan in tin foil, leaving the top pulled back. If you skip this step, liquid may leak out of the bottom of your spring form pan.
Pour 1 cup of remaining liquid into the pan and press the croissants down to soak up the liquid and compact more.
Cover the top of the pan with tin foil and let sit for 30 minutes to allow more liquid to absorb.
Add 1 cup of water to the Instant Pot and set trivet inside. Carefully place the foil covered pan inside and close the lid, ensuring the pressure valve is sealed.
Cook on Manual/Pressure Cook for 25 minutes. Once cook time has elapsed, quick release the pressure and remove the pan carefully using oven mitts.
Remove tin foil. If desired, put in the oven to Broil for 5-10 minutes until browned and crispy on the top. This step isn't necessary, but will crisp up the outer layer for a nice crunch.
Let cool slightly before serving. Top with powdered sugar, more maple syrup, and fresh berries!
Notes:
Broiling the casserole is optional but we totally reccomend it! This not only crisps up the the top layer but provides a beautiful golden color to the casserole.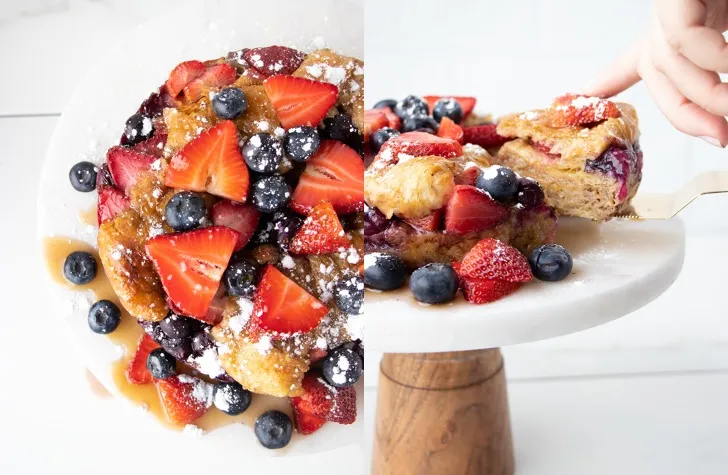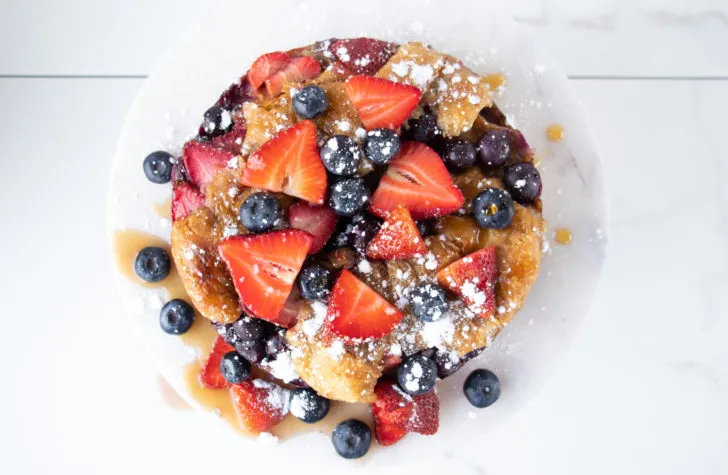 While experimenting with the Instant Pot I quickly discovered that it can not only cook a quick and easy weeknight meal but it can...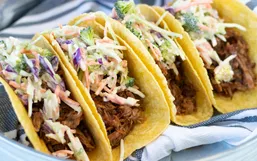 Taco Tuesday is one of my favorite nights of the week! It turns dinner time into a fiesta and it's something exciting for...
If you're like me, odds are you've jumped onto the Instant Pot bandwagon!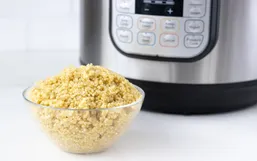 Some would consider quinoa a superfood, and for good reason! It's chock full of vitamins and minerals and is an excellent source...
The Instant Pot has many amazing capabilities. For example, it can cook a meal without heating up the kitchen (perfect for...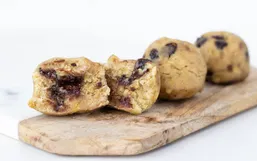 Is there anything better than biting into a warm gooey piece of banana bread? I don't think so.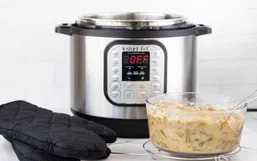 Freezing leftovers is a great way to ensure food doesn't go to waste. It's also a great way to be prepared for busy weeknights!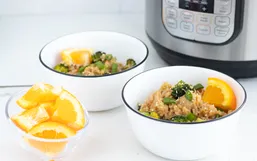 Get ready friends, it's time to enjoy some delicious takeout made at home!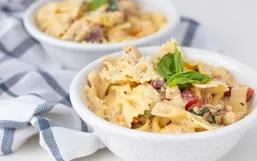 You've spoken and we heard you! Quick and easy Instant Pot weeknight meals that can feed the whole family are top of mind.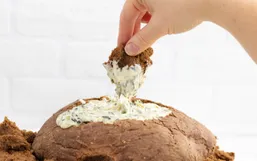 You know it's going to be a good time when there's good food, right? Appetizers are the best way to start off any party.
We've been told time and time again that breakfast is one of the most important meals of the day.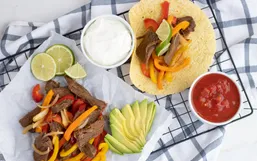 Mexican food is my absolute favorite type of cuisine. It's flavorful, quick to make, and a crowd-pleaser at my house!