I remember one time buying a pack of "wine gums" and read the disclaimer on the side that says "does not contain actual wine"….ummm, excuse me? That's not what I signed up for. So, as all regular people of the internet do, you find a way to make your dreams come true. This time, it was by making some red wine gummies, thankfully with only 3 ingredients. One ingredient being ACTUAL WINE. Give this one a try, it's the perfect treat for the wine lover!
Ingredients
1 cup red wine
1/2 cup white sugar
3 tbsp (or 6 packets) of gelatin
Equipment
Saucepan
Whisk
Silicon Mold (we used a heart shaped ice cube tray)
Spouted measuring cup
Method
Combine wine, sugar and gelatin in a saucepan over medium-low heat until the sugar and gelatin has completely dissolved. About 3-5 minutes.
Transfer the liquid from the saucepan into a spouted measuring cup, for easy pouring.
Pour into a silicon mold.
Let set in the refrigerator for 2 hours.
Valentine's Day is a day to express your love for the special people in your life.
Chocolate-covered strawberries are a delicious dessert any time of the year but they're especially popular around Valentine's day.
It's officially Valentine's Day and for those of you still scrambling to find the perfect recipe for your romantic meal, we have...
Valentine's Day is the perfect opportunity to make a special dinner with a special someone.
Do you plan on making this Valentine's Day memorable for the special someone in your life?
Valentine's Day is just a few weeks away and there's no better time than now to start planning.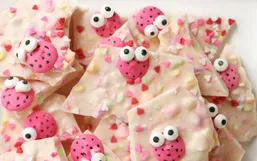 Valentines is that lovey-dovey holiday that usually sneaks up on us and then demands attention, all at once.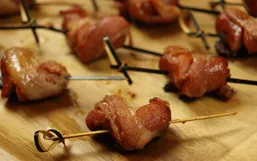 When it comes to Valentine's, it doesn't have to be all candy hearts and chocolates, roses and candlelit dinners.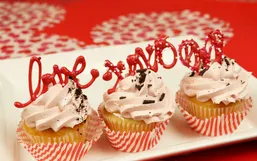 This past Christmas we created little brownie toppers out of chocolate candy melts, made to look like Christmas trees (see them...
Are you single this Valentine's Day? No need to be so negative about such a positive thing.
These recipes are for the lovers! Each represents a perfect token of your affection because they spell out—without a doubt...
Making Valentine's Day treats for your child's class can be awfully tricky these days with so many allergies and eating...