When it comes to Valentine's, it doesn't have to be all candy hearts and chocolates, roses and candlelit dinners. Sometimes, it can be some skewed and baked meat. Yes, for many – meat is their love language. Whether you want to serve this up as a breakfast-in-bed item, a dinner appy, or even at v-day (or alternatively single-awareness-day) party they're the perfect way to bring the bacon home to your loves. So, here's the story… a little while ago we discovered that mini cocktail wieners (aka "weenies" – the debate is still on over the correct terminology for these) when cut in half and on an angle, then turned upwards on one side, it created a heart. So, take that idea, toss a "bow and arrow" style bamboo skewer, and wrap it in bacon along with some crazy good candying drizzle before baking. They're THAT easy! The "don't go bacon my heart" recipe we'd been craving…and guess what? They turned out (my son tells me they're pretty awesome, and he's my go-to meat critic) but lets be real, who doesn't love bacon? So really, you can't go wrong here. All the Valentine's points to win yourself here!
Ingredients
Pre-Cooked Cocktail Wieners (often called "smokies")
Uncooked bacon
⅓ cups Brown Sugar
¼ cups Maple Syrup (the Real Stuff)
1 Tablespoon Dijon Mustard
Pinch Of Cayenne
Equipment
Bamboo Skewers
Baking Sheet (non stick, or lined with parchment paper)
Knife
Method
Preheat your oven to 350 degrees F.
Mix together your mustard, maple syrup, brown sugar and cayenne, and set aside.
Slicing your pre-cooked cocktail weenies in half on a 45 degree angle, turn one side up, creating a heart shape. Place a bamboo skewer through the "heart" on an angle to create a "bow and arrow" appearance.
Wrap the cocktail weenie in bacon, and place on a baking sheet. Continue doing this with 24 cocktail weenies. If the baking sheet you're using is not non-stick, line it with parchment.
Brush/spoon on the maple mustard mixture you had set aside over the tops of each bacon wrapped weenie.
Bake for 15 minutes, or until the bacon is crisp, and the maple mustard mixture is sticky and bubbly (almost like a candied effect).
Remove from oven and let cool for 5 minutes before serving.
Chocolate-covered strawberries are a delicious dessert any time of the year but they're especially popular around Valentine's day.
It's officially Valentine's Day and for those of you still scrambling to find the perfect recipe for your romantic meal, we have...
Valentine's Day is the perfect opportunity to cook an amazing meal for your loved one.
Do you plan on making this Valentine's Day memorable for the special someone in your life?
Valentine's Day is just a few weeks away and there's no better time than now to start planning.
Valentine's Day is the best day of the year to show the person you love how much you care.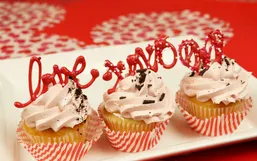 This past Christmas we created little brownie toppers out of chocolate candy melts, made to look like Christmas trees (see them...
Are you single this Valentine's Day? No need to be so negative about such a positive thing.
These recipes are for the lovers! Each represents a perfect token of your affection because they spell out—without a doubt...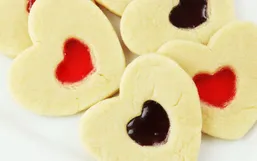 I love baking sugar cookies with my kids, however - it's always such a process between all the dough making, the rolling out,...
Valentine's Day is a day to celebrate the ones you love and let them know how much you care.
Love it or hate it, Valentine's Day is around the corner. On this holiday, you get a chance to spend it with those you love or to...