These recipes are for the lovers! Each represents a perfect token of your affection because they spell out—without a doubt (some, quite literally)—exactly how you really feel about your one-of-a-kind sweetie. Here are 15 passion-filled presents that your Valentine will gobble right up…
1. Yummy-Lovey Cinnamon Buns
Baking for your someone special is always a yummy way to say, "I love you!" A batch of warm, cinnamon rolls are sticky with devotion and are easily crafted into heart shapes by rolling frozen dough and pinching the of each heart into a V-shape.
Make sure to sprinkle the buns with pretty little sprinkles that make them extra Valentine's Day themed!
https://www.ladybehindthecurtain.com/sweetheart-cinnamon-rolls/ PHOTOS AND RECIPE BY: LADY BEHIND THE CURTAIN
2. Meringue Letters and Hearts
Saying "I love you" has never been this easy! Treat your valentine to foamy meringue letters of adoration when you combine 4 simply-sweet ingredients—egg whites, cream of tartar, coarse salt, and sugar.
Fill a piping bag and pipe your love letters on a baking sheet covered in non-stick parchment. Pipe L, O, V, and E, C,U,T, I, and E, and K, I, S, and S about 4 inches tall and spaced 1 inch apart. Be sure to pipe a fair share of hearts and arrows too.
http://www.flourarrangements.org/2015/02/strawberry-meringue-hearts/ PHOTOS AND RECIPE BY: FLOUR ARRANGEMENTS
3. Raspberry Cheesecake Stuffed Brownie Hearts
If your special someone deserves brownies and cheesecake for Valentine's Day—you'd better serve up that request! Luckily you can combine 2 sinful desserts into one when you lovingly bake up a dozen of these decadent heart-shaped cheesecakes stuffed into fudge brownies.
Your love will be so surprised and excited at the idea of combining two irresistable desserts for Valentine's Day.
http://hungryhappenings.com/2014/02/raspberry-cheesecake-stuffed-brownie-hearts.html/ Photos by: Hungry Happenings
4. Bacon Hearts
What do you give the guy for Valentine's Day who already has everything (and by that I mean YOU)? Most dudes don't dig ooey-gooey, gushy heart-shaped presents—unless they're made of bacon!
Simply preheat your oven to 400-degrees, arrange bacon hearts by cutting pieces in half and shaping them into heart shapes on a baking sheet. Bake for 20 minutes and oh la la…it's love and first bite!
http://thediylighthouse.com/the-captains-log-diy/diy-projects-holidays/how-to-make-heart-shaped-bacon/ Photos by: The DIY Lighthouse
5. Heart-Shaped French Fries
Maybe your lovely lady-friend or beloved beau doesn't swoon at the sight of sweets! In that case, you can almost guarantee brownie points for a plate of heart-shaped French fries.
This recipe calls for 4 large baking potatoes peeled and sliced with a heart-shaped cookie cutter. Brush with oil and lightly salted for a delicious golden Valentine side that says, "You are the burger to my fries."
http://foodchannel.com/recipes/heart-shaped-fries PHOTOS AND RECIPE BY: FOOD CHANNEL
6. Mini Ombre Cakes
How beautiful are these romantic little cakes?! If you're looking for a simple yet stunning dessert to make for your lover, this the recipe for you!
While the chocolate toppers look complicated to make, they're actually quite simple! Melt some dark chocolate and gentle drizzle the chocolate into your desired letters and shapes.
https://hellolittlehome.com/how-to-make-mini-ombre-cakes/ PHOTOS AND RECIPE BY: HELLO LITTLE HOME
7. Tickled Pink Hot Chocolate
You're guaranteed plenty of cuddle time if you whip up a mug of this frothy, whipped cream covered pink hot cocoa for your sweetie. Serve it for breakfast, after a romantic afternoon of sledding, or after dinner as you curl up by the fire.
You can even prepare the hot cocoa and present your lover with his or her selection of whipped cream, sprinkles, chocolate chips, and marshmallows so that you can create your own—together!
http://www.homemadeginger.com/2016/02/6727.html PHOTOS AND RECIPE BY: HOMEMADE GINGER
8. Healthy Raspberry Dark Chocolate Bark
If you're staying healthy this Valentine's Day, this bark is perfect for you! Packed with antioxidants, protein and healthy fats, this bark is so good you'll forget it's even healthy.
It also makes a fabulous Valentine's Day gift for your loved one if they're trying to stay on track with their nutrition.
https://amyshealthybaking.com/blog/2017/02/02/healthy-raspberry-dark-chocolate-bark/ PHOTOS AND RECIPE BY: AMY'S HEALTHY BAKING
9. Flourless Chocolate Cake
Aren't a fan of flour? Maybe you just can't have flour! Regardless of your scenario, this cake is less flour and a whole lot of chocolate!
Whether you're a fan of raspberries, peaches or strawberries, pick your loved one's favorite fruit and top off this flourless cake with a fruity punch.
http://www.glorioustreats.com/2017/01/flourless-chocolate-cake.html PHOTOS AND RECIPE BY: GLORIOUS TREATS
10. Fudgy Chocolate Cake with Raspberry Icing
Chocolate and raspberries go together like cheese and crackers, PB and J or…like you and your loved one! Make this gourmet cake to satisfy their sweet tooth and help them fall in love not only with you but with your baking.
Top off your chocolate raspberry cake with real raspberries for added natural flavor that will knock your loved one's socks off.
https://www.justsotasty.com/fudgy-chocolate-cake-raspberry-frosting/ PHOTOS AND RECIPE BY: JUST SO TASTY
11. Raspberry and White Chocolate Shortbread Cookies
Raspberry shortbread cookies are a traditional Valentine's Day dessert that just never gets old. The best part about it is the homemade jam filling that is so sweet it makes your taste buds tingle.
Make a batch of these for your boyfriend or girlfriend and top them all off with powdered sugar as a lovely finish touch for them to take to work!
https://www.aheadofthyme.com/2016/02/raspberry-and-white-chocolate-shortbread-cookies/ PHOTOS AND RECIPE BY: AHEAD OF THYME
12. Brownie Pops
Brownie pops are just the best no matter what the context is. In this context though, they taste best with some pink chocolate for Valentine's Day!
You're pops will look like they're straight out of Starbucks when you sprinkle some heart sprinkles on top and give a bouquet of them to your crush!
https://www.peanutblossom.com/blog/2016/02/brownie-pops.html/ PHOTOS AND RECIPE BY: PEANUT BLOSSOM
13. Heart Pizzas
If you're less into sweet and more into savoury, perhaps the way to your heart is through pizza! A fun Valentine's Day date can be making home made heart shaped pizzas that taste absolutely delicoius.
Cut the cheese, pepperoni and any veggies into heart shapes to make them extra romantic and…delicious!
http://www.thejunior.com.au/2016/02/easy-homemade-valentines-day-heart-pizzas/ PHOTOS AND RECIPE BY: THE JUNIOR
14. Mini Chocolate Covered Strawberry Cheesecakes
Mmmmm, cheesecake is easily the best cake out there! It's sweet, creamy and still maintains a little bit of savory flavor in there as well.
It's a simple type of cake to make, and then dipping strawberries and placing them on top makes them look gourmet and fabulous!
https://www.queensleeappetit.com/mini-chocolate-covered-strawberry-cheesecakes/ PHOTOS AND RECIPE BY: QUEENSLEE APPETIT
15. Marbled Valentine Sugar Cookies
A lot of recipes online look too beautiful to make easily, so we don't even try. But this heart shaped sugar cookie recipe is one for the ages in terms of beauty and flavor, but it won't make you crazy trying it get it right.
All it takes is simply dying half of the dough pink, and maintaining the neutral color of the other half of the dough. Perfect!
https://www.bakedbyrachel.com/marbled-valentine-sugar-cookies/ PHOTOS AND RECIPE BY: BAKED BY RACHEL
Chocolate-covered strawberries are a delicious dessert any time of the year but they're especially popular around Valentine's day.
It's officially Valentine's Day and for those of you still scrambling to find the perfect recipe for your romantic meal, we have...
Valentine's Day is the perfect opportunity to cook an amazing meal for your loved one.
Do you plan on making this Valentine's Day memorable for the special someone in your life?
Valentine's Day is just a few weeks away and there's no better time than now to start planning.
Valentine's Day is the best day of the year to show the person you love how much you care.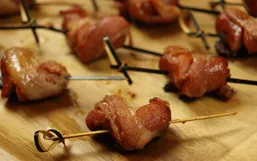 When it comes to Valentine's, it doesn't have to be all candy hearts and chocolates, roses and candlelit dinners.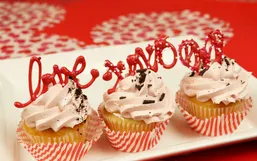 This past Christmas we created little brownie toppers out of chocolate candy melts, made to look like Christmas trees (see them...
Are you single this Valentine's Day? No need to be so negative about such a positive thing.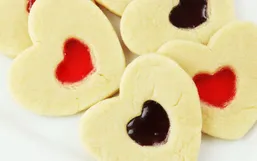 I love baking sugar cookies with my kids, however - it's always such a process between all the dough making, the rolling out,...
Valentine's Day is a day to celebrate the ones you love and let them know how much you care.
Love it or hate it, Valentine's Day is around the corner. On this holiday, you get a chance to spend it with those you love or to...