Chocolate-covered strawberries are a delicious dessert any time of the year but they're especially popular around Valentine's day. In preparation for the big day, we've found three unique versions of the traditional treat that will make this Valentine's Day one to remember.
Here are three unique ways to make your chocolate-covered strawberries stand out this year:
3. Tri-Colored Chocolate-Covered Strawberries
These interesting tri-colored designs are a easy and fun way to spice up your basic chocolate-covered strawberries recipe. The strawberries in this particular photo look more suitable for a holiday like 4th of July but simply swap the blue sprinkles for pink ones and you have a very Valentine's Day-inspired treat.
2. Chocolate, Coconut and Rice Krispies Covered Strawberries
The great thing about this recipe is it's memorable and unique but still so easy to make. Simply follow the instructions for making traditional chocolate-covered strawberries but, right after you dip them, roll them in creative toppings like coconut or Rice Krispies. Trust me, the added touch will make a huge difference.
1. Chocolate-Covered Strawberry Roses
This is a truly distinctive recipe that's perfect for the special someone in your life. All you need to do is buy about six long kebab sticks and substitute a few of the ingredients to make these chocolate-covered strawberry roses. If you're looking to really wow this Valentine's Day, this unique but simple recipe will definitely do the trick.
Have a chocolate-covered strawberries recipe you want to share? Let us know! We love to hear from you!
It's officially Valentine's Day and for those of you still scrambling to find the perfect recipe for your romantic meal, we have...
Valentine's Day is the perfect opportunity to cook an amazing meal for your loved one.
Valentine's Day is the perfect opportunity to make a special dinner with a special someone.
Valentine's Day is just a few weeks away and there's no better time than now to start planning.
Valentine's Day is the best day of the year to show the person you love how much you care.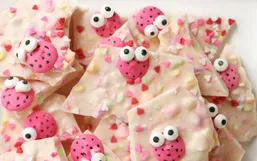 Valentines is that lovey-dovey holiday that usually sneaks up on us and then demands attention, all at once.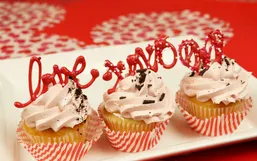 This past Christmas we created little brownie toppers out of chocolate candy melts, made to look like Christmas trees (see them...
Are you single this Valentine's Day? No need to be so negative about such a positive thing.
These recipes are for the lovers! Each represents a perfect token of your affection because they spell out—without a doubt...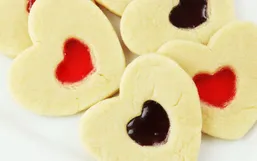 I love baking sugar cookies with my kids, however - it's always such a process between all the dough making, the rolling out,...
Valentine's Day is a day to celebrate the ones you love and let them know how much you care.
Love it or hate it, Valentine's Day is around the corner. On this holiday, you get a chance to spend it with those you love or to...