Valentine's Day is the perfect opportunity to make a special dinner with a special someone. Many recipes cook for 4-6 servings, when you just need a recipe for two! The dinner also has to be special. The same ol' dish won't cut it when you're trying to impress a loved one.
We found 6 amazing two person recipes that would be perfect dishes for Valentine's Day dinner. We have classics like lobster, steak, and some surprises. We hope you love these dishes as much as we do!
*Click on the bottom link to view the recipe.
6. Chicken Parmesan
Chicken Parmesan is a tradition in our family for Valentine's Day. We always make extra so that we can make chicken Parmesan sandwiches the next day. This fatty dish can be very heavy for Valentine's, so this lower fat version is a winner.
[Source: Can You Stay For Dinner]
5. Rib Eye Steak With Sherry Cream Sauce
This delicious rib eye steak is a great dish for Valentine's Day. It's easy to make, and the steak is seasoned simply with just salt and pepper. The author adds a great tip- cook your steak from room temperature. It helps the meat cook evenly.
[Source: Cooking With Sugar]
4. Roasted Lobster Tails With Ginger Sauce
Lobster is a traditional Valentine's Day dinner. It can be messy and time consuming to break down a whole lobster, and then you smell like seafood for the night. A good option is just cooking the lobster tails. Mix it up with this delicious ginger sauce.
[Source: My Recipes]
3. Tuscan Porterhouse Steak With Red Wine Peppercorn Jus
The porterhouse steak cut is a great alternative to splurging on tenderloin. You still get a large portion of the tender meat, but you also get a whole New York strip steak. It's a good size for two people, so you need only buy one steak for dinner.
[Source: Gourmet]
2. Steamed Mussels In Coconut Milk
Mussels are a great protein for Valentine's Day. Buy them right before using, or else you might find they have died in your fridge. They should be very affordable, but some inland cities have a markup on their shipping costs. This coconut sauce gives a unique touch to this dish.
[Source: Serious Eats]
1. Cast Iron Roasted Game Hens
This magnificent one dish dinner is a real winner. Game hens are cooked with potatoes and Brussels sprouts. Bacon is added to the pan first, seasoning the dish and adding a delicious flavor to the meal. You can use any tiny poultry bird, or break down a conventional chicken into smaller parts.
[Source: My Man's Belly]
Chocolate-covered strawberries are a delicious dessert any time of the year but they're especially popular around Valentine's day.
It's officially Valentine's Day and for those of you still scrambling to find the perfect recipe for your romantic meal, we have...
Valentine's Day is the perfect opportunity to cook an amazing meal for your loved one.
Valentine's Day is just a few weeks away and there's no better time than now to start planning.
Valentine's Day is the best day of the year to show the person you love how much you care.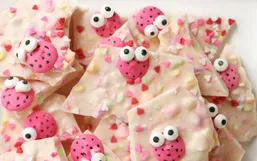 Valentines is that lovey-dovey holiday that usually sneaks up on us and then demands attention, all at once.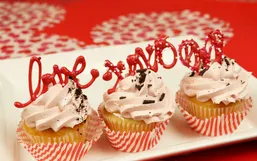 This past Christmas we created little brownie toppers out of chocolate candy melts, made to look like Christmas trees (see them...
Are you single this Valentine's Day? No need to be so negative about such a positive thing.
These recipes are for the lovers! Each represents a perfect token of your affection because they spell out—without a doubt...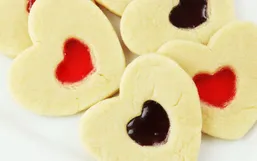 I love baking sugar cookies with my kids, however - it's always such a process between all the dough making, the rolling out,...
Valentine's Day is a day to celebrate the ones you love and let them know how much you care.
Love it or hate it, Valentine's Day is around the corner. On this holiday, you get a chance to spend it with those you love or to...