Valentine's Day is a time when expectations are high from your loved one, especially when you're the one planning it! Whether you're on a budget or just want to do something unique for Valentine's, making a gourmet supper at home is a fantastic way to show your significant other that you love them. Check out twenty meals that will rock your loved one's world.
1. Spicy Tahini Tofu Stir Fry
Are you and your partner vegetarians? Or maybe you're just a little more adventurous when it comes to food. This spicy tahini tofu stir-fry is packed with flavor and will leave you feeling energized and full.
If you are more of a meat lover, add in some chicken instead of tofu for loads of protein. Serve on noodles with delicious fresh greens.
2. Chicken Parmesan
We all love a good chicken parm every once in a while! The problem is that it can be hard to make it for only two people.
This recipe has all the portions right for just you and your lover so you can enjoy a chicken parm supper without having to worry about the leftovers.
3. Steak Oscar
You may not know what steak oscar is, but if you love some good surf and turf, you will definitely be on board for this decadent meal.
Steak oscar is basically steak that is topped with a crab mixture and bernaise sauce. If you want to sweep your loved one off their feet, serve up this restaurant worthy meal.
4. Pan Seared Scallops with Bacon Fennel Cream Sauce
Scallops never get old! They're tender, light and add some much flavor to your meals. Scallops are also known for pairing well with bacon, which is exactly what this recipe does.
This creamy linguine is a show stopper of a meal when the bacon, scallops and creamy sauce are combined. Serve with a homemade caesar salad and your Valentine's Day is complete!
5. Mini Steak Sandwich with Brie, Caramelized Onions and Fig Jam
Mmm, this mini steak sandwich looks perfectly mouth-watering, especially with the brie cheese all melted and delicious!
This is a simple supper that will impress your love because of how flawlessly the flavors have been combined to create one amazing recipe.
6. Pork Tenderloin Stuffed with Shallots, Poached Pears, and Blue Cheese
What was once dubbed a Christmas dinner for two, is now a romantic Valentine's supper! This meal looks way more difficult than it actually is to make.
By just chopping up a few fillings for your pork tenderloin, you'll infuse your meat with restaurant quality flavor that your significant other will love you for.
7. 20 Minute Golden Chickpea Curry with Spinach
Okay, so…this should not be happening but it happens to the best of us. You forgot Valentine's Day. It's okay, just don't tell anyone that!
This dish takes only twenty minutes to make and looks gourmet enough to make it look like you truly planned out a lovely Valentine's Day supper.
8. Garlic Lime Chicken Tenders and Quinoa
Another easy supper for those people who want to show some love to their significant other but are simply in a hurry and on a tight schedule!
Packed with garlicky flavor, this quinoa bowl will have your loved one feeling satisfied and full by the end of the meal. Add some roasted veggies for added nutrients and flavor.
9. Easy Balsamic Glazed Steak Tips and Mushrooms
Steak is always a good idea when Valentine's Day rolls around! It's one of those meats that is gourmet all on its own without too much effort. Just make sure you get the timing right for cooking it!
The added mushrooms are absolutely delicious and can be added on top of some yummy garlic mashed potatoes and roasted veggies.
10. Bruschetta Chicken
This recipe can quickly become a suppertime favorite because of how simple it is, yet still packed with so much flavor!
The best part about this recipe is that it is red which makes it extremely suitable for Valentine's Day!
11. Coq Au Vin
What is Coq Au Vin you ask? It's basically a magical combination of win, lardons, mushrooms, and garlic in a big pot with chicken. Needless to say, it's a flavorful meal.
When your loved one comes home and asks what's for supper, your response will pleasantly surprise them when you say the name of this French dish.
12. Seared Scallops
Have you ever been to an extremely high-class restaurant where they serve small portions for a large price? If you have, you would know that it's not about quantity, but rather, quality.
These scallops are just that – high quality and placed strategically with the perfect balance of flavors. Serve a light arugula salad on the side and have a decadent chocolate treat for dessert.
13.  Garlic Basil Barramundi Skillet with Tomato Butter Sauce
The best meals are made in a skillet so that there are very few dishes to wash afterward! This frees up extra time for you to spend with your Valentine.
Simply add all the ingredients to the skillet and you'll be ready to dig in before you know it! Add some fresh basil for extra flavor.
14. Stuffed Chicken Breast with Mozzarella and Spinach
Stuffed chicken is one of those meals that is so easy to make but looks super impressive at the same time. These are the types of meals that you want to keep making even after Valentine's Day!
Whether your significant other like mozzarella or goat cheese, spinach or roasted red pepper, you can customize this recipe to suit your loved ones taste buds.
15. Chicken Pot Pie
Chicken pot pie is a fantastic Valentine's Day meal because you can make it in small pots that make the meal look extremely impressive and professionally made.
Pair with some home cooked bread and a fresh salad for a complete meal that will knock both of your socks off!
16.  Greek Style Stuffed Peppers
Stuffed Peppers are so underrated these days! They are packed with flavor and tons of beneficial ingredients that will leave you feeling satisfied without the bloat.
The best part is that when you make stuffed peppers with red pepper, it is perfectly themed for Valentine's day!
17. Chicken in Cream Sauce
Who doesn't love a little chicken with cream sauce?! For this meal, start your loved one out with a light salad that will introduce them to the meal.
Next, serve up the chicken on either rice or beside some garlic mashed potatoes. Don't forget to roast some veggies for added nutritional benefits!
18. One Skillet Pork Chop & Veggie Dinner
We may be biased, but this meal is pretty incredible, not just because we made it! Between the generous scoop of butter, rosemary flavoring, and delicious veggies, your Valentine won't be able to pick which part of the meal was their favorite.
You can watch our instructional video on how to cook it in just a short time by clicking on the link below.
19. Pesto Chicken Pasta with Oven Roasted Tomatoes
Delicious. A good bowl of pasta is amazing for your hungry partner, but also good for the soul! Pasta is a dish from Italy where romance is alive and well.
Serve this pasta dish with a glass of fine wine, and finish with a homemade dessert or a treat from your date's favorite bakery.
20. Mushroom Pasta with Goat Cheese
This quick and easy pasta dish is so delicious you won't know what hit you. The key to creating gourmet dishes is the policy that less is more. Maybe the measurements are bigger, but the amount of ingredients doesn't have to be a mile long.
This is quite simply the art of pairing flavors together that play off one another and create the perfect foodie experience.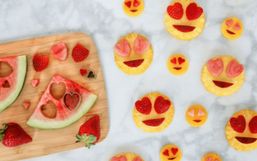 Valentine's Day is a day to express your love for the special people in your life.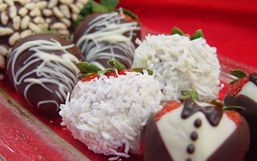 Chocolate-covered strawberries are a delicious dessert any time of the year but they're especially popular around Valentine's day.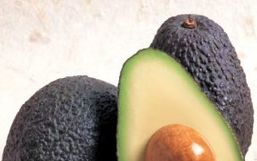 It's officially Valentine's Day and for those of you still scrambling to find the perfect recipe for your romantic meal, we have...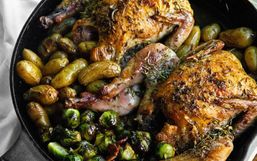 Valentine's Day is the perfect opportunity to make a special dinner with a special someone.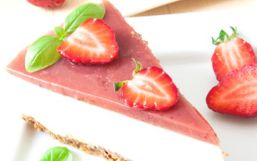 Do you plan on making this Valentine's Day memorable for the special someone in your life?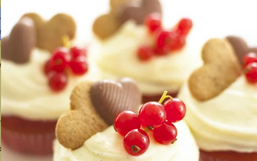 Valentine's Day is just a few weeks away and there's no better time than now to start planning.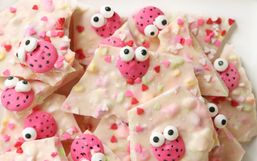 Valentines is that lovey-dovey holiday that usually sneaks up on us and then demands attention, all at once.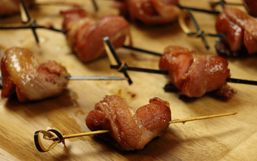 When it comes to Valentine's, it doesn't have to be all candy hearts and chocolates, roses and candlelit dinners.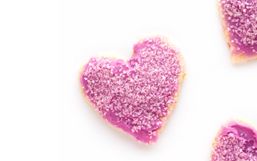 Love it or hate it, Valentine's Day is around the corner. On this holiday, you get a chance to spend it with those you love or to...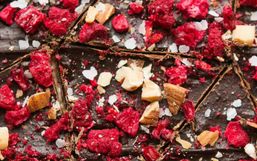 These recipes are for the lovers! Each represents a perfect token of your affection because they spell out—without a doubt...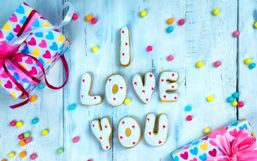 Making Valentine's Day treats for your child's class can be awfully tricky these days with so many allergies and eating...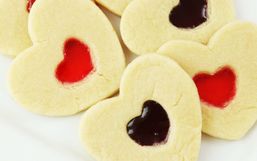 I love baking sugar cookies with my kids, however - it's always such a process between all the dough making, the rolling out,...