The most wonderful thing about children is the pure excitement for just about everything! Throw in a holiday that centers around dress-up and make believe, heroes and villains, carving faces in vegetables you don't have to eat, and of course – free candy and it's through-the-roof exciting. Halloween may just be one day for many, but for kids, they wait all year for this! This is a great time to jump on that excitement bandwagon as a parent or caregiver with kids, and start creatively making some Halloween-themed treats. Whether for their school friends, handing out to the neighborhood children, or just enjoying at home. Baking and creating goodies with kids is one of my personal favorite things to do – because it's essentially a craft! Just not one you have to hang on the fridge for six months until you finally sneak it into the trash, hoping they won't notice. This craft, you get to eat, so it cleans itself up. Well, just not the kitchen. Good luck with that.
1. "Boo"Nanas
This one is for the health-conscious, trying to sneak in some of nature's candy into the holiday. A frozen banana dipped in a light coating of white chocolate will be a hit especially for toddlers. Not to mention the fact that white chocolate is a whole lot easier to clean off a child's face than milk chocolate is. Oh my, I'm having some really bad flashbacks of those messes.
http://www.skinnytaste.com/frozen-boo-nana-pops/ Photo by: Skinny Taste
2. Monster Cookie Bar
I abso-freaking-lutely LOVE this idea. It gives the kids a chance to be a part of the creative process with each of their own little imaginations, style and touches. You also simply cannot mess up a monster face. 20 eyeballs? You got it, kid.
https://www.babble.com/best-recipes/monster-cookie-bar/ Photo by: Babble
3. Donut Pumpkins
Yaaaaay! No baking required!! This easy DIY treat you can pick up all the supplies for and be ready to go the second you get home. Plus, who doesn't love mini donuts?
http://www.itsalwaysautumn.com/2015/09/15/donut-pumpkins-fun-easy-kids-halloween-food-craft.html Photo by: It's Always Autumn
4. Halloween Brownie Bites
Brownie bites are another easy store-bought item you can hack with the kids into many different Halloween treats! Give them the supplies, and let them get inspired by these great ideas.
http://www.aspicyperspective.com/5-easy-halloween-treats-made-with-brownie-bites/ Photo by: A Spicy Perspective
5. Witch Hat Surprise Cookies
With chocolate sugar cones and oreos, you can fill the hat with whatever candy you or the kids choose! Super easy, even the tiniest of hands can be of assistance.
http://www.thismamaloves.com/halloween-treat-recipe-witch-hat-surprise-cookies/ Photo by: This Mama Loves
6. Sugar Wafer Frankensteins
Whether they make them sweet or scary, these will be easy and fun to make, and very cost friendly, since those wafer cookies come in large packs!
http://www.shakentogetherlife.com/2016/09/sugar-wafer-frankenstein-cookies-halloween.html Photo by: Shaken Together
7. Monster Donuts
I realize this is a second donut hack, but I'm not going to apologize, because…donuts. Also because these are wildly hilarious and the kids have something fun to keep after they enjoy their treat!
http://onelittleproject.com/halloween-monster-donuts/ Photo by: One Little Project
8. Creepy Crawly Sandwiches
Looking for more of a meal option rather than a treat option? Have the kids help you whip up lunch with these monster sandwiches!
http://lmld.org/2014/10/06/chicken-sandwich-monsters/ Photo by: Like Mother, Like Daughter
9. Frankenstein Marshmallow Pops
Anything that requires dipping, kids will 100% be in on. They are dipping pros. Every breakfast lunch and dinner? Dips. They've been training for this, time to bring them in!
http://www.justataste.com/halloween-frankenstein-marshmallow-pops-recipe/ Photo by: Just A Taste
10. Rice Krispie Pumpkins
Thank goodness for rice krispie treats – the stove top simple recipe you can do off the top of your head (or the side of the cereal box for you rookies). This version uses a mini bundt pan to press and shape into pumpkins. Genius!
http://www.sheknows.com/food-and-recipes/articles/1020601/pumpkin-shaped-rice-krispies-treats-recipe Photo by: She Knows
11. Mad Scientist Jello Syringes
There's a turning point in every child's life where the syringes they see early on are something to be feared and avoided become something super cool. Fill them with jello and that just encourages the super-coolness of needles. Have the kids help mix and fill these bad boys and share with their friends!
http://livingtothefullest.com/mad-scientist-jell-o-syringes/ Photo by: Living To The Fullest
12. Spider Infested Chocolate Chip Cookies
Really easy for kids to be involved in mixing and rolling, and then maybe the older kids (or in many cases, the adult) can do the fine little lines at the end. Collaborative efforts so everyone can take credit!
http://hungryhappenings.com/2013/09/gross-Halloween-food-spider-cookie-recipe.html/ Photo by: Hungry Happenings
13. Skewered Eyeballs Treat
The grosser, the better it seems when it comes to kids. This is why Halloween is their jam. So eyeballs on a stick (don't cringe) are exactly what the event calls for.
http://eighteen25.com/2015/09/skewered-eyeballs-halloween-treat/ Photo by: Eighteen 25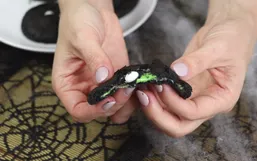 So as a mom of 3 school-aged children you can probably guess that the word "SLIME" has become part of our regular vocabulary.
Tired of having the same boring pizza week after week but aren't exactly ready to shy away from the delicious - and easy -...
Statistics reveal that, as of 2008, 2.1% of children in the US suffered from either peanut or nut tree allergies.
Maintaining a healthy diet for your kids can be a difficult task.
Popsicles are a great way to quench your thirst and keep cool on hot summer days.
Say cheese! Happy National Cheese Day 2012, everyone! It's time to celebrate America's favorite food and what better way to...
Every parent should make an effort to make food fun for kids! Dressing up basic snacks like fruit, veggies and sandwiches will put...
There's no denying that most kids love mac and cheese. There's no denying that most adults do as well.
Kids love to help their parents make meals. Cooking with kids not only helps you spend quality time with them after school but it...
Have you been hearing about the "Ketogenic" diet (aka The Keto Diet) as much as I have lately?
When you dreamed of life with children, you envision beautiful lifestyle with your well-behaved children (not like those screaming...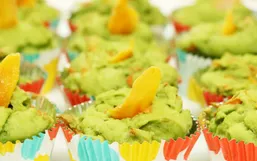 The last few years has had a growing trend of green smoothies. It's simply an ingenious way to enjoy a sweet, healthy, refreshing...