Working on a keto diet means cutting carbs and increasing fat (learn more about it here). Finding low-carb and carb-free desserts is going to put you on the hunt for exactly what that is. So we're saving you the time and effort with a curated list of sweet treats that won't break the diet goals, and keep you "fat bombing" your way right through dessert.
1. Flourless Keto Brownie
So easy to make, and flourless, too! These will be a perfect quickly made addition to satisfy your post-dinner sweet spot.
http://www.ditchthecarbs.com/2015/06/12/nut-free-keto-brownie/ Photo by: Ditch The Carb
2. Keto Blueberry Cream Cheese Crumble
Using frozen blueberries, butter, cream cheese and a crumble made from almond and coconut flour, along with some other key ingredients, this recipe will definitely satisfy your sweet tooth.
http://www.fabeveryday.com/2016/04/keto-blueberry-cream-cheese-crumble.html?m=0 Photo by: Fab Everyday
3. Ultimate Keto Creme Brulee
Maybe you thought this dessert favorite was out of the question, but it's not! With only 6 ingredients, you can whip up these single serving custards with ease.
http://www.mysweetketo.com/recipe/ultimate-keto-creme-brulee/ Photos by: My Sweet Keto
4. Maple Almond Fudge Fat Bombs
See, I told you there'd be fat bombs. This sweet treat won't spike your blood sugar or shatter your goals. It's the perfect little bomb of happiness. And! Only 4 ingredients 😀
http://www.bunsinmyoven.com/2016/01/11/maple-almond-fudge-fat-bombs-low-carb-sugar-free-keto-friendly/ Photos by: Buns In My Oven
5. Keto Key Lime Poke Cake
With almond flour, coconut flour and even protein powder in the mix, this refreshing dessert is completely keto-friendly.
http://ketodietapp.com/Blog/post/2016/06/02/keto-key-lime-poke-cake Photos by: Keto Diet App
6. Macadamia Nut Cookies
With reviews claiming they're the "best keto cookies" ever made, I guess this recipe is one you should be trying out! Again with that almond flour, and maple syrup instead of sugar along with those oh-so-perfect macadamia nuts, it's no wonder these are raved about.
https://www.ketoconnect.net/recipe/macadamia-nut-cookies/ Photos by: Keto Connect
7. Low Carb Turtle Recipe
Under 100 calories and some really interesting ingredients, but mmmm….I love turtles, and I don't care what your diet is, you do too.
http://www.lowcarbmaven.com/low-carb-turtle-recipe/ Photo by: Low Carb Maven
8. Triple Chocolate Keto Muffins
Like the socially acceptable cupcakes of the daytime, muffins that are double chocolate are bomb. Triple chocolate? Well, that's just incredibly encouraging news. These muffins are made with peanut flour, eggs, cream, butter (get those fats in, keto dieters!) and a few more delicious ingredients that keep this recipe sweet and satisfying.
https://www.ketoconnect.net/recipe/low-carb-chocolate-muffins/ Photos by: Keto Connect
9. Keto Cinnamon Swirl Cookies
If cookies and cinnamon buns had a ketogenic diet friendly baby…
http://ketodietapp.com/Blog/post/2015/11/30/keto-cinnamon-swirl-cookies Photo by: Keto Diet App
10. Low Carb Pina Colada Fat Bombs
5 ingredients and only a few steps, you can have these adorable little fat bombs ready to go, exactly when you need them. The perfect "shot" of energy.
http://www.myketokitchen.com/keto-recipes/low-carb-pina-colada-fat-bombs/ Photo by: My Keto Kitchen
Following any diet alone can be hard but if you're able to encourage the entire family to participate you may be more inclined to...
Tired of having the same boring pizza week after week but aren't exactly ready to shy away from the delicious - and easy -...
Statistics reveal that, as of 2008, 2.1% of children in the US suffered from either peanut or nut tree allergies.
Maintaining a healthy diet for your kids can be a difficult task.
Popsicles are a great way to quench your thirst and keep cool on hot summer days.
Say cheese! Happy National Cheese Day 2012, everyone! It's time to celebrate America's favorite food and what better way to...
Every parent should make an effort to make food fun for kids! Dressing up basic snacks like fruit, veggies and sandwiches will put...
There's no denying that most kids love mac and cheese. There's no denying that most adults do as well.
Kids love to help their parents make meals. Cooking with kids not only helps you spend quality time with them after school but it...
Have you been hearing about the "Ketogenic" diet (aka The Keto Diet) as much as I have lately?
When you dreamed of life with children, you envision beautiful lifestyle with your well-behaved children (not like those screaming...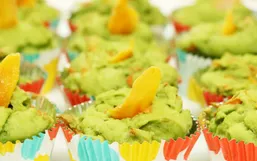 The last few years has had a growing trend of green smoothies. It's simply an ingenious way to enjoy a sweet, healthy, refreshing...