Dealing with picky eaters can be not only frustrating but tiring too. We're here to help you set yourself up for success. Instead of battling it out with your kids at every meal time try these recipes!
We've compiled a list of delicious breakfast, lunch and dinner ideas that are all picky eater approved! As a bonus, some of these recipes will help you sneak a few more fruits and veggies into their diet too.
1. Cereal Yogurt Bark
Add some protein into their diet by making this cereal yogurt bark. The secret is to use Greek yogurt!
This recipe uses a fruit cereal but you could implement this idea with whatever type of cereal your child loves! They'll feel like they're getting a true treat for breakfast and you'll feel good about feeding it to them.
https://www.hellowonderful.co/post/EASY-KID-SNACK–CEREAL-YOGURT-BARK/#_a5y_p=4845901 PHOTOS AND RECIPE HERE: HELLO, WONDERFUL
2. Kid-friendly Breakfast Sushi
Breakfast time can be a never-ending battle especially if you have picky eaters! This kid-friendly breakfast sushi helps to make breakfast time fun!
To create the sushi all you'll need is a banana, Greek yogurt, cereal, and blackberries. This breakfast is easy to prepare, so much that even your kids could make it themselves.
https://raisingwhasians.com/kid-friendly-breakfast-sushi-recipe/?utm_medium=social&utm_source=pinterest&utm_campaign=tailwind_smartloop&utm_content=smartloop&utm_term=1649860 PHOTOS AND RECIPE HERE: RAISING WHASIANS
3. McDonalds Pancake Recipe
The next time your kids are begging to be taken to McDonald's for breakfast whip up a batch of these McDonald's pancakes using this copycat recipe! They'll think you snuck out to get them their favorite pancakes but really you made them at home.
This copycat recipe is incredibly easy to make. You will be preparing the pancakes from scratch but don't worry, the recipe only requires 6 ingredients. Your picky eaters will be requesting these again and again!
https://www.savingyoudinero.com/2013/05/05/pancake-recipe-reminds-me-of-mcdonalds/ PHOTOS AND RECIPE HERE: SAVING YOU DINERO
4. Fruit and Veggie Smoothies for Kids
Encouraging your picky eaters to get enough fruit and veggies in their daily diet can be hard. An easy solution is to drink fruits and veggies by blending up a delicious smoothie!
You'll be provided with 4 different smoothie flavor ideas. In addition to the recipes, this blogger shares several tips to ensure even the pickiest eaters will enjoy these drinks. Looking for more way to boost your smoothies, check out The Best Smoothie Boosting Ingredients.
https://mykidslickthebowl.com/fruit-veggie-smoothies-for-kids/?utm_medium=social&utm_source=pinterest&utm_campaign=tailwind_tribes&utm_content=tribes PHOTOS AND RECIPE HERE: MY KIDS LICK THE BOWL
5. Leftover Spaghetti Nests
You can always play it safe by cooking up some noodles and sauce for your picky eaters. The next time your fridge is loaded up with pasta leftovers don't let them go to waste! Instead, prepare these delicious leftover spaghetti nests.
Aside from the ingredients, all you'll need is a muffin tin to create the perfect nest shapes. These delicious spaghetti cups are perfect for a quick dinner or can even be packed away for lunches!
http://www.forkly.com/recipes/leftover-spaghetti-nests/ PHOTOS AND RECIPE HERE: FORKLY
6. Pull-Apart Pizza Rollups
You can never go wrong with pizza. However, instead of ordering a pizza why not make a batch of these delicious pull-apart pizza rollups.
To help make this recipe incredibly easy, use store-bought pizza dough! Further, you'll only need 5 minutes to prep the pizza roll-ups and 35 minutes to cook.
http://www.forkly.com/recipes/pull-apart-pizza-roll-ups/ PHOTOS AND RECIPE HERE: FORKLY
7. Homemade Spaghettios with Hidden Veggies
Skip the canned version and make your picky eaters a batch of these homemade spaghettios. As a bonus, these spaghettios have hidden veggies and your kids won't even notice that they are there.
If you know you have a busy week coming up, cut down on your prep time by pre-cooking the pasta. Then, on a busy night, all you'll have to do is prepare the sauce and then serve together! You can use anellini pasta, ABC's or even star-shaped pasta – your kids will love it!
https://www.morganmanagesmommyhood.com/homemade-spaghettios/?utm_medium=social&utm_source=pinterest&utm_campaign=tailwind_tribes&utm_content=tribes&utm_term=578514618_21619244_13244 PHOTOS AND RECIPE HERE: MORGAN MANAGES MOMMYHOOD
8. Easy Weeknight Leftover Chicken Quesadillas
The next time you have leftover chicken sitting in your fridge be sure to make these delicious quesadillas. This easy idea requires 4 simple ingredients and comes together quickly.
The quesadillas are made with salsa, leftover chicken, shredded cheese, and flour tortillas. You can serve them with guacamole, sour cream or our favorite, 5-ingredient copycat chipotle burrito sauce!
http://www.forkly.com/recipes/easy-weeknight-leftover-chicken-quesadillas/ PHOTOS AND RECIPE HERE: FORKLY
9. Beef Noodle Casserole
This delicious dinner is another simple and picky-eater approved pasta dish! The simple combination of egg noodles, ground beef, tomato sauce, and ooey-gooey cheese will please your whole family.
Italian seasoning and onion provided this dish with a lovely flavor, however, be sure to chop the onion nice and fine so that your picky eaters won't even notice that they are there!
https://www.dinneratthezoo.com/beef-noodle-casserole/ PHOTOS AND RECIPE HERE: DINNER AT THE ZOO
10. Muffin Tin Cheeseburger Cups
Muffin tin cheeseburger cups is the perfect meal to feed a crowd, especially one with multiple picky eaters. Save time by using leftover or precooked ground turkey or beef and then assemble the cheeseburger cups in a muffin tin.
Aside from the ground beef, you'll need burger bun halves, precooked bacon, cheese, and a dill pickle. Complete the meal by serving with a side of fries!
http://www.forkly.com/recipes/muffin-tin-cheeseburger-cups/ PHOTOS AND RECIPE HERE: FORKLY
11. Wonton Taco Cups
Try something different this Taco Tuesday and serve the delicious fillings of tacos in a wonton cup. Your picky eaters will love these bite-sized treats and because they're so easy to assemble you can encourage them to help you prepare the dinner.
First, you'll need to cook the ground beef with taco seasoning in a skillet. Then place the wonton wrappers in a muffin tin to create the cups and bake all the ingredients together in the oven. Serve with sides of freshly diced tomatoes, sour cream, or any of your favorite toppings.
https://www.confettiandbliss.com/wonton-taco-cups/ PHOTOS AND RECIPE HERE: CONFETTI AND BLISS
12. Instant Pot Homemade Mac and Cheese
Children and adults alike love mac and cheese, and for good reason! It's simple, it's cheesy and it is seriously delicious! However, skip the boxed variety and make a delicious homemade version.
While the word homemade may be intimidating we promise this recipe is insanely easy. To help make this recipe quick and easy you'll cook the meal in an Instant Pot.
http://www.forkly.com/recipes/quick-easy-instant-pot-macaroni-and-cheese/ PHOTOS AND RECIPE HERE: FORKLY
Following any diet alone can be hard but if you're able to encourage the entire family to participate you may be more inclined to...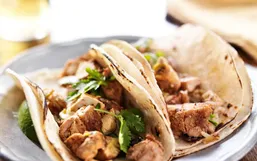 One of the hardest things about cooking for little people is trying to plan great meal options the kids in your life will actually...
Tired of having the same boring pizza week after week but aren't exactly ready to shy away from the delicious - and easy -...
Peanut-free snacks are becoming more and more popular in schools and it's becoming increasingly difficult for parents to find...
Maintaining a healthy diet for your kids can be a difficult task.
Popsicles are a great way to quench your thirst and keep cool on hot summer days.
Now that summer is here and school is out, kid are looking for things to do.
Every parent should make an effort to make food fun for kids! Dressing up basic snacks like fruit, veggies and sandwiches will put...
There's no denying that most kids love mac and cheese. There's no denying that most adults do as well.
Thinking of what to make for your kids school lunches everyday can be exhausting and stressful.
Have you been hearing about the "Ketogenic" diet (aka The Keto Diet) as much as I have lately?
When you dreamed of life with children, you envision beautiful lifestyle with your well-behaved children (not like those screaming...