Have you been hearing about the "Ketogenic" diet (aka The Keto Diet) as much as I have lately? This latest diet craze comes at a time that ironically the plant-based veganism continues to rise. Ironic because, well…the Keto Diet is a low-carb diet (like many before it cough*Adkins*cough) which is also high fat, high protein which typically means LOTS of meat. Trying to do both keto and plant-based? There is hope there too for the Vegan Ketogenic (it involves a lot of peanut butter…hey, that doesn't sound too bad!).
The word "ketogenic" in the title comes from the metabolic process called "ketosis" where the body uses stored fats instead of glucose (sugar) for energy, which results in an accumulation of acids called ketones in the body. Still following? Well, doing this causes a high fat-burning rate, which is why it's so popular. Ketones are energy molecules, much like blood sugar – which turn into fuel for your brain once the liver does it's thing and converts it into energy! So blah blah blah, burns fat, gives you energy…but sorry, no (or little) carbs. It seems a little crazy to eat fat to burn fat, but sometimes science is crazy like that. Shockingly enough, even though it seems like a bit of a fad diet, it's been around since 1924!! Now to be clear, everybody is different, and while this is meant to help you take charge of your body and goals, it's also pretty important that you talk to your doctor before trying out any big changes to your diet, so you can be guided along accordingly.
If you've got the green light to try out The Ketogenic Diet, well – let's keep you well fed with some amazing recipes from snacks to supper, to keep you going well-fueled and strong!
1. Buffalo Chicken Jalapeno Popper Casserole
It's really difficult to miss carbs when bacon and cheese and buffalo chicken are all out to play.
PHOTOS AND RECIPE HERE: Ruled
2. Chicken Bacon Crock Pot Chowder
Looking to free up some time in your evenings to use all that new fat-generated energy to workout and get fired up? Well, making a crockpot recipe will certainly give you that time you need! This recipe is low-carb and high-flavor.
PHOTOS AND RECIPE HERE: Peace, Love and Low Carb
3. Cauliflower Mac & Cheese
Starting to see a trend here? CHEESE! yumm-o. Forget the carb-laden macaroni and make a simple swap for cauliflower (which, is rather mild in taste, much like pasta making it the perfect swap out in a mac & cheese style meal).
PHOTOS AND RECIPE HERE: Headbangers Kitchen
4. Low Carb Waffles
Low carb, low calorie, high protein. You don't have to give it all up to enjoy this diet! Using egg whites, and some other key ingredients – these waffles will have you whistling your way through your morning.
PHOTOS AND RECIPE HERE: Foodie Fiasco
5. Keto Korean Beef Bowl
Get some Asian inspired ketogenic plan approved meals with these Korean Beef Bowls! Served up in lettuce cups, and filled up with perfectly marinated beef, this one will be one for the books.
PHOTOS AND RECIPE HERE: The Nourished Caveman
6. Keto Lasagna
There's this amazing vegetable that keeps replacing the carb-loaded noodles we are all so used to cooking and eating – and that vegetable is zucchini. God bless the veg.
PHOTOS AND RECIPE HERE: Ketogasm
7. Creamy Keto OREO Cookies and Cream Fat Bombs
In the Ketogenic Diet, the words "fat bombs" are essential. They are exactly what they sound to be, bombs of fat to kick up your intake and keep you fueled as you need. OREO Cookies and Cream fat bombs? I'm there!
PHOTOS AND RECIPE HERE:
http://www.forkly.com/recipes/creamy-keto-oreo-cookies-and-cream-fat-bombs/ PHOTOS AND RECIPE HERE: FORKLY
8. Keto White Pizza Frittata
One of the best natural "fat bombs" (as those Keto-lovers like to call it) is eggs! Made up of both proteins and fats, which most of that fat is the good "healthy" fat – the kind the ketogenic diet encourages a lot of, for all that keto-kickstarting-fatty-goodness (science is strange…but delicious).
PHOTOS AND RECIPE HERE: Ruled.me
9. Cauliflower Crusted Grilled Cheese
No carbs? No problem. Get your grilled cheese fill with the low carb version, using cauliflower "bread", and all the ooey gooey cheese you want.
PHOTOS AND RECIPE HERE: Kirbie Cravings
10. Keto Friendly Cloud Bread
Made up of the heavens themselves (not really, but I wanted to use the word heavenly when talking about clouds)! Cloud bread is everything you need to get you through those carb cravings with a bread you can be ok with eating and supporting your ketogenic diet. There are only 4 ingredients in this cloud bread recipe – can you guess what they are?
PHOTOS AND RECIPE HERE: The Primitive Palette
11. Edible Keto Cookie Dough
Not for baking, it's for eating – RAW. Your inner emo teenager is so so happy right now. Completely safe to eat, and gluten-free (coconut flour, y'all!) it's going to be one sweet indulgence!
PHOTOS AND RECIPE HERE: Keto Cook
12. Coconut Oil Fudge
So that fat bomb term again – well it works in square form too! With only 5 ingredients, this is a protein and fat-packed fudge that you'll be so so glad you made. Thankfully, it's also a completely clean recipe too, using real ingredients…ones you might just already have in your cupboard!
PHOTOS AND RECIPE HERE: Jay's Baking Me Crazy
13. Energy-Boosting Bulletproof Coffee (3 Ways!)
We looooove bulletproof coffee! It's the perfect low-carb keto way to fuel your day. Adding healthy fats (like grass-fed butter, coconut oil, MCT oil, and cocoa butter to name a few) balances the caffeine in the coffee and gives you a combined boost of energy, improves weight loss efforts and digestive health, and may help you feel more alert and mentally sharp. Essentially, it deals with the negative side effects while leaving the benefits of coffee untouched. We've got 3 different ways of serving it and we'll bet you'll love all of them!
PHOTOS AND RECIPE HERE:
http://www.forkly.com/recipes/energy-boosting-bulletproof-coffee-3-ways/ PHOTO AND RECIPE HERE: FORKLY
14. Instant Pot Low Carb Taco Soup
If there's one type of food we can all get on board with, it's Mexican food! It's irresistibly delicious and never fails to deliver a unique flavor. But we often get stuck on tacos, fajitas, and burritos while forgetting that there are so many more ways to enjoy this cuisine. Our Low Carb Taco Soup is a fantastic option for those who are on a low carb or Keto diet and want to still appreciate and experience the joy of Mexican food.
PHOTOS AND RECIPE HERE:
http://www.forkly.com/recipes/instant-pot-low-carb-taco-soup/ PHOTOS AND RECIPE HERE: FORKLY
15. One-Minute Keto Cheesy Garlic Mug Bread
We're here to tell you with just a few ingredients, you'll be in low carb bread heaven without slipping out of ketosis! We made our One-Minute Keto Mug Bread and you all loved it so much that we had to try a cheesy garlicky version.All you need is a few ingredients, a mug, and a microwave! Easy peasy.
PHOTOS AND RECIPE HERE:
http://www.forkly.com/recipes/one-minute-keto-cheesy-garlic-mug-bread/ PHOTOS AND RECIPE HERE: FORKLY
16. Easy Low-Carb (Keto) Big Mac Bites
These Big Mac Bites are absolutely drool-worthy and the Copycat Big Mac Sauce is spot on – you wouldn't even know it didn't come out through the drive-thru! Perhaps the best part? These perfect little snacks or appys are keto-friendly, which means you don't have to starve at the next potluck or party you attend! They'll be enjoyed by everyone – keto-dieters and carb-lovers alike – so no need to double up on the dishes you bring.
PHOTOS AND RECIPE HERE:
http://www.forkly.com/recipes/easy-low-carb-keto-big-mac-bites/ PHOTOS AND RECIPE HERE: FORKLY
Following any diet alone can be hard but if you're able to encourage the entire family to participate you may be more inclined to...
Tired of having the same boring pizza week after week but aren't exactly ready to shy away from the delicious - and easy -...
Statistics reveal that, as of 2008, 2.1% of children in the US suffered from either peanut or nut tree allergies.
Maintaining a healthy diet for your kids can be a difficult task.
Popsicles are a great way to quench your thirst and keep cool on hot summer days.
Say cheese! Happy National Cheese Day 2012, everyone! It's time to celebrate America's favorite food and what better way to...
Every parent should make an effort to make food fun for kids! Dressing up basic snacks like fruit, veggies and sandwiches will put...
There's no denying that most kids love mac and cheese. There's no denying that most adults do as well.
Kids love to help their parents make meals. Cooking with kids not only helps you spend quality time with them after school but it...
When you dreamed of life with children, you envision beautiful lifestyle with your well-behaved children (not like those screaming...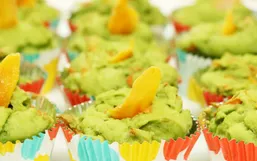 The last few years has had a growing trend of green smoothies. It's simply an ingenious way to enjoy a sweet, healthy, refreshing...
Working on a keto diet means cutting carbs and increasing fat (learn more about it here).