Getting kids to eat healthy food can be so frustrating. It's like you want to scream, "JUST EAT IT!" – or maybe you have already done that. If you are ready to scream with frustration, pack it in and serve your child Kraft Dinner for the next ten years, just wait, because we've compiled a list of recipes that are sure to have at least one kid approved meal that will make your child happy. They may not be filled with Kale and Quinoa, but they will get your kids some of the nutrients they need, and get you a peaceful supper. Remember, you can always improvise and switch out a veggie the recipe is calling for, and replace it with your child's favorite veggie. If your little one hates every vegetable, throw some cooked veggies in a food processor and make a cheesy sauce that will nourish your unsuspecting health victim.
1. Chicken Ranch Tacos
Tacos are always an easy go to. They are packed with protein and maybe even a few vegetables. Add avocado to the ranch dip in a food processor to get some extra healthy fats in this meal.
http://www.dinneratthezoo.com/chicken-ranch-tacos/ Photos By: Dinner At The Zoo
2. Garlic Parmesan Chicken Tenders
Who can say no to this?! They look good and taste good. This home made version of your child's favorite fast food eliminates the unhealthy additives and increase their love for dinner time. It's a win all around!
http://therecipecritic.com/2016/06/garlic-parmesan-chicken-tenders/ Photos By: The Recipe Critic
3. One Skillet Mexican Rice Casserole
It may look like it has a whole pile of ingredients your child will reject, but add a generous layer of cheese, top with salsa and sour cream and there is no way your mini me can say no to this treat for supper.
http://makingthymeforhealth.com/one-skillet-mexican-rice-casserole/#_a5y_p=4838564 Photos By: Making Thyme For Health
4. Cheesy Cauliflower Breadsticks
I consider this the most wonderful trick in the parent playbook. Grab some cauliflower and make your child's favorite side dish without them suspecting a thing. It's gooey cheese and delicious dip will be almost too delicious to handle that the cauliflower won't even be given a second thought.
http://www.jocooks.com/healthy-eating/cheesy-cauliflower-breadsticks/ Photos By: Jo Cooks
5. Healthy Sweet and Sour Chicken
Who doesn't love some serious Chinese food? This meal is a lighter take on the dish you order when you've given up hope as a parent who cooks. Whip this up and you will be pleased with the smile that appears on that picky eater's face with the first bite.
http://www.lecremedelacrumb.com/healthy-sweet-sour-chicken/ Photos By: Le Creme De La Crumb6.
6.Cheesy Chicken Broccoli and Rice
When I was younger, I hated rice so much! So my parents would put together a cheesy sauce to coat it so I would eat it. And it worked! Do the same thing for this recipe and add your child's favorite veggies if they have any.
http://www.the-girl-who-ate-everything.com/2014/10/one-pan-cheesy-chicken-broccoli-rice.html#p=1&y=5245 Photos By: The Girl Who Ate Everything
7. Baked Sweet Hawaiian Chicken
Bake this wonderful concoction in the oven and serve hot for supper. It's sweet and filled with some yummy red peppers that are cut small enough to not bother any picky eaters.
http://life-in-the-lofthouse.com/baked-sweet-hawaiian-chicken/ Photos By: Life In The Lofthouse
8. Gnocchi "Mac" and Cheese
Instead of Kraft Dinner, resort to a more wholesome approach to Mac and Cheese. Gnocchi is made with potato instead of processed grains so it's simply a better option if you want to make your child happy without a whole pile of effort.
https://www.gimmesomeoven.com/gnocchi-mac-cheese-recipe/ Photos By: Gimme Some Oven
9. Irish Pub Nachos
Are your kids begging your chips instead of supper? Slice up some potatoes very thinly and serve with their favorite nacho toppings. It skips the frying and includes some protein and carbs – maybe you can even squeeze in some home made salsa for some added vitamins!
http://4sonrus.com/2017/03/16/irish-pub-nachos/ Photos By: 4 Sons 'R' Us
10. Cauliflower Tater Tots
A childhood favorite can actually be healthy! Make some tater tots from scratch with only wholesome ingredients to fill some little tummies and have a few leftovers for yourself.
http://www.foodfaithfitness.com/cauliflower-tater-tots/ Photos By: Food Faith Fitness
Following any diet alone can be hard but if you're able to encourage the entire family to participate you may be more inclined to...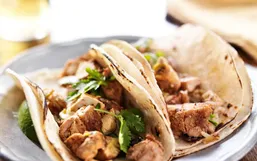 One of the hardest things about cooking for little people is trying to plan great meal options the kids in your life will actually...
Tired of having the same boring pizza week after week but aren't exactly ready to shy away from the delicious - and easy -...
Peanut-free snacks are becoming more and more popular in schools and it's becoming increasingly difficult for parents to find...
Maintaining a healthy diet for your kids can be a difficult task.
Popsicles are a great way to quench your thirst and keep cool on hot summer days.
Now that summer is here and school is out, kid are looking for things to do.
Every parent should make an effort to make food fun for kids! Dressing up basic snacks like fruit, veggies and sandwiches will put...
There's no denying that most kids love mac and cheese. There's no denying that most adults do as well.
Thinking of what to make for your kids school lunches everyday can be exhausting and stressful.
Have you been hearing about the "Ketogenic" diet (aka The Keto Diet) as much as I have lately?
When you dreamed of life with children, you envision beautiful lifestyle with your well-behaved children (not like those screaming...