Making desserts for your family can be difficult with a gluten allergy. This is especially hard when making treats for children. They can be very picky and particular with what they eat. Replacing their normal wheat desserts with gluten free alternatives can leave them wanting more. We found 10 delicious desserts that your kids will love and they won't be able to tell they're gluten free!
10. Coconut Cupcakes
These coconut cupcakes have a key lime icing that gives a light and refreshing taste to the dessert. It uses coconut flour instead of wheat. This flour soaks up liquid and gets nice and fluffy. The result is a light yet moist cake. This recipe goes coconut crazy, with coconut oil, flour, and shredded coconut in the mix.
[Source: elanaspantry.com]
9. Foolproof Chocolate Cake
This recipe makes a moist, delicious chocolate cake that is totally foolproof. Wheat is again replaced with coconut flour. This recipe calls for 10 whole eggs. Because coconut flour can absorb so much moisture, the eggs are needed to keep the result moist and spongy. If you follow the recipe exactly you get a brilliant result.
[Source: freecoconutrecipes.com]
8. Chewy Chocolate Hazelnut Cookies
This cookie recipe is delicious, moist, and addictive. They don't call for any flour at all. The cookie is made from a meringue batter. The recipe leaves out an important step- beating the egg whites. Using an electric mixer or a hand whisk, beat 4 egg whites until quite stiff. You should be able to hold the bowl over your head without getting messy.
[Source: blogs.babble.com]
7. Strawberry Almond Cake
This delicious strawberry shortcake is made from potato starch. Almond paste is added for texture and flavor. The result is a dense dense marzipan tasting cake. It takes a whole hour to cook because it's so dense. To serve, cut the cake in half and put a generous filling of whipped cream and strawberries inside.
[Source: boston.com]
6. Almond Butter Blondies
This kid friendly square is made without any type of flour. To make it more allergen friendly, they replaced peanut butter with almond butter. It is also lactose free. Feel free to change the type of nutter with any of your favorites. The baking soda and salt will make the squares lighter than you'd think!
[Source: elanaspantry.com]
5. Almond Cake With Chocolate Ganache
This is one impressive cake. It would be perfect for the Holiday season. We think this cake would be great for Sunday dinner and your children will love it! This cake uses a mix of different ingredients to replicate the action of wheat. They use almond meal, rice flour, and cornstarch. The almond will give a great texture and flavor to the cake.
[Source: melecotte.com]
4. Almond Biscotti
This delicious cookie is baked twice for an amazing crunch. The recipe uses sorghum flour, which is made from a grass. On its own it can be too gritty for a recipe, so it is best used in a mix of different gluten free flours. This recipe mixes it with rice flour and potato starch. These cookies store well in a cool, dark place.
[Source: girlcooksworld.com]
3. Italian Jam-Filled Hazelnut Cookies
The recipe author made these beautiful cookies especially for her young children. They are made with a gluten-free flour blend. You can find this in your bulk grocery store, or you can make one yourself. Ground hazelnuts are added for flavor and texture. The cookies are filled with jam and then dunked in chocolate. Delicious!
[Source: silvanaskitchen.com]
2. Cookies and Cream Cheesecakes
If your child can been forced to eat gluten free, they might miss their favorite Oreo cookies. There are some great gluten free options for cookies that you can find at a large grocery store. These cheesecakes are no bake and make perfect little snack bites. A quick refrigeration and you'll be devouring these delicious snacks in no time.
[Source: simplygluten-free.com]
1. Chocolate Crinkle Cookies
These beautiful chewy cookies are made with a flour mixture. They use two cups of rice flour, 1/3 cup of potato starch, and 1/3 cup tapioca starch. Xanthan gum is added to the mixture for its thickening properties. Without it, the cookies would spread out and not hold their shape. It replicates the gluten action in a dough.
[Source: thebakingbeauties.com]
Catering to the ever-changing palates of children can be exhausting. One week they love pasta the next week they hate it!
Ground beef is so delicious and easy to cook with, but sometimes we get caught in the routine of making the same ground beef...
Ground beef is an inexpensive ingredient. It cooks quickly and it can be incorporated into many different recipes.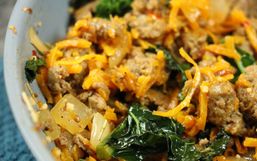 First things first, do you own a spiralizer? If you don't, now's the time to scoop one up. Go ahead, "add to cart"...
With gluten-free diets on the rise recipes that are gluten-free are gaining popularity.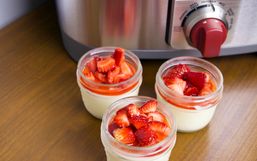 As part of my review of the Wolf Gourmet Multi-Function Cooker, I developed some recipes to test this amazing appliance out in...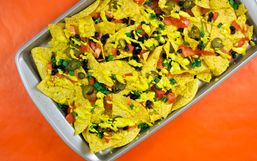 When I first went vegan, there were a few foods I really struggled to let go of. Cheese-covered nachos were one of them.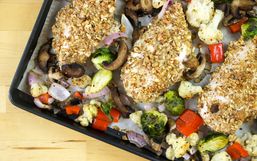 Sheet pan dinners are the answer to all your weekday dinner problems.
The paleolithic diet, also known as the paleo diet, the caveman diet, or the stone-age diet is a meal plan that predominately...
Alright Taco Bell fans, you're in for a treat today! You can now take your favorite Taco Bell flavors on the go with you with the...
Mayonnaise is a staple in most people's homes. It can be used as a sandwich or burger condiment, can be enjoyed with fries (yes we...
With lactose allergies and vegan diets on the rise, more restaurants are adding innovative products to cater to their customer's...