Many people are getting more creative in the kitchen than ever. That's partially due to the fact that we're all stuck indoors. But hey, any excuse to whip up a homemade treat, and to perfect your baking and cooking skills is a great opportunity, right?
So far during this time, we have seen a Dalgona coffee trend go viral, which is essentially a frothy coffee mixture poured over milk. There is also an easy 5-ingredient peanut butter cookie recipe going viral. This recipe is so special because it doesn't contain any flour found in other traditional cookie recipes yet they still turn out perfect! Finally, there's also a wine-ice cream float trend going viral that you seriously need to try. With so many new food trends going viral we knew it was only a matter of time until we would find another one! And friends, we're happy to share we have found it. It's a bagel recipe and you're going to feel like a 5-star baker once you try it!
So many people are making these 5-ingredient bagels because they're so darn easy! Now, you may be asking yourself what makes this recipe so special? Well, aside from the simple ingredients, these bagels don't require yeast, or boiling (yes this is a thing), or any fancy kitchen equipment. All you need are a few pantry staples such as flour, baking powder, an egg, and the secret ingredient Greek yogurt. The recipe yields 4 bagels and while you can enjoy them plain you can also top them with sesame seeds, poppy seeds or any other bagel toppings you enjoy! As a bonus, this recipe also comes together in just 30 minutes! Check out the full recipe and instructions from Skinny taste and see just how easy it actually is!
https://www.skinnytaste.com/easy-bagel-recipe/ PHOTOS AND RECIPE HERE: SKINNY TASTE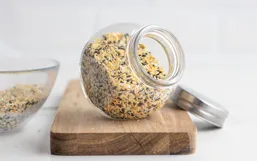 Trader Joe's is known for several popular grocery staples. Among them is their famous Everything But the Bagel Sesame Seasoning...
Summer is officially here and what better way to treat yourself and stay cool than with a refreshing beverage in hand!
The microwave is an amazing kitchen appliance. It can heat up leftovers quickly, help make delicious snacks like popcorn, and so...
Disney theme parks and Disney Cruise Lines may be temporarily closed and suspended but that isn't stopping Disney from finding...
Hard seltzers have become the trendiest drink as of late and for good reason!
It's time to check your freezers because over 59-thousand pounds of fully cooked frozen chicken nuggets are being recalled due to...
Disney's theme parks are renowned for many things from the exciting rides to friendly characters, and of course its delicious...
Dunkin' is renowned for its coffee, tea, and delicious donuts but now the chain is entering a new drink category by offering new...
Over the last few months, Disney has shared some of their most coveted recipes with their fans so you can at least feel like...
Summer is officially in full swing and now you can make the most of it with Shake Shack's new beverages!
Taco Bell is no stranger to innovative and exciting menu items.
National Lasagna Day is quickly approaching (July 29, 2020), and North Italia wants to help you celebrate!