Some of life's sweetest moments happen in the kitchen — especially when you're making dessert. When working with kids, the key to having the most fun is keeping it simple.
For preschoolers, start with no-bake recipes such as puddings, pies and dips that don't require an oven or extra waiting time. With older kids, you can get into longer ingredient lists and more complicated tasks, such as crushing cookies in the food processor or whirling up a homemade whipped cream. To get you started, here are 12 favorite recipes that make it easy to create sweet treats and memories.
1. Chocolate Chip Cookies
The original recipe for America's favorite cookie came from the 1930s kitchen of Toll House Inn owner Ruth Wakefield. While making her usual Butter Drop Do cookies, Wakefield had the idea to add broken bits of a Nestle semisweet chocolate bar. She thought the chunks of chocolate would melt and create a solid chocolate cookie. Happily, she was wrong.
Wakefield's tried-and-true recipe for the Toll House Crunch Cookie made it to the back of Nestle's now-famous yellow package in 1939. Since then, the chocolate chip cookie has been replicated and modified in countless ways, including this super-easy version from the Food Network. With no special techniques or equipment required, it's the perfect one for baking with kids.
2. Edible Cookie Dough
Let's say you just can't wait 12 to 16 minutes for those cookies to bake. Edible cookie dough lets you eat the batter right off the spoon without any worries about consuming raw dough.
This indulgent cookie dough recipe from Tasty skips the eggs and toasts the flour first, so it's safe for kids to handle (play with) and eat. Even more fun — after making the base dough, you get to choose your add-ins. Follow the variations for chocolate chip, cookies and cream, peanut butter chocolate and triple chocolate chunk, or make up your own. You can easily divide the dough into four servings so everyone gets to enjoy their own yummy creation.
3. One-Ingredient Banana Ice Cream
There's turning lemons into lemonade, and then there's turning bananas into…ice cream. If you have a few sitting in the fruit bowl, they're all you need to make dessert magic. This low-sugar, dairy-free frozen treat from Fav Family Recipes is just as smooth, creamy and scoop-able as the real deal.
Some people like to get fancy with their banana ice cream and swirl it up with a splash of vanilla extract or coconut milk. You can also go bananas with mix-ins such as berries, chopped cookies or Nutella. However, this one-ingredient recipe is true to its name. So long as you have bananas and a food processor, you're good to go.
4. Microwave Mug Brownies
The original recipe for brownies was created in 1893 at Chicago's Palmer House Hotel. Commissioned by a socialite and philanthropist named Bertha Palma for the World's Columbian Exposition, the world's first brownie was decadently fudgy and topped with chopped walnuts and an apricot glaze.
Today, there are endless methods and recipes for making brownies. While box mixes are always an option, this super-quick microwave version from Weelicious lets you serve up a special little dessert from scratch in just minutes. Simply combine the ingredients in your favorite mug and microwave for 1-1/2 minutes if you like your brownie gooey or closer to 2-1/2 minutes for well-done.
5. Mini Apple Pies
Mini apple pies are the perfect handheld treat to make during apple-picking season or any time of year. This kid-friendly variation of the classic American dessert by Mom on Timeout makes use of a muffin tin, refrigerated pie crust and your choice of chopped apples — including the peels.
For the best apple pie flavor and texture, combine firm-tart and firm-sweet apples. Granny Smith and Honeycrisp are kid favorites that are widely available at farmers markets and supermarkets. For an extra special touch, top your mini pies with a drizzle of caramel sauce, scoop of ice cream, dollop of whipped cream or all of the above.
6. Unicorn Fudge
Fudge is a candy shop favorite that's usually made by cooking sugar, butter, milk and salt with chocolate or other flavorings. Traditional fudge can be too fussy to make at home with kids. It requires a candy thermometer and lots of patience to get the texture just right.
Thankfully, this two-ingredient fudge recipe from Kara's Party Ideas cuts to the chase by combining microwave-melted white chocolate chips with canned strawberry frosting. Don't worry if your candy starts out as a sticky, gooey, incredibly fun mess. The final result will be a smooth, pretty-in-pink fudge that's ready for a tea party. Be sure to pull out your full arsenal of sprinkles for the unicorn-inspired mix on top.
7. Puppy Chow
Also filed under homemade candy is puppy chow. Sometimes called muddy buddies or monkey munch, this Midwestern treat starts with a base of crunchy rice or corn cereal. Show Me The Yummy's classic puppy chow is lovingly coated with a mixture of melted butter, peanut butter and chocolate chips.
While there's no need to mess with a great thing, you can change things up by adding different flavorings. This orange creamsicle puppy chow by I Am Baker incorporates orange zest for a surprising citrus twist. Even the littlest kids can handle the final step of shaking up the cereal with powdered sugar in a bag.
8. Poke Cake
Moist, delicious poke cakes were popularized in the 1970s, and the love for them continues. They're called poke cakes because you actually poke holes into the cake after baking and then fill those holes with a luscious pour-over of liquid filling (think pudding, hot fudge, caramel, sweetened condensed milk or pureed fruit).
Most poke cake recipes start with a boxed cake mix base, so they're easy to whip up for family celebrations or on a whim. You can make this refreshing strawberry poke cake by L'il Luna with a 9 x 13-inch white cake and a box of strawberry gelatin. You can also make Betty Crocker's poke cupcakes or change up your cake and filling combinations to suit your mood or what's available on hand. Easy!
9. Blueberry Cobbler
What's the difference between a cobbler and a pie? Both are made with fruit and a crust, but cobblers are a bit easier for beginning bakers to master. You can make Betty Crocker's version of this warm and comforting classic with fresh blueberries when they're in season (usually May to August), a mix of berries or a bag of frozen fruit.
One of the best things about making a cobbler with kids is that it doesn't require perfection to taste amazing. Simply melt butter in a pan, pour in the biscuit batter and sprinkle all over with fruit. The biscuit dough rises toward the top of the dish as it bakes to create a cobbled dessert you can scoop up with a spoon.
10. Homemade Vanilla Pudding
Pudding is one of those desserts kids often see come out of a plastic container. Imagine the wow factor when they get a behind-the-scenes peek of how fun it is to make their own.
You can indulge in this creamy and completely uncomplicated homemade pudding from Celebrating Sweets any time with a quick stove-top simmer of milk, eggs, vanilla and other simple ingredients you're likely to have on hand. It does need to be chilled for a few hours, but a cherry and whipped cream on top will make this nostalgic dessert worthy of the wait.
11. Peanut Butter Dip
Dessert dips come together quickly with just a few ingredients, and they're perfect for after dinner, after school or whenever you're feeling snacky. You can whip up this basketball peanut butter dip from Julie's Eats & Treats in one bowl by combining cream cheese, peanut butter, powdered sugar, milk and a little vanilla.
For the topping, kids get to sort and group Reese's Pieces by color and arrange them in the shape of a basketball. Have your pretzels, apple slices and graham cracker dippers ready to go because this rainy day art project is instantly edible.
12. Fruit Pizza
Get kids thinking outside of the box with a sweet spin on their favorite food. It all starts with a sugar cookie crust (homemade or store-bought dough is A-OK) and cream cheese frosting.
After that, the toppings are up to you. Make a rainbow fruit pizza with this recipe from I Heart Naptime that calls for raspberries, mandarin oranges, pineapple and kiwi, or add toasted coconut, mango and banana for a taste of the tropics. There's no getting this dessert wrong. Just let your creative junior chef choose the fruits and design — and compliment them on a job well done.
Family Baking Fun
No matter your age, the kitchen can be a fascinating place to play and learn. There's math in the measurements, science in how ingredients react with one another and a celebration of family and culture in the outcome. Regardless, kids get to build their confidence and expand their palette when, making it a worthwhile activity to do together, even if it initially seems daunting.
If there is one thing that I will absolutely ALWAYS break my healthy eating streak for, it's cheesecake.
Cotton Candy. That sweet, whipped goodness that turns into fluff you can eat.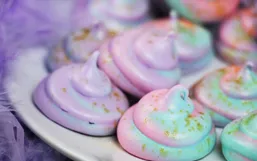 Unicorns seem to be all the craze these days. The mythical creatures are lending themselves as the inspiration to all sorts of...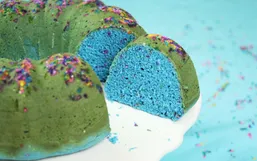 We tried out this "ice cream bread" thing not only once, but twice!
Mmmm, chocolate chip cookies are one of those comforts from home I can never say no to.
At the end of a long, warm day swimming in the sunshine, meeting up with friends and sipping on some ice cold drinks, the best way...
Mmmm, lemon desserts are my favorite (next to chocolate of course)!
Ice cream cakes are absolutely to DIE for. Have you heard of ice cream pies though?
Peach season is the best season! It's such a sweet and juicy fruit that is perfect for a day at the beach or in the place of a...
Marshmallows are often a symbol of our childhood in the summer. Roasting marshmallows over a bonfire with friends and family, then...
Halloween is coming up quickly and you may not be sure what costume to get your kids.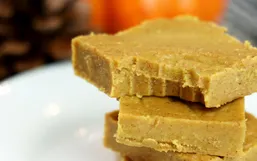 When I was a kid, fudge was something that so rich and decadent it came around maybe once a year.