Thanksgiving is a wonderful holiday where family is key and no one has to worry about buying gifts. This might be confusing for some children who do not yet understand the spirit of the season. Christmas is a very exciting time with presents and toys, so Thanksgiving might be dull to them. Let's make it more exciting with some fun crafts! By keeping with the family togetherness of Thanksgiving, we collected our top five food crafts for kids. These crafts are easy for little hands and allow for parents to teach the history of Thanksgiving while making something fun. We love the idea of mixing food, teaching, and fun! Your kids will love spending time with you to make these cute treats.
1. Gobbling Apple Turkeys. These fun turkeys are made with apples and treats for its feather tail. Use any of their favorite treats for the tail. We love the grapes and dried cranberries! For an extra special snack, try doing this craft with a caramel apple. The pretzel tail feathers are a great option instead if using toothpicks. It makes it safe for smaller hands.
[Source: makeandtakes.com]
2. Turkey Cupcakes. These delicious cupcakes will need a little assistance from the parents. The head and wings are made from cookies, so prepare these in advanced. You can also use store bought cookies so an extra easy craft. If you want to make this treat healthier, try cutting the wings and head out of fruit leather. The little beak is the tip of a candy corn piece.
[Source: familyfun.go.com]
3. Corn Roll Ups. These unique yummy treats are made to look like Indian corn just picked from the farm. The fruit leather husks are the finishing touches to this adorable craft. Use rice crispy, marshmallow sticky breakfast cereal, or marshmallow sticky popcorn for the filling. Mix it with dried fruit for a sweet treat and to amp up the flavors.
[Source: etsykids.blogspot.jp]
4. Thankful Turkey Jar. This snack jar is a great teaching craft for small kids. Get them to write what they're thankful for on the feathers. Glue them to a back of a small jar to make the turkey shape. Fill the jar with nuts, candy, or cookies. You can also fill the jar with pumpkin seeds for a healthier treat. This craft is really the spirit of the season! It's a great way to portion out snacks too.
[Source: toddlerapproved.com]
5. Healthy Fruit Turkey. This cute turkey snack can be made quickly with healthy ingredients. Make the tail feathers out of fruit leather or sandwich meat. The turkey face was made from cupcake sprinkles, but you could also cut it out of the fruit leather. This is a great treat for young children as there are no sharp pieces with this craft.
[Source: lilluna.com]
While the Thanksgiving turkey is the star of the meal, the stuffing is always the tastiest dish.
Deep frying a turkey can be the most dangerous method of cooking people try.
Here is your detailed checklist for preparing for Thanksgiving. We will go through week by week to help you get ready.
Turkey is really the star of the Thanksgiving meal. All the side dishes and desserts are there to complement the bird.
After stuffing yourself with the great Thanksgiving feast, it can be hard to think about eating dessert.
Thanksgiving is right around the corner, but it can be a difficult time for those with Celiac disease or who eat gluten free.
Whether you roast, fry, or barbecue your turkey, it will surely be the centerpiece of your Thanksgiving table.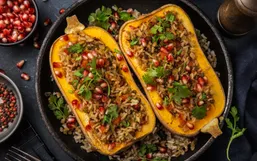 Thanksgiving is all about spending time with family and friends.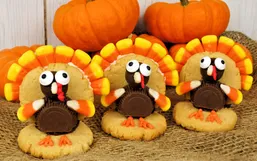 I love holidays because it gives everyone a chance to unwind and spend quality time with those you love.
Holidays are the hardest times of the year to stay on track with your diet.
When I made the decision to adopt a plant-based diet I had many comments from friends saying things such as "I wish I could but...
Not everyone hosts or attends a big Thanksgiving feast and that is okay!