We've all heard about wine pairings, and typically any restaurant server can recommend a nice glass of red or white wine to accompany your meal, but when it comes to beer it seems to be lesser known that different beers create different balances with food selections. Feeling lost? You're not the only one. Many of us simply choose the beer we know and like, and order food we know and like, and that's totally ok to do! However, if you want to optimize the experience of both food AND beer, here's a little cheat sheet on how to pair them with perfection and really take your dining experience to another level.
1. Lager
A lager is brewed and stored at cold temperatures, for a longer period of time. The process is done by bottom fermenting, meaning the yeast rests at the bottom as it brews. Due to this brewing process, lagers have typically crisp and clean flavor to them, which makes them well paired with lighter foods like chicken and salads, or heck – maybe even a chicken salad (you get em, tiger!).
http://cafedelites.com/2015/08/09/grilled-chilli-lime-chicken-fajita-salad/ Photo by: Cafe Delites
2. Pilsner
A pilsner is a lager with Czech Republic, German or Hungarian roots and influences. Its difference comes from the fact that it's brewed with more hops (flowers that are used in brewing to flavor the beer). Being that it's hoppier than a regular lager, it pairs with entirely different foods as well. It balances perfectly with foods that are sweet and spicy. Typically this can mean Indian flavor infused dishes, bratwursts, sushi, or spicy chicken wings. Don't write it off for dessert either! Pilsners are known for being pretty kick-ass paired with a pie, and even more so with a rhubarb pie.
http://www.applegate.com/recipes/beer-bratwurst-sausage-braised-w-onions-and-apples Photo by: Applegate
3. Blonde Ale
With beers typically being broken into two basic brewing methods, top and bottom fermenting – that results in lagers and ales. Ales are brewed at warmer temperatures, with the yeast resting on the top, making it a top fermenting beer. Ales come in blonde, pale, amber, red and brown in color. Blonde ales have a gentle balance of hops and malt, and are great for those starting out on beer tasting. It pairs really well with light proteins (chicken, fish, turkey), spicy foods, grilled foods, salads and fruits.
http://www.foodiecrush.com/grilled-halibut-with-tomato-avocado-salsa/ Photo by: Foodie Crush
4. IPA
An IPA is short for "India Pale Ale". While the pilsner is the hoppy version of a lager, the IPA is the hoppy version of an ale. It has a light to golden amber color and pairs really well with bold flavors like burgers, spicy dishes or charcuterie. It can also really help balance out a citrusy dessert such as key lime pie.
http://nancyscravings.com/pulled-organic-chicken-burger-with-smashed-avocado-jalapeno-and-cheese-sauce/ Photo by: Nancy's Cravings
5. Amber Ale
Amber ales are also really balanced with equal malt to hops, but they have a distinct caramel richness. This makes it a fantastic pair for beer's best friend – pizza. Not only pizza, but most dishes with red sauce (like pasta or hearty soups).
http://www.abeautifulplate.com/the-best-homemade-margherita-pizza/ Photo by: A Beautiful Plate
6. Brown Ale
Brown ales aren't overly popular, but they are definitely worth pairing with some good food. Brown ales are malt forward in taste. They have notes of toffee, nuts, and caramel. They are not very hoppy, and have less alcohol than an IPA (maybe why it's not as popular?). That said, it's arguably the best beer to pair with barbecue. Also, if you're eating spicy food, it balances with its sweet taste, cutting through that spice and leaving you refreshed.
http://spicysouthernkitchen.com/honey-bourbon-steak-tips/ Photo by: Spicy Southern Kitchen
7. Irish Red Ale
This type of beer gets its name from its Irish roots, and its medium red color which comes from the infusion of roasted barley. Grilled meats like pork or beef, starches (like breads and potatoes) and heavy stews pair nicely with Irish red ales. Or you know, whatever you happen to find yourself eating on St. Patrick's Day, keeping that Irish theme going strong.
http://www.gimmesomeoven.com/guinness-beef-stew/ Photo by: Gimmie Some Oven
8. Wheat
Wheat beers are typically golden in color, and often cloudy. They have a bold citrus taste which makes them a common summer drink because they're so refreshing. They are often served with a slice of orange or citrus to compliment the beer when ordered dining out. For food pairings, wheat beers are amazing with shellfish (because shellfish and citrus are the bomb dot com), tacos, salads and creamy dishes. They're also amazing with a sorbet for dessert. Wheat beers are incredibly versatile when it comes to pairing, making it a popular choice for many.
http://thelemonbowl.com/2016/03/chicken-tacos-with-avocado-citrus-salsa.html Photo by: The Lemon Bowl
9. Stouts & Porters
Stouts and porters are both dark beers. They are brewed similarly, and sometimes called a Porter Stout (merging the worlds). Simply put, stouts are brewed in roasted malt or roasted barley, whereas porters are typically brewed in charred or browned malt, giving off a slightly more bitter taste. So what do you pair a dark beer like these with? Beef is usually a common pairing, as the flavor holds up well to the dark beer. As well, blackened fish, fried foods (like onion rings) and more trendily; oysters.
http://www.closetcooking.com/2015/02/chargrilled-oysters.html Photo by: Closet Cooking
10. Cider
Ciders are made from fermented juice instead of malt or barley, making it a sort of hybrid between an apple cider and a beer. While cider is arguably not a beer at all, it's making the list because for many, it is! That's their beer of choice, and we aren't about to judge your grown-up apple juice choices. Instead, lets pair it up with a delicious food or two for you. Ciders go really well with roasted vegetables, and most often paired with cheeses. This makes sense, as apples and cheese are often paired together, so the same works for ciders and cheese.
http://www.afeastfortheeyes.net/2012/05/apple-cheese-stuffed-chicken-breasts.html Photo by: A Feast For The Eyes
Summer is just around the bend and what better way to celebrate everyone's favorite season than with refreshing cocktails under...
Happy National Wine Day, everyone! This exciting food holiday (which just happens to fall on a Friday this year) is one of the...
One of the best parts of summer for a lot of people out there is enjoying the berries and other fresh fruits the season brings to...
Happy National Tequila Day Everyone! Can you believe that there's a National Food Holiday for tequila? We couldn't either!
Lemonade is a wonderful, refreshing summer beverage and is best enjoyed on hot days.
If you are lactose intolerant or allergic to milk, it can be hard to find a good substitution.
Summer is when chilled wines make their honorary debut back onto patios, backyards and poolsides everywhere.
1. Brûléed Pear Cocktail Quite possibly the best thing about this tasty cocktail is the fact that it's served with a BURNT...
If there's one season that screams cocktails, it has to be summer...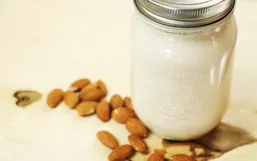 It's been in the news a lot lately that almond beverages may not be as "clean eating" and healthy as we once thought.
It's finally spring time, the birds are singing, the sun is shining and the temperature is rising, and we inch closer to beach...
We need so much water everyday, that sometimes it can feel like a chore trying to fit it all in.