BBQ Chicken is a common staple for any family who owns a BBQ in the summertime. Usually it is served on it's own, or as a chicken burger on a bun. The best way to break your repetitive recipe habits, is to whip up a fun new sauce to go with your famous grilled chicken. Another way to mix it up, is to season the chicken differently or serve it as a salad topping or health bowl topping. There are so many ways to make chicken exciting without having to completely deviate from your favorite BBQ'd food, so we've listed some of our favorites below.
1. Mediterranean Grilled Chicken & Dill Greek Sauce
First off, Mediterranean food will always be a winner in any context. It's the perfect balance between feeling like you're eating unhealthy soul food and keeping with eating foods needed for a healthy diet. The fresh Dill sauce is the perfect creamy topping for this incredible dish.
https://www.themediterraneandish.com/mediterranean-grilled-chicken-dill-greek-yogurt-sauce/ Photos By: The Mediterranean Dish
2. Tropical Grilled Chicken Mexican Salad
Do you ever want to just dump all the delicious things into a bowl and eat it instead of working on a big presentation of a meal? Well, this meal encourages dumping delicious things into a bowl and eating it before you have time to take a photo. Enjoy this medley of Mexican flavors with juicy grilled chicken!
http://wholeandheavenlyoven.com/2016/05/05/tropical-grilled-chicken-mexican-salad-bowls/ Photos By: Whole and Heavenly Oven
3. Grilled Pineapple Teriyaki Chicken Wraps
These wraps are SO good. I've made these a handful of times at home and they are super easy and very filling. It's also easy to create extras for lunch or dinner on the road.
http://www.lecremedelacrumb.com/grilled-pineapple-teriyaki-chicken-wraps/ Photos By: Le Creme De La Crumb
4. Best and Juiciest Grilled Chicken
Looking for just a deliciously simple BBQ'd chicken? This recipe has your name written all over it. Fire up your BBQ and get ready to whip this meal up in half an hour or less!
http://sodamndelish.com/best-juiciest-grilled-chicken-breast/ Photos By: So Damn Delish
5. Tequila Lime Chicken Kabobs
I really love the sound of this! Huge shoutout to Gimme Some Oven who has the prettiest food photography and the most creative meals! This chicken recipe is clearly going to be a crowd pleaser and just looks SO GOOD.
https://www.gimmesomeoven.com/tequila-lime-chicken-kabobs/ Photos By: Gimme Some Oven
6. Grilled Chicken Bruschetta
It's like having an appetizer and an entree all in one dish! Top your grilled chicken with some memorable ingredients that are sure to turn even the greatest critic into the biggest fan.
http://www.eatwell101.com/chicken-bruschetta-recipe Photos By: Eat Well 101
7. Grilled Asian Chicken
Bet you didn't see this creative twist coming! These chicken breasts are packed with flavor and with a less than ten minute prep time, you will always have time to whip this up!
http://chefsavvy.com/grilled-asian-chicken/ Photos By: Chef Savvy
8. Grilled Chicken with Pineapple Avocado Salsa
I can never get enough of the pineapple and chicken combination. There's something about the combination of the sweet and savoury flavors that have me craving this any day of the week. It's a great low carb alternative to chicken burgers and it is packed with so many amazing flavors!
https://www.gimmesomeoven.com/grilled-chicken-pineapple-avocado-salsa-recipe/ Photos By: Gimme Some Oven
9. Grilled Chimichurri Chicken Avocado
Chicken salad sounds so lame after you've eaten it a million times. But how about when we throw in the word Chimichurri? Isn't there a tiny part of you that is dying to try this exciting-for-once chicken salad? Once you try this salad, you'll never be able to go back!
https://cafedelites.com/2017/04/02/grilled-chimichurri-chicken-avocado-salad/ Photos By: Cafe Delites
10. Grilled Honey Lime Cilantro Chicken
Calling all sweet and sour lovers! This chicken is very good and filled with tons of flavor. Don't forget to serve the chicken with lots of slices of lime to have guests decide how sour they want to get with their chicken.
http://therecipecritic.com/2016/05/grilled-honey-lime-cilantro-chicken/ Photos By: The Recipe Critic
11. Creamy Lemon Grilled Chicken, Asparagus and Artichoke
Comfort. Food. It looks so dang good and will fill you up with all of that green asparagus goodness and high protein chicken. Definitely save this recipe for a rainy day.
http://www.closetcooking.com/2016/06/creamy-lemon-grilled-chicken-and.html#more Photos By: Closet Cooking
12. Chipotle Maple Grilled Chicken
Chipotle Maple? YUP. It's spicy, sweet and just overall amazing! Your BBQ party guests will give you two thumbs up for this dish that tastes like a guilty pleasure but fills you like any other healthy dish.
http://carlsbadcravings.com/chipotle-maple-chicken-recipe/ Photos By: Carls Bad Cravings
13. Grilled Chicken Souvlaki
Grilled Chicken Souvlaki is one of my favorite dishes to make – it's not overly difficult, it fills your stomach and is jam packed with flavor! I always love a home made Tzatziki sauce as well.
http://www.closetcooking.com/2009/07/chicken-souvlaki-and-gyros.html Photos By: Closet Cooking
14. Grilled Chili Lime Chicken
This gourmet sounding recipe is actually very easy and can be whipped up using ingredients you probably already have kicking around the house. Don't hesitate to try this recipe out tonight!
http://therecipecritic.com/2017/04/grilled-chili-lime-chicken/ Photos By: The Recipe Critic
15. Citrus Grilled Chicken
Citrus is such a fun, summery flavor and can be used in salad dressings, drinks and even on chicken! The benefit of this recipe, is that it's a Clean Meal. It uses only whole ingredients that will fill your body with good quality food and tons of energy.
http://www.yellowblissroad.com/citrus-grilled-chicken/ Photos By: Yellow Bliss Road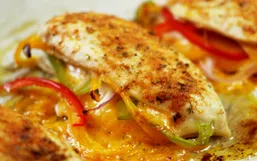 It's no surprise that chicken breast is such a popular dinner choice for so many families.
Chicken is a great staple in the kitchen. It tastes wonderful on its own and you can make it in many different styles.
Chicken stir-fry is an easy and healthy meal that has become a staple in many households.
A great way to add some flavor to your sandwich or wrap is by adding chicken.
Spring is officially upon us and there's no better time than now to start dreaming up some fresh and delicious meal ideas.
Chicken breast is an incredibly popular dinner main. Popular for its light taste, lean protein benefits, low price tag, and...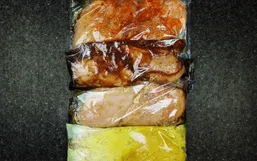 While summer brings out that desire to get marinading and grilling up a storm, these recipes for marinades will last you all year...
Chicken is a highly sought-after ingredient because it is rich in protein, is relatively budget-friendly, and you are almost...
Chicken is a great go-to meal when you don't know what to make for dinner.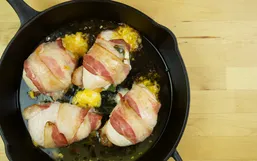 There's no denying that jalapeño poppers are a fan-favorite appetizer!
Sheet pan dinners are the answer to all your weekday dinner problems.
We all crave delicious fried food from time to time. However, if those cravings become a regular habit, then those fried foods can...