Cupcakes are relished all year round. You can enjoy them for birthdays, holidays, any celebration really, or to treat yourself! They're sweet and delicious and that is why they are enjoyed by kids and adults alike! Instead of heading to the bakery this Christmas season, whip up a batch of delightful cupcakes to share. Better yet, make it a family activity and create a delicious treat to enjoy together! We have found a few exciting kid-approved cupcake ideas as well as a few sophisticated adult recipes too!
Related Topics (Ads):
20. Candy Cane Chocolate Cupcakes
Candy canes always remind me of the holidays. The red and white color is perfectly festive for the holidays while the peppermint flavor is oh so delicious! Combine the flavors or peppermint candy canes with rich chocolate to create these beautiful cupcakes.
https://www.justsotasty.com/candy-cane-chocolate-cupcakes/ PHOTOS AND RECIPE HERE: JUST SO TASTY
19. Christmas Light Cupcakes
Christmas lights are what make holiday decorations so alluring. They glimmer in the night and can be used around the tree, on the house, and anywhere you want to string a set of lights! Create these Christmas light cupcakes for your next holiday party and everyone will gobble them up. These cupcakes are made from a simple boxed chocolate cake mix and a few other ingredients. Get creative and decorate the cupcakes with black frosting and m&m's to look like string lights.
https://bakedbree.com/christmas-light-cupcakes PHOTOS AND RECIPE HERE: BAKED BREE
18. Mini Christmas Tree Cupcakes
These mini Christmas tree cupcakes are not only adorable but incredibly easy to make too! Start with your favorite boxed cupcake mix. Then, when you're ready to decorate this tutorial will walk you through several different icing techniques to create the perfect Christmas trees. Lastly, decorate the trees with candies of your choice!
http://www.lydiabakes.co.nz/2012/12/mini-christmas-tree-cupcakes.html PHOTOS AND TUTORIAL HERE: LYDIA BAKES
17. Hot Cocoa Cupcakes
This idea is so easy it doesn't even need a recipe! First, you'll want to whip up your favorite boxed chocolate cupcake mix! Once cooled, fill a piping bag with vanilla frosting. Swirl a dollop of frosting on your cupcakes and garnish with your favorite sprinkles. Lastly, cut red and white paper straws into thirds and add to the cupcakes! These hot cocoa cupcakes will not only look adorable but they will taste lovely too!
16. Snowflake Cupcake Topper
If getting creative especially in the baking department isn't your forte, no need to worry! You can still create beautiful cupcakes for the holidays with little to no effort! Instead of decorating using icing techniques decorate with an adorable cupcake topper like these snowflake toppers. They're glittery and beautiful! Whip up a batch of boxed cupcake mix or buy store-bought cupcakes and then add these toppers for an added touch of a winter wonderland!
? Buy it: https://amzn.to/2TqOY84
PHOTOS BY: AMAZON
15. Reindeer Wrappers And Toppers
This is another excellent option if creative decorating isn't for you! These reindeer wrappers and toppers quickly dress up a cupcake effortlessly! All you'll have to do is whip up your favorite cupcake recipe, pipe icing on top and add the topper and wrappers. These wrappers are also reversible with a "Merry Christmas" saying on one side and the adorable reindeer on the other which allows versatility for you!
? Buy it: https://amzn.to/2TqbpKu
PHOTOS BY: AMAZON
14. Christmas Holly Cupcakes
These sophisticated cupcakes are made with a fruit and spice batter. Orange and walnuts are added with fruit to pack each bite with a ton of flavor. A great option is to soak the dried fruit in your choice of alcohol such as brandy! This really takes home the festive flavors. Remember to subtract the added liquid from the total liquid in the recipe!
https://www.taste.com.au/recipes/christmas-cupcakes/192d40e7-1bba-44d8-9633-988c911604b6# PHOTO AND RECIPE HERE: TASTE
13. Rudolph The Red Velvet Cupcake
These adorable cupcakes are almost too cute to eat. To make this cupcake decoration, cover the cake with a thin layer of chocolate icing. Add on a small cookie and stick on a red chocolate piece with royal icing. You'll use broken pretzels make the antlers. To make the eyes, pipe white circles slightly larger than a chocolate piece. Then stick the chocolate on top!
https://www.skinnytaste.com/rudolph-red-velvet-cupcake/# PHOTOS AND RECIPE HERE: SKINNY TASTE
12. S'mores Cupcakes
Bring back memories of sitting around a campfire with these s'mores cupcakes. A graham cracker crust is placed on the bottom and miniature marshmallows are baked into the chocolate. Top with homemade marshmallow icing and flame for an authentic taste. Both adults and children will love these cupcakes.
https://homeiswheretheholmansare.blogspot.com/2010/03/smores-cupcakes.html# PHOTOS AND RECIPE HERE: HOME IS WHERE THE HOLMANS ARE
11. Christmas Ornament Cupcakes
These cupcakes are a great craft for children. Ice them and coat them in colored sugar and let it set in the refrigerator. When you to start the craft, pull out candy and gel icing tubes. Let your children decorate the "Christmas tree ornaments". Add a jujube with a licorice string to the top to complete the look.
http://www.cuteasafox.com/2011/12/christmas-ornament-cupcakes.html# PHOTOS AND RECIPE HERE: CUTE AS A FOX
10. Vanilla Snowman Cupcakes
These adorable little snowmen are actually made healthy and still taste delicious. Use an 18.25 box of cake mix and add in 6 oz of plain Greek yogurt, 1 1/3 cups of water, and two egg whites. The Greek yogurt keeps the cake moist and delicious. If you don't tell your guests or children that you've made the cupcakes low fat, no one will know the difference!
https://www.skinnytaste.com/vanilla-snowman-cupcakes-with-vanilla/# PHOTOS AND RECIPE HERE: SKINNY TASTE
9. Grinch Cupcakes
I cannot let a Christmas go by without watching a classic like The Grinch! Make these Grinch cupcakes with your kids and indulge while you watch your favorite Christmas movie! First, you'll need to whip up your favorite vanilla cupcake mix. Next, add a couple drops of green food coloring to for the perfect Grinchy green color. While they bake in the oven whip up a buttercream frosting with drops of green food coloring too. Then follow this tutorial to decorate your perfect little Grinch cupcakes!
http://www.confessionsofacookbookqueen.com/grinch-cupcakes/?utm_source=feedburner&utm_medium=email&utm_campaign=Feed:+ConfessionsOfACookbookQueen+(Confessions+of+a+Cookbook+Queen) PHOTOS AND RECIPE HERE: CONFESSIONS OF A COOKBOOK QUEEN
8. Christmas Wreath Cupcakes
While you hang your Christmas wreaths on your front door think about whipping up a delicious batch of Christmas wreath cupcakes. These cupcakes are perfectly festive for the holidays and are so adorable you could even treat someone with a delicious gift! These wreath cupcakes start with a chocolate base and then are decorated using a piping bag, buttercream frosting, and a few candies!
https://www.onionringsandthings.com/christmas-wreath-cupcakes/ PHOTOS AND RECIPE HERE: ONION RINGS AND THINGS
7. Melty Snowman Cupcakes
This is another excellent snowman cupcake idea, however, this one has an adorable melted look. Your kids will definitely enjoy making this treat and they're so cute you could gift them too! You'll want to begin by making your favorite vanilla cupcake recipe. Then follow this tutorial on how to decorate your cupcakes to look like a melted snowman!
https://www.bhg.com/recipe/melty-snowman-cupcake/ PHOTOS AND RECIPE HERE: BETTER HOMES AND GARDENS
6. White Christmas Tree Dessert Toppers
Transform a store-bought cupcake into a perfect treat for the holidays by making these Christmas tree dessert toppers. They're so easy to make and require minimal ingredients too! All you'll need are pretzel sticks, white chocolate wafers, white sprinkles, and silver balls. Once you create your cupcakes you can try these Christmas tree brownies next!
http://www.forkly.com/recipes/white-christmas-tree-dessert-toppers/ PHOTOS AND RECIPE HERE: FORKLY
5. Eggnog Cupcakes
Eggnog hits the grocery stores for a limited time every year! Extend the flavors of your favorite holiday beverage into a delicious cupcake! These cupcakes contain eggnog in the cupcake batter as well as the icing which together provides a lovely authentic flavor. Shares these eggnog cupcakes this Christmas and everyone will be begging you for the recipe!
https://www.lifeloveandsugar.com/2014/11/24/eggnog-cupcakes/ PHOTOS AND RECIPE HERE: LIFE LOVE AND SUGAR
4. Gingerbread Cupcakes
Planning on building gingerbread houses with the family this year? Well, you'll want to add these gingerbread cupcakes to your to-do list too! This is a recipe for gingerbread cake, however, the recipe will walk you through the proper instructions to transform the batter into cupcakes along with the proper cooking times. While the cupcakes bake in the oven you can whip up the delicious caramel frosting!
https://www.halfbakedharvest.com/gingerbread-cake-with-caramel-cream-cheese-buttercream/ PHOTOS AND RECIPE HERE: HALF BAKED HARVEST
3. Baileys And Coffee Cupcakes
Enjoy the flavors of an Irish coffee bundled up into a delicious cupcake. This boozy cupcake might be the perfect adult holiday treat you've been looking for! The cupcake batter contains delicious flavors of coffee while the frosting is infused with Bailey's Irish Cream! Just make sure those who enjoy this treat are of legal drinking age!
https://www.littlesweetbaker.com/baileys-coffee-cupcakes/ PHOTOS AND RECIPE HERE: LITTLE SWEET BAKER
2. Snow Globe Cupcakes
These snow globe cupcakes will surely capture everyone's attention! The best part about these cupcakes is that the snow globe bubble is edible too! This is made out of gelatin. Follow this recipe to discover how you can easily recreate this treat at home!
https://www.sugarhero.com/snow-globe-cupcakes-gelatin-bubbles/ PHOTOS AND RECIPE HERE: SUGAR HERO
1. Mickey Mouse Santa Hat Cupcakes
Put a fun Disney twist onto a holiday cupcake to serve this Christmas season! These Mickey Mouse Santa hats are easy to make and only require a few ingredients. First, you'll need to make your favorite chocolate cupcake recipe. Then while they bake you can follow this tutorial to create a delicious buttercream frosting. Lastly, you'll decorate the cupcakes using the buttercream frosting and Oreo cookies that together make an exciting treat.
https://www.twosisterscrafting.com/mickey-mouse-santa-hat-cupcakes/ PHOTOS AND RECIPE HERE: TWO SISTERS CRAFTING
Forkly.com is a participant in the Amazon Services LLC Associates Program, an affiliate advertising program designed to provide a means for sites to earn advertising fees by advertising and linking to Forkly.com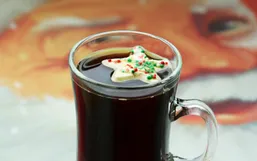 During the holidays, depending on where you live of course, it often involves gathering around with warm beverages in hand.
There's something...well...magical...yes, Christmas magical about a Reese's Peanut Butter Cup.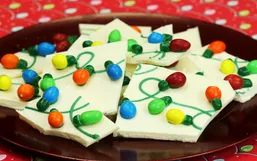 Chocolate barks are my absolute favorite go-to for large batch treats you can store for weeks and hand out as needed to neighbors,...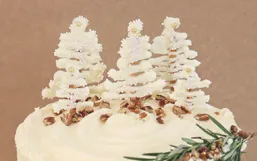 Last year, we created these adorable festive Christmas Tree Brownies, and well...the video recipe for them went viral overnight!
The holidays are known to be the hardest season of the year in terms of the age-old battle of the bulge.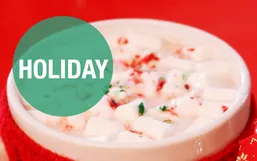 It's that time of year, the season of giving. It's magical and wonderful - and oh, don't forget the mailman!
The centerpiece for your Christmas dinner is a great turkey or ham, but the side dishes are just as important.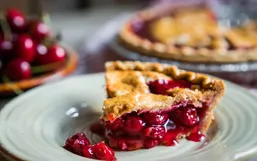 Christmas pies are a delicious addition to the holiday season. While we love the classic pumpkin pie, there are a ton of other...
A Christmas cake is the centerpiece of your holiday meal. After you're stuffed with turkey and all the fixings, the only thing...
Decorating the tree always gets me into the mood for the holidays. As soon as the tree is up I'm in full force Christmas mode.
So you've volunteered to host Christmas dinner this year. The initial voluntary statement may have sounded exciting but if you...
When the holidays roll around the first order of business is setting up the Christmas tree and decorations.