Thanksgiving is a time for celebrating with friends and family and giving thanks for all that we have. This usually takes place around a giant dinner table filled with beautiful dishes we've come to expect with this fall holiday.
For many people, the Thanksgiving table is a thing of pride, a showpiece, and focal point of the holiday celebrations. If you want to add a little pizzazz to your Thanksgiving table, check out these edible Thanksgiving table favors that you can DIY (do it yourself), and show off your crafty side this season.
1. Candy Cornucopia
Whether your guests eat their table favor while they wait for dinner to be served, or they take it with them when they leave, they'll definitely appreciate this little addition. Cornucopia baskets always remind me of thanksgiving and that is why these favors would look great on the table.
They're incredibly easy to make and only require a few store-bought materials. If you have children at home encourage them to join in on the fun DIY project.
2. Reese's Pieces Turkeys
Peanut butter and chocolate is a match made in heaven! Your Thanksgiving guests will surely love these turkey treats and appreciate your thoughtful creativity.
This craft is easy to create and will stand out on the table.  Reese's Pieces also happen to contain the perfect color palette for a fall meal.
3. Reese's Turkeys
Turkey can appear on your Thanksgiving table in more ways than one! These sweet little chocolate turkeys use large and small peanut butter cups, candy corn and candy eyes and are simple to create.
Get creative and present them to your guests however you want! Although, you might want to consider creating a precious fry box as shown in the tutorial. These Reese's turkeys are guaranteed to put smiles on your guest's faces this holiday season.
4. Jellybean Pumpkins
Instead of faux pumpkin decorations add these jellybean pumpkins to your table. They're precious and delicious and your dinner guests will enjoy them.
You'll only need a few materials such as orange tulle, green pipe cleaners and of course, orange jellybeans. This table favor can be put together effortlessly and will be a stunning orange addition to your decorations.
5. Handprint Turkey Cookies
Welcome your guests to the table with a personalized turkey cookie! This tutorial shows how using cardstock instead of a cookie cutter can transform a regular sugar cookie into a Thanksgiving turkey cookie.
Trace the hands of your children for a special touch that Grandma and Grandpa will appreciate. The personalized finishing touches will make these cookies stand out.
6. Caramel Apples
Are you accustomed to leaving caramel apples to the professionals? They're quite easy to make and this recipe will show you how. All you'll need is 3 ingredients and about 25 minutes of your time.
The great thing about caramel apples is you can leave them plain and simple or dress them up with chocolate chips, marshmallows, cookie crumbs or whatever delicious edible treats you can think of. To turn this treat into a beautiful table favor add a custom name tag to each stick.
7. Rosemary And Chipotle Spiced Nuts
Instead of something sweet set your table with a savory Thanksgiving favor. These delicious nuts are roasted with a spice blend of chipotle and rosemary and a few other ingredients.
Along with the alluring flavor, the presentation is what will stand out on the table. Serve the spiced nuts in a mason jar and add a thoughtful tag to the lid.
8. Pomegranate Place Settings
Preparing a Thanksgiving feast can be a lot of work and when we're overloaded with work we tend to forget a thing or two. If you've left your table settings to the last minute then this would be a great solution.
The pomegranate is such a pretty fruit, it's crimson in color and screams fall. This place setting may be simple but it looks pretty. Write the names of your guests on the pomegranate using a gold pen. They can take the delicious fruit home and enjoy it later.
9. DIY Bread Loaf Place Cards
Dinner rolls are an essential part of an elaborate dinner. Instead of serving your dinner guests a basket full of delicious crusty rolls consider serving them a loaf and place card instead.
This tutorial will walk you through how to recreate the elegant design. You could make the loaves yourself or visit a local bakery, you're guests will love these.
10. Mini Pie Place Cards
You don't have to think widely outside the box to create thoughtful table favor. Try cooking mini pies with a personalized name card.
Keep the pie flavors all the same or cook a variety, it's your choice! Allow your guests to indulge in their mini pies during dessert or encourage them to take them home, either way, they'll appreciate these.
11. Give Thanks Party Favor Boxes
If you don't love DIY projects, that's totally okay — they're not for everyone! But it doesn't mean you can't have a fun table favor to offer your guests.
For a much simpler option, give your guests store-bought treats filled into these adorable Thanksgiving favor boxes. They'll fit in perfectly with your fall decor and will look just as lovely on the table.
? Buy it: https://amzn.to/2zDBYnK
12. Candy Corn Place Cards
Another simple option would be these candy corn place cards. We've included a link for adorable small candy jars.
The tutorial includes a FREE place card printable to make things even easier for you! You'll have these put together in no time. They're budget-friendly, simple and still thoughtful.
? Buy it: https://amzn.to/2R5SEL7
13. DIY Pumpkin Favor
This Thanksgiving favor doubles as a place card and as a favor for your dinner guests. The tutorial will provide you with a FREE template so you can create the paper pumpkins effortlessly.
Once the pumpkins have been assembled you can fill them with whatever kind of treats you want. Peanuts would be a great idea because it can keep your dinner guest busy while they wait for the big meal.
14. Corn Thanksgiving Favor
Growing up dried and artificial corn was always a Thanksgiving decoration in my house. There's something about the colors that fit in perfectly with the natural color scheme of fall.
For your guests, try making them these corn thanksgiving favors. They'll be a great addition to the table and your guests can take a sweet treat home. They only require a few materials, some candy, and a bit of your time.
15. Apple And Caramel Fall Treats
Wrap up a delicious treat such as apples and caramels for a fun Thanksgiving table favor. This idea is so simple and so easy that won't take any extra time from your dinner preparations.
All you'll need are apples, individual caramel dip for the treat and cellophane and ribbon to wrap it up. Your guests can indulge in a big Thanksgiving dinner then have a delightful treat to bring home.
16. Turkey Treat Bag
Following simple table favors, this is another great idea if you're limited for time but still want to throw something crafty together. These turkey treat bags come together quickly and only require a few materials most of which you can find at the dollar store.
For the turkey wrapping, you can use a colored napkin or tissue paper. This tutorial fills the turkeys with candy corn, although you could fill them with whatever candy you like! The turkeys will come to life once you add the finishing touches such as googly eyes and a mouth.
Forkly.com is a participant in the Amazon Services LLC Associates Program, an affiliate advertising program designed to provide a means for sites to earn advertising fees by advertising and linking to Forkly.com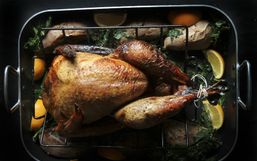 Turkey is really the star of the Thanksgiving meal. All the side dishes and desserts are there to complement the bird.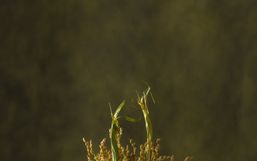 Have you volunteered to host Thanksgiving this year? If you answered yes, then we are here to help you!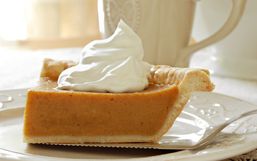 After stuffing yourself with the great Thanksgiving feast, it can be hard to think about eating dessert.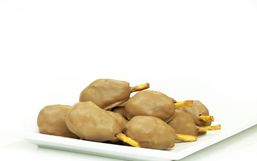 Easy bite sized dessert that can A) feed a crowd B) be made in advance C) look as cute as all get out on your Thanksgiving...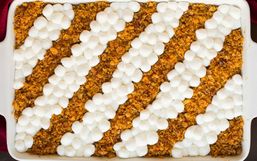 Thanksgiving is a time for family and friends to come together and share the bounty of the season, and of course to give thanks...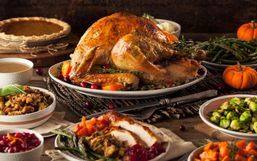 Whether you roast, fry, or barbecue your turkey, it will surely be the centerpiece of your Thanksgiving table.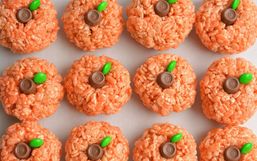 I love holidays because it gives everyone a chance to unwind and spend quality time with those you love.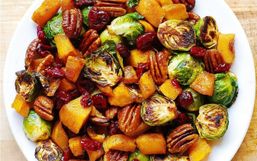 Like many holidays, Thanksgiving is an opportunity to spend quality time with friends and family.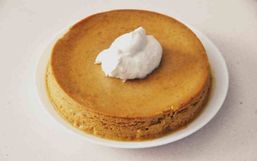 Holidays are the hardest times of the year to stay on track with your diet.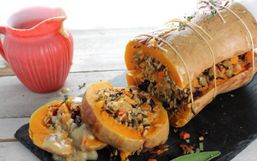 When I made the decision to adopt a plant-based diet I had many comments from friends saying things such as "I wish I could but...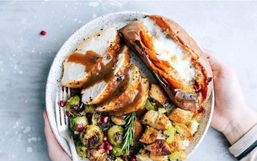 Not everyone hosts or attends a big Thanksgiving feast and that is okay!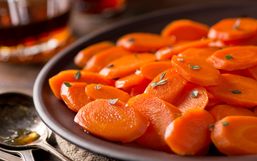 Thanksgiving preparation can be both exciting and exhausting. This lovely holiday is a chance for us to share a meal with those we...