I remember when someone told me their favorite vegetable dish was Roasted Brussels Sprouts. I was not only shocked, but disgusted. All of my childhood cartoons and memories taught me that Brussels sprouts were disgusting balls of mush and were to be avoided at all costs.
Then I tried them, homemade, roasted in some olive oil and salt & pepper. The first couple bites were an adjustment period, then before I knew it I had eaten the entire pan.
I'm working on that self-control thing 😉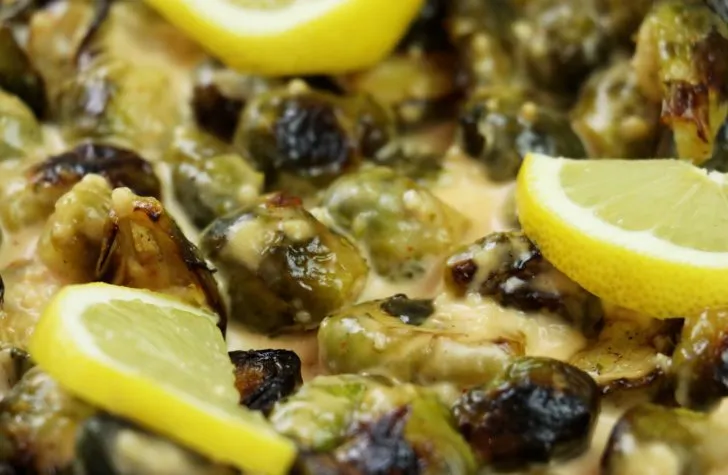 As someone who adheres to a plant-based diet, finding ways to love nutrient rich vegetables is kind of key. Brussels sprouts for the last 4 years have been an ongoing love affair, and I'm constantly finding new ways to fall in love with them.
So, with that – I decided to create a creamy, tangy, spicy sauce (aka: bang bang sauce) to put on my beloved roasted sprouts. They were ridiculously good. SO good in fact that when I tested them out on a crowd by bringing them to a family feast, they were gone so fast and I heard one diner say "why the heck are these sprouts so good? I can't stop eating them". EXACTLY the reaction I was hoping for.
My co-worker made them for her family too and reported back that "there were no leftovers". Apparently they lack the self-control thing as well. With this recipe, I don't blame them.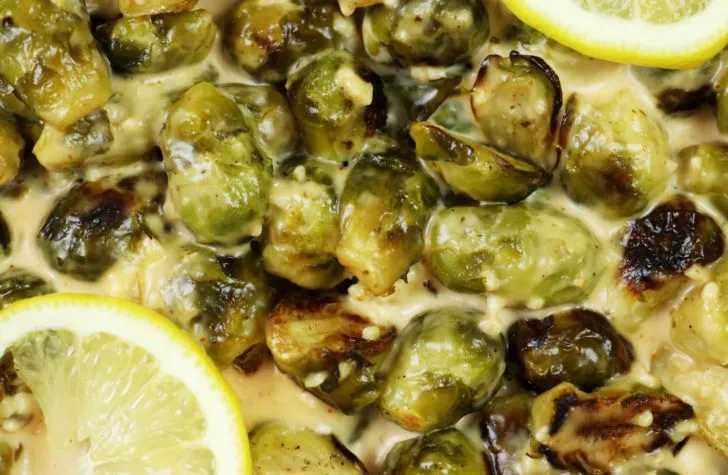 I think we are onto something here, and I highly HIGHLY suggest bringing these to a Thanksgiving or Christmas feast…it's easy to make, and you'll get so many compliments you'll be riding that high for days.
Ingredients
6 cups baby Brussels Sprouts (can also use full size, just halved)
Olive Oil
1 cup vegan mayo (can sub with regular mayo)
2 tbsp minced garlic
1-2 tbsp horseradish (depending on taste/spice preference)
1-2 tbsp Sriracha (depending on taste/spice preference)
Juice of 1 Lemon
Salt & Pepper, to taste
5 slices of Lemon
Equipment
Parchment or Foil Lined Baking Sheet
Medium Mixing Bowl
Casserole Dish
Method
Preheat oven to 425 degrees Fahrenheit.
On a parchment/foil lined baking sheet, spread out your sprouts and drizzle with olive oil, and sprinkle with salt & pepper and toss with your hands before roasting for 35-45 minutes, turning half way. They will be done when they are softened and crisped to a golden brown on the outside.
While they roast, prepare your bang bang sauce by mixing together your mayo, garlic, horseradish, sriracha and lemon juice. Set aside.
Remove roasted sprouts from oven once they're golden brown, crisp on the outside and soft on the inside, transfer them into a casserole dish.
Pour the bang bang sauce over the roasted sprouts, tossing lightly to coat. Top with sliced lemons, and BROIL in the oven on HIGH for an additional 5 minutes.
Remove from oven and serve!
Salads aren't just for those on a diet anymore. Properly made, they can be a filling and delicious meal.
A new year is beginning and, like millions of other people around the world, you've probably vowed to make this year healthier and...
Start your day off right with a great breakfast. Breakfast is the most important meal of the day but it's easy to pick unhealthy...
Zucchini has quickly become a very popular vegetable (although, botanically, it is an immature fruit, according to Wikipedia).
Do you love mangos? You're definitely not alone. This fruit has become one of the most popular ingredients for many main dishes,...
Avocados have become one of the trendiest foods of the past few years.
Anytime you're invited to a potluck or hosting a dinner, you don't just go with the norm.
Spirulina is an up and comer on the healthy food trend charts, yet it's one of the oldest and most nutritious foods in history.
Ah, avocados. Nature's butter. They're much loved for their soft, creamy texture, blendability, good fats and oils, not to...
You go to the market and see these big beautiful greens and decide to buy some, with eyes bigger than your refrigerator.
Watermelon might just be the most refreshing summer fruit out there.