Thanksgiving is just around the corner and people are planning their menus. Many families celebrate with a multiple course dinner, starting with soup. This is the perfect opportunity to kick your dinner off on a high note. We love mixing up the flavors and putting in something unexpected. All these recipes were submitted by people like you. What are you serving this Thanksgiving?
1. Spiced Pumpkin Carrot and Sweet Potato Soup
This classic spiced pumpkin carrot and sweet potato soup has all the flavors of Thanksgiving in one delicious bowl. The richness of the squash makes this a perfect meal on its own. The sweet pumpkin works beautifully with the meaty mushrooms.
If you have guests attending that are following specific diets, you'll be relieved to know this recipe is gluten free, vegetarian and can easily be whole 30, paleo and vegan friendly with a few minor tweaks. Serve this soup warm and drizzle spicy chipotle oil on top for a delicious extra kick. A great extra addition would be bacon sprinkled over top.
2. Asparagus Soup
This vibrant green asparagus soup is creamy and a little spicy. It will blow you away! Asparagus can be hard to find this time of year. When buying a bundle of asparagus in store, check for flexibility and color. They should have a bit of give but shouldn't be too wobbly. If you can't find fresh asparagus, frozen is the next best thing. They flash freeze it so it should be just as tasty as fresh.
An amazing part about this recipe is that while the consistency is creamy, it actually contains no cream! Potatoes are the secret ingredient that gives this dish its smooth consistency.
3. Slow Cooker Baked Potato Soup
This warming soup has all the pieces of a delicious baked potato. The slow cooker instructions means you will have extra room on your stove. We love to top this with baked potato fixings, including cheese and bacon. It's a warming soup that's quite filling. If you're using this as a first course, make sure you give out small portions.
It's thick, creamy and flavourful, but actually uses no heavy cream, which is a major health bonus. It only requires 20 minutes of prep time and then you can simply let it cook for for 3-4 hours on high or 6-8 hours on low.
4. Minestrone Soup
There's nothing more comforting than a bowl of homemade minestrone soup! This classic Italian soup is warm and filling and surprisingly easy to make. It's the perfect meal for a busy evening in the chillier fall and winter months.
The ingredients can vary, so you could even use your leftover vegetables for this dish to make things even easier. This minestrone soup is packed with protein thanks to ingredients such as red kidney beans and great northern beans. The recipe even claims that is better than Olive Garden's! They claim the secret ingredient is their homemade sundried tomato pesto which adds so much flavor and punch to this meal.
5. Roasted Butternut Squash Soup
Perhaps one of the most popular soups during the fall is a classic butternut squash soup. Roasting the squash is key with this recipe since it helps to intensify the flavor and bring out the natural sugar and caramelized flavors. Another big bonus with this soup recipe is that it has a surprisingly short ingredient list.
Top this hearty soup with candied pumpkin seeds for a special touch. It's packed with delicious fall flavours such as cinnamon and ginger flavor, which add a great spicy contrast to this thick soup. If you want your soup thinner, just add hot vegetable stock to taste.
6. Cleansing Detox Soup
Fall is a time when we get back into our regular routines, so why not start by cleansing your body and filling it will all the good nutrients it needs to give you lots of energy?! This cleansing detox soup is perfect during the cooler months with its immune-boosting ingredients such as crisp lemon juice, zingy ginger, bright turmeric, warm cinnamon, and a dash of spicy cayenne.
It also contains ingredients rich in nutrients and known for their detoxifying properties such as kale, broccoli, celery and carrots. This specific recipe is strictly vegetables and doesn't contain any rice or noodles, which makes it easily digestible and wholesome.
7. Creamy Broccoli White Bean Soup
We love how green this beautiful creamy broccoli white bean soup is! It would be the perfect start to a festive meal or a delicious snack on a chilly fall or winter day. Best of all? It can be made in less than 30 minutes total!
The soup base is made simply to bring out the true flavor of the broccoli. To top it off, white beans are added to give dimension to the dish. It's naturally vegan and packed with health benefits from all the vegetables such as vitamins K and C, folic acid, potassium, iron, magnesium and fiber.
8. Lobster Bisque
Change it up this autumn with a great seafood soup! This lobster bisque dish would be unexpected but your guests will be amazed at the hearty and delicious flavors. Our first Thanksgiving probably had lobsters served, so pay homage with this dish. If fresh lobster is too expensive, look for cold pack canned lobster. You can find it in the freezer section in large grocery stores.
This recipe is creamy, rich and filled with chunks of lobster meat that will have your family and guests thinking you got it from an acclaimed restaurant. Rich and flavorful, this lobster bisque is beyond satisfying.
9. French Onion Soup
We adore this cheesy, warming french onion soup. The caramelized onions in the broth will be the perfect start to a meal. This soup is amazingly easy to make and yet packed a heck of a punch with the flavor. French onion soup is a classic that you can never go wrong with. You'll need just 10 minutes of prep and 50 minutes to cook, which makes this recipe take an hour total.
It's simple, just an onion, and old piece of bread, and some cheese make this soup. Cutting your onion in different shapes change the flavor of this soup, so experiment to find your preference.
10. Maple Sweet Cream Potato Soup
Consider this maple cream sweet potato soup the Pumpkin Spice Latte of soups. It screams Autumn, is so smooth and creamy and warms your soul. This recipe is a perfect starter for Thanksgiving dinner, but also works wonderfully as a warm meal for any time during the fall and winter months.
While this soup does contain cream, it's also packed with many nutritious and health-boosting ingredients such as sweet potatoes, maple syrup, cinnamon and cayenne. This recipe also gives instructions for delicious cheddar-stuffed twists that pair perfectly with all the autumn flavors of the soup. Creamy and savory with a little touch of sweetness, what could be better?
11. Creamy Green Chile Chicken Enchilada Soup
If you're looking for something a little different for your taste buds, why not try this creamy green chile chicken enchilada soup? It's made in a slow cooker which means minimal prep time and the perfect meal to make when you're having a busy week.
If creamy soups tend to scare you due to their heaviness, you don't have to worry with this soup! This recipe is packed with protein but surprisingly light, thanks to the addition of Greek yogurt and low fat cream cheese. It's smooth and rich with a hint of tang that will have all your guests asking for the recipe.
12. Cozy Autumn Wild Rice Soup
Are you a fan of rice in your soup? Then this is the autumn soup recipe for you! This cozy autumn wild rice soup is made with fresh seasonal vegetables and greens, combined with hearty wild rice, and a zesty broth. Whether you're looking to make this on the stove-top, in your Instant Pot, or in a slow cooker, this soup works with all options.
A seasonal blend of mushrooms, garlic, sweet potato, carrots, celery, and onion comprise this delicious recipe. These flavors blend perfectly with the hearty wild rice, which is also lower in calories and and higher in protein than many comparable rice flavors, which is a huge bonus!
While the Thanksgiving turkey is the star of the meal, the stuffing is always the tastiest dish.
Deep frying a turkey can be the most dangerous method of cooking people try.
Here is your detailed checklist for preparing for Thanksgiving. We will go through week by week to help you get ready.
Turkey is really the star of the Thanksgiving meal. All the side dishes and desserts are there to complement the bird.
After stuffing yourself with the great Thanksgiving feast, it can be hard to think about eating dessert.
Thanksgiving is right around the corner, but it can be a difficult time for those with Celiac disease or who eat gluten free.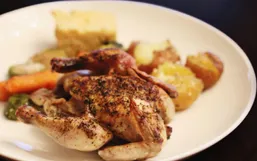 Not everyone is prepared to host a feast. Sometimes a 20lb turkey is just too much for a smaller crowd (or couple).
Aside from opening up a can each year when Thanksgiving rolls around, how often do you cook with cranberries?
Are you entertaining a bunch of vegetarians this Thanksgiving holiday season?
So either you or a someone at your holiday dinner is gluten-intolerant or celiac, and/or perhaps vegan or working towards a...
The days are getting shorter, and the leaves are changing color and we are slowly settling into fall weather.
Whether you roast, fry, or barbecue your turkey, it will surely be the centerpiece of your Thanksgiving table.