Are you planning to celebrate Mardi Gras this year? If so, we have some delicious dessert recipes that will add a little bit of excitement to any party.
As many of you know, king cake is a traditional Mardi Gras dessert. Generally, a king cake (or a king cupcake or king cake pop) often includes a small trinket (usually a plastic baby) found inside the dessert. The person who gets the piece of cake (or cupcake or cake pop) with the trinket inside is said to have good luck for the coming year.
Many of the desserts in our list consist of some form of king cake. There are however, a few other recipes for Mardi Gras inspired cookies etc. for those of you who don't particularly enjoy king cake.
So, without further adieu, here are 7 cool Mardi Gras dessert ideas:
1. Easy King Cake Recipe
An easy-to-follow, simple recipe for traditional King Cake. No Mardi Gras party is complete without a king cake. You'll definitely want to incorporate this into your festivities this year.
[Source: BakingBites.com]
2. King Cake Cupcakes
Instead of making an entire cake, many people opt for cupcakes instead. These unique little cupcakes may take a little more work than classic chocolate or vanilla cupcakes but the beautifully colored inside makes them worth the work.
[Source: Ericasweettooth.com]
3. Vanilla Mardi Gras Cupcakes
If the king cake cupcakes look a little intimidating to you, try these equally-delicious but much easier Mardi Gras cupcakes. These treats are made just like simple vanilla cupcakes but the colored icing gives them a festive twist.
[Source: NolaMommy.com]
4. King Cake Balls
Just like some people opt to make cupcakes instead of actual cake, others like to make cake pops instead of cakes or cupcakes. These colorful cake pops will surely be a hit at your Mardi Gras even this year.
[Source: FirstYouMakeARouz.typepad.com]
5. Mardi Gras Cake Pops
These easy and beautiful Mardi Gras inspired cake pops are simple to make and are absolutely delicious. Serve them on a white platter with Mardi Gras beads draped all around them for a really festive look.
[Source: ShareDessertCompany.com]
6. Mardi Gras Mask Cookies
Not interested in making King Cake (or king cake cupcakes or cake balls or cake pops…)? Maybe you'll like these beautiful Mardi Gras cookies instead. You can purchase Mardi Gras cookie cutters here.
[Source: FakeGinger.com]
7. King Cake Bars
These single-serving cake bars are a fun and unique twist on a traditional king cake recipe. Hide the trinket in one of these bars and good luck will come early to one of your guests!
[Source: CSMonitor.com]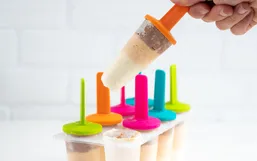 Summer is finally here and it's a hot one! The easiest way to cool down (besides living in front of the A/C unit) is a cold treat,...
Mardi Gras isn't just a celebration for adults, kids love it too! This fun event is full of color, sparkle, and exuberance.
Who's ready to celebrate Mardi Gras this year? We are! There are a lot of elements that make up a good Mardi Gras party and drinks...
Mardi Gras is a French term which means Fat Tuesday. The idea is that you let loose during Mardi Gras before abstaining from bad...
Holidays such as Mardi Gras are fun because not only do you get to spend time with friends and family but you get to indulge in...
Mardi Gras is a fun celebration, celebrating all the rich foods before Lent. Many different countries celebrate Mardi Gras.
Are you running out of ideas for lunch or feeling uninspired? Why not order your favorite foods and have them conveniently...
Summer is almost here and it's time to stock up your freezer with delicious treats to keep you cool all season long.
Good news Disney fans, the Disney Parks Blog is back again with another crave-worthy recipe you'll want to try this week!
Good news ice cream fans, Ben & Jerry's is back again with another crave-worthy flavor!
Good news Disney fans, Disney is back again and is sharing yet another coveted recipe that you can make at home!
National Donut Day is just a few days away but this year Krispy Kreme wants to extend the celebrations by making the holiday a...