Holidays such as Mardi Gras are fun because not only do you get to spend time with friends and family but you get to indulge in delicious food too! Unfortunately, a lot of parties I've attended don't often cater to vegan, plant-based, or dairy-free options!
We've set out to compile a list of the most delicious mardis gras recipes that are vegan-friendly! All of these recipes are perfect for any Mardi Gras party and the best part is that even your non-vegan friends will swoon over them too.
1. Vegan Shrimp
These vegan shrimps will blow your friends (and you) away! They look so real but don't worry, no shrimps were harmed in the making of this appetizer.
The shrimps are actually large king oyster mushrooms. It has a similar texture to shrimp that will seriously impress you. The mushrooms are coated in a delicious breading and are paired with a spicy bang bang sauce!
https://olivesfordinner.com/2017/05/vegan-shrimp.html PHOTOS AND RECIPE HERE: OLIVES FOR DINNER
2. Vegan Deviled Potatoes
Deviled eggs are usually at every party, no matter the occasion. After all, they're a crowd favorite! We set out to create a vegan version of a party favorite and the result is amazing!
Egg-sized mini potatoes are the perfect egg substitution and they're packed with an identical flavor that you know and love. The filling is creamy, tangy and so delicious!
http://www.forkly.com/recipes/vegan-deviled-potatoes/ PHOTOS AND RECIPE HERE: FORKLY
3. Cajun Hummus
Hummus is one of my most favorite snacks and it makes great party food too! This hummus is infused with Cajun flavors that make it perfect for Mardi Gras.
This party dip requires 5 minutes of your time and simple ingredients. You'll experience flavors of cayenne pepper, paprika, and thyme.
https://www.connoisseurusveg.com/cajun-hummus/ PHOTOS AND RECIPE HERE: CONNOISSEURUS VEG
4. Vegan Fried Pickles with Mississippi Comeback Sauce
I love the tanginess of a dill pickle plus the crunch you get with every bite is so irresistible! The secret to getting the perfect crunch with these fried pickles is to use sliced pickles.
These pickles are lightly battered in a seasoned flour mixture. Once they're cooked pair them with the homemade spicy sauce.
https://www.rabbitandwolves.com/vegan-fried-pickles-with-mississippi-comeback-sauce/ PHOTOS AND RECIPE HERE: RABBIT AND WOLVES
5. Spicy Roasted Chickpeas
Who needs potato chips when you can share an exciting bowl of spicy roasted chickpeas. They're an excellent healthy alternative to potato chips and everyone will go crazy for them too!
All you'll need is 5 ingredients and a sheet pan to bake this delicious treat. These chickpeas are roasted with garlic and smoked paprika seasonings but if you love a bit of extra heat cayenne pepper would make a great addition too!
https://veganheaven.org/recipe/roasted-chickpeas/ PHOTOS AND RECIPE HERE: VEGAN HEAVEN
6. Spicy Vegan Pimento Cheese Ball
This cheeseball may not be "Mardi Gras themed" per se, however, it's spicy and delicious and will fit in perfectly with your festivities! It pairs well with veggies, chips or your favorite crackers!
Soaked cashews give this cheese ball an irresistible creamy texture. Nutritional yeast provides the cheesy flavor while cayenne pepper, pimento peppers, smoked paprika, and garlic provide the spicy flavors.
https://minimalistbaker.com/spicy-vegan-pimento-cheese-ball/ PHOTOS AND RECIPE HERE: MINIMALIST BAKER
7. Vegan Crab Cakes
Seafood is often at the center of Mardi Gras celebrations. A great alternative to seafood would be these vegan crab cakes! They crispy on the outside, flaky on the inside and make an excellent party appetizer!
Heart of palms is used to replicate a similar texture to seafood. Additionally, Garbanzo beans provide a lovely flaky texture too. Along with those 2 main ingredients, there are loads of seasonings that make this treat so tasty!
https://veganhuggs.com/vegan-crab-cakes/ PHOTOS AND RECIPE HERE: VEGAN HUGGS
8. Vegan Gumbo
Gumbo is a popular dish, especially in Louisiana. Traditionally this stew-like dish is filled with veggies, meat or seafood, and a bold-flavored stock. This is a vegan version of gumbo that is delicious and will be a hit at any Mardi Gras party.
The base of this gumbo is made from vegetable broth and loads of delicious seasonings. Further, Vegan sausage and soy curls are the perfect meat substitute!
https://healthiersteps.com/recipe/vegan-gumbo-recipe/ PHOTOS AND RECIPE HERE: HEALTHIER STEPS
9. Vegan Jambalaya with Beans
Much like gumbo, jambalaya is another popular Louisianna dish! Once again you can effortlessly make a traditional meal vegan with a few simple substitutions!
Skip the meat because you won't need it. This vegan jambalaya is infused with protein-rich beans, veggies and loads of savory rice.
https://veganheaven.org/recipe/vegan-jambalaya-with-beans/ PHOTOS AND RECIPE HERE: VEGAN HEAVEN
10. Instant Pot Red Beans and Rice Soup
This dish screams comfort food! And who wouldn't want to indulge in Louisianian comfort food at a Mardi Gras party?
This red bean soup is made in the Instant Pot. Instead of using canned beans, use dry beans and you'll quickly discover that by using the Instant Pot this dish comes together very quickly!
https://blog.fatfreevegan.com/2018/02/instant-pot-red-beans-rice-soup.html PHOTOS AND RECIPE HERE: FATFREE VEGAN KITCHEN
11. Vegan Sausage and Mushroom Etouffee
Etouffee is found in both Cajun and Creole cuisine. Often, it is loaded with meats and other non-vegan-friendly options. This recipe uses a few substitutions such as vegan sausage and mushrooms that will impress all your non-vegan friends.
This vegan dish is filled with spicy flavors of Louisianna and definitely deserves a place on your party table! When you're ready to eat serve the etouffee with a side of rice.
https://blog.fatfreevegan.com/2012/02/vegan-sausage-and-mushroom-etoufee.html PHOTOS AND RECIPE HERE: FATFREE VEGAN KITCHEN
12. Vegan Jambalaya Pasta
This recipe combines the flavors you love about jambalaya with pasta. This comforting dish is easy to make and will be a hit at your party!
The colors of this dish will lure your friends in but the flavor will have them asking for more! To create an authentic flavor you'll need creole seasoning, vegan Worcestershire sauce, no beef broth, and a few other seasonings.
http://www.freshcreole.com/jambalaya-pasta/ PHOTOS AND RECIPE HERE: FRESH CREOLE
13. Vegan Cajun Tofu with Creamy Grits & Greens
This Cajun tofu and creamy grits are so easy to make that it would make a great weeknight meal, however, share it at a Mardi Gras party and everyone will be blown away. If you're feeling ambitious you can make your own cajun seasoning with the recipe provided but if you're pinched for time store-bought will work great too.
Additionally, you'll be provided with instructions on how to make the cajun tofu, creamy grits, and delicious garlicky kale! Serve this at the party and you'll be dying to have this for dinner on the regular too.
https://www.rabbitandwolves.com/vegan-cajun-tofu-with-creamy-grits-and-greens/ PHOTOS AND RECIPE HERE: RABBIT AND WOLVES
14. Vegan King Cake
Every party needs dessert! Unfortunately, a lot of traditional baking contains eggs, butter, and other dairy products that are not allowed on the vegan diet. Instead, impress your friends with this vegan king cake that is perfect for Mardi Gras.
To make a vegan king cake all you'll have to do substitute a few ingredients. Some of these include butter for vegan butter, milk for almond milk, and eggs for an egg replacer such as Bob's Red Mill Egg Replacer. Once you have your ingredients, making the cake will be a breeze!
https://foodwithfeeling.com/vegan-king-cake/ PHOTOS AND RECIPE HERE: FOOD WITH FEELING
15. Vegan Beignets with Dark Chocolate Espresso Sauce
Along with king cake, beignets are another popular sweet treat that is enjoyed during Mardi Gras. Once again using a few substitutions you can effortlessly make this delightful treat vegan.
The ingredients list is simple and better yet, you'll most likely have almost everything on hand. You'll also be provided with a recipe for a decadent dark chocolate espresso sauce that pairs wonderfully with the beignets.
https://heartofabaker.com/mardi-gras-beignets-chocolate-espresso-sauce/ PHOTOS AND RECIPE HERE: HEART OF BAKER
Mardi Gras isn't just a celebration for adults, kids love it too! This fun event is full of color, sparkle, and exuberance.
Are you planning to celebrate Mardi Gras this year? If so, we have some delicious dessert recipes that will add a little bit of...
Who's ready to celebrate Mardi Gras this year? We are! There are a lot of elements that make up a good Mardi Gras party and drinks...
Mardi Gras is a French term which means Fat Tuesday. The idea is that you let loose during Mardi Gras before abstaining from bad...
Mardi Gras is a fun celebration, celebrating all the rich foods before Lent. Many different countries celebrate Mardi Gras.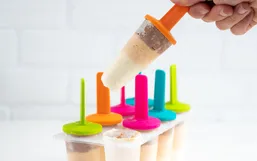 Summer is finally here and it's a hot one! The easiest way to cool down (besides living in front of the A/C unit) is a cold treat,...
Buckle up Canadian friends because the news we've all been waiting to hear is finally here!
Beyond Meat is spreading like wildfire. More and more fast-food chains are hopping on the plant-based bandwagon.
The news everyone has been waiting for is finally here. On September 26, 2019, McDonald's announced they have begun a partnership...
The vegan diet continues to gain popularity and not to mention lactose allergies are on the rise too.
Earlier this week Starbucks announced that they're officially offering 2 new non-dairy beverages nationwide.
Silk, America's number 1 plant-based beverage brand has added a brand new product to its dairy-free lineup and you seriously need...