Whether you have volunteered or were voluntold, taking on the task of a bridal shower can be both fun and stressful. We're here to help make this process a little bit easier and help you throw a beautiful bridal shower.
We've compiled a list of some of the most charming dessert recipes and ideas that will not only satisfy the sweet tooth of the bridal shower guests but will seriously impress the bride to be too! Looking for more ideas on how to make an unforgettable bridal shower? We've got you covered with these Elegant Recipes For A Breath-Taking Bridal Shower.
1. No-Bake Blueberry Lemon Cheesecake Parfaits
We're starting off with a stunning idea that combines two popular desserts, cheesecake and parfait, into one delectable dessert. The intricate layers will capture everyone's attention and the flavor will have them wanting more.
What sets this cheesecake recipe apart from the rest, is that it's a no-bake recipe. Build the layers in a 2-ounce shot glass to create the perfect single-sized portions.
2. Simple Mini Cinnamon Bun Pops
Cinnamon buns are delicious but if you're looking to get a little creative with your dessert table be sure to make these cinnamon bun pops. They're insanely easy to make because instead of making buns from scratch, you'll use store-bought refrigerated cinnamon buns.
Follow the tutorial to discover how a simple can of cinnamon buns and lollipop sticks can come together to create this lovely treat. Display them on a styrofoam block or in a clear jar – your choice!
3. Banana Pudding Parfait
Another no-bake recipe is here to steal the spotlight. It's booming in flavor and luscious texture that will intrigue every guest.
This simple recipe has a short list of ingredients and comes together in 15 minutes. Keep in mind the parfaits will need to set in the fridge for at least 4 hours so you may want to prepare these the day before the shower. Finally, serve with a dollop of whipped cream.
4. Champagne Cupcakes
While you're popping bottles in celebration of the bride to be why not indulge in a delicious champagne cupcake! These enticing cupcakes are infused with champagne in not only the cupcake batter but the buttercream frosting too.
They're rich in flavor, moist in texture and surely won't disappoint! Finish the cupcakes with a dash of sparkling sugar on top!
5. Glitter Bridal Cupcake Toppers
Does the idea of baking a dessert scare you? Don't feel intimidated because there's an easy solution for that!
Instead of baking a dessert, pick up store-bought cupcakes and add these glittery bridal cupcake toppers. This set comes with 36 assorted bridal designs, that will work wonderfully with your other the shower decorations.
BUY IT HERE: https://amzn.to/2EHuCS8
6. Instant Pot Oreo Crust Chocolate Cheesecake
Why not share a truly decadent dessert and blow away the bride to be. Surprisingly, this lovely cheesecake is prepared in the Instant Pot. This popular kitchen gadget transforms a traditionally labor-intensive dessert into one that is quick and easy!
The cheesecake starts with a simple Oreo cookie crust and is topped with luscious chocolate. We chose to decorate our's with chocolate dipped strawberries but you can add, sprinkles, chocolate shavings, candy, or anything you want!
7. Dessert Kabobs
Instead of preparing a dessert platter, take those same ingredients and transform them into fun dessert kabobs! Dessert on a stick is perfectly portioned for each guest.
These kabobs are layered with bite-sized brownies, Rice Krispies squares, marshmallows, cream puffs, and strawberries. Make this dessert as simple or as complicated as you want by either making the brownies and Rice Krispie squares from scratch or purchasing them from the store.
8. Lemon Bars
Fragrant lemon bars will certainly brighten up your dessert table. This refreshing dessert starts with a delicious shortbread crust and is accompanied by a tangy filling.
The bars are naturally flavored with fresh lemon juice and lemon zest. Finish the bars by dusting them with powdered sugar.
9. Nanaimo Bars
Nanaimo bars are a Canadian favorite and if you haven't had one before prepare to be amazed! They'll quickly become a crowd favorite and everyone will be begging you for the recipe.
These bars require 3 layers, however, rest assured it will come together quickly! They're seriously decadent and you'll watch them disappear quickly.
10. Salted Caramel Apple Pie Bars
Apple pie just got a serious upgrade. The guests would surely enjoy an ordinary apple pie but they're seriously going to go crazy for these salted caramel apple pie bars!
These delightful bars are made with 3 different layers. First, you'll make a shortbread crust, followed by an apple filling and then finish the bars with a streusel. In addition to the bars, you'll also be provided with a recipe to create a homemade salted caramel sauce.
11. Confetti Cake Pops
Cake pops are great for any special occasion! However, these confetti cake pops are worth celebrating. They're insanely easy to make and require 4 simple ingredients.
The cake pops are made from strawberry boxed cake mix and vanilla frosting. They're later dipped in melted white candy melts and decorated with rainbow sprinkles!
12. Cake Donuts with Chocolate Glaze
You could pick up a couple of dozen donuts from your local bakery but recipes like this prove it's just as easy to make yourself! These delicious donuts are baked in the oven and topped with a homemade chocolate glaze.
It's important to note you'll need a donut cake pan to form the perfect donut shape. The bride to be will truly love these homemade delights!
13. DIY Donut Wall
Donut bars are one of the biggest trends, especially with bridal showers and weddings. This tutorial will prove how you can create your own donut wall effortlessly.
With a few materials such as a peg board and wooden dowels, you can have your own donut wall made in no time! Display your homemade or store-bought donuts using this wall. It will seriously be the center of attention, aside from the bride to be, of course!
Forkly.com is a participant in the Amazon Services LLC Associates Program, an affiliate advertising program designed to provide a means for sites to earn advertising fees by advertising and linking to Forkly.com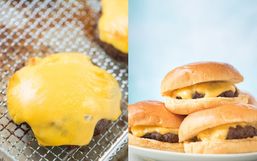 Kitchen gadgets are getting more and more impressive every year. The Instant Pot has been the most sought after kitchen appliance...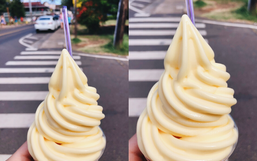 Disney parks may be temporarily closed but that isn't stopping Disney from sharing the magic with you!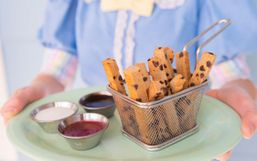 Disney theme parks may be temporarily closed, but that isn't stopping Disney from finding ways to add a touch of their magic into...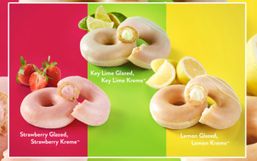 Krispy Kreme is on a mission to brighten your day with new sweet, bold-flavored doughnuts.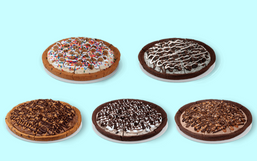 Pizza and ice cream make life just a little bit better. Whether you're looking to kick back and relax, or you need a comfort...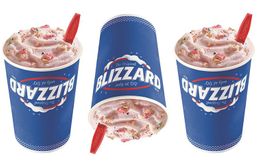 Summer is just around the corner and what better way to cool off than with a Blizzard treat in hand!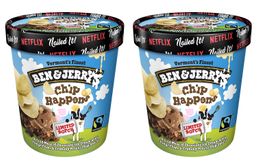 Nothing quite beats watching your favorite show with a bag of your favorite potato chips in hand, right?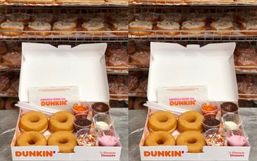 Many of us are looking for ways to keep busy and stay entertained while being at home.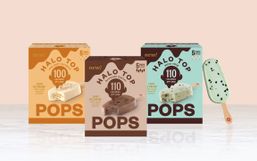 Halo Top may be one of the newer ice cream brands on the market but after launching in 2011 they quickly climbed their way to the...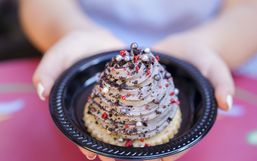 Disney parks may be temporarily closed but that isn't stopping them from helping you bring Disney's magic into your home.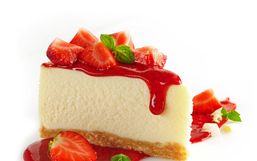 Are you running out of ideas for lunch or feeling uninspired? Why not order your favorite foods and have them conveniently...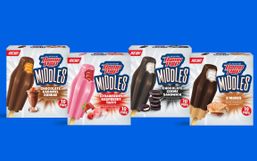 Summer is almost here and it's time to stock up your freezer with delicious treats to keep you cool all season long.