Following a new diet on your own can be hard, especially when you don't have a team of support systems at home following the diet with you. A big secret to success in following any diet always comes down to planning. If you plan your meals ahead or have an idea of what you'll make then that can help you to stay on track daily.
Whether you have a quick craving or need to feed yourself dinner mug recipes are perfect for single servings. If you're the only one in the family committed to the Ketogenic diet then these mug recipes are also great for you. From sweet to savory we have got you covered for breakfast, lunch, and dessert all conveniently made in your microwave.
1. Keto Peanut Butter Chocolate Mug Cake
If you have a Reese's Peanut Butter Cup craving but really need to stay on track with your diet then you'll love this recipe. Afterall, peanut butter and chocolate pair perfectly together.
Coconut flour is used to keep this recipe low carb and dark sugar-free chocolate chips will keep things in check. Thanks to the microwave you can enjoy this sweet treat in just 5 minutes.
http://www.forkly.com/food/keto-peanut-butter-chocolate-mug-cake/ PHOTOS AND RECIPE HERE: FORKLY
2. 3-Minute Keto Cheddar Biscuits
To help level off that sweet tooth you'll want to try out these keto cheddar biscuits. These biscuits are great for a quick and easy lunch on the go or you could enjoy them as a side with dinner.
Once again coconut flour is used to keep this recipe low-carb. There's loads of seasonings and ooey-gooey cheese that goes into making these biscuits the perfect carb quenching treat. 5 minutes is all you'll have to wait until you can enjoy these delightful cloud-like biscuits.
https://www.ketoconnect.net/low-carb-biscuits/ PHOTOS AND RECIPE HERE: KETO CONNECT
3. 5-Ingredient Mug Lasagna
Cut the carbs and save yourself some serious time and effort by making this 5-ingredient and keto-approved lasagna. It has all the fun layers we love about lasagna but without the carbs.
Instead of pasta, zucchini is used as a low-carb substitute. Once the layers of sauce, ricotta cheese and mozzarella are added you'll hardly even notice it's missing the lasagna noodles all together. If you have leftover cooked meat you could add in too but to keep this quick and easy it'll taste great without!
http://www.forkly.com/recipes/5-ingredient-keto-mug-lasagna/ PHOTOS AND RECIPE HERE: FORKLY
4. 3-Minute Keto Cinnamon Roll Mug Cake
After you enjoy an inviting dinner like lasagna you might want to finish your meal off with a sweet treat. If that craving creeps up then consider giving this 3-minute cinnamon roll dessert a try. It's keto-approved and comes together quickly.
In this recipe, almond flour is used to keep it low carb. Then all you'll need are a few other simple ingredients such as butter, ground cinnamon, stevia powder to give the cinnamon roll an authentic and desirable flavor. Don't forget the keto-approved frosting that will seriously melt in your mouth.
https://hip2keto.com/recipe/3-minute-keto-cinnamon-roll-mug-cake/ PHOTOS AND RECIPE HERE: HIP 2 KETO
5. One-Minute Keto Mug Bread
When following the keto diet it can be really hard to give up carb favorite such as bread. No need to worry we have you covered because with this quick and easy mug bread you can enjoy your favorite meals for breakfast lunch and dinner.
Almond meal (or almond flour, your choice) is what allows this bread to remain low carb. With just 3 more simple ingredients you'll have this bread made in literally 1 minute. Use this bread for a breakfast sandwich, a bun for lunch or a burger bun for dinner, the options are endless.
http://www.forkly.com/recipes/one-minute-keto-mug-bread/ PHOTOS AND RECIPE HERE: FORKLY
6. Keto Chocolate Mug Cake
Chocolate cake is a timeless treat that many enjoy for their own guilty pleasure or often while entertaining guests. If you don't' want to miss out on the fun or want to enjoy your treat secretly on your own then consider making this quick and easy chocolate cake for one.
The unsweetened cocoa powder will give this cake the rich chocolatey flavor we love about chocolate cake. Almond flour makes this cake keto-approved and if you feel the desire to make your cake a little extra sweet you may want to add a dash of erythritol sweetener.
https://ohclary.com/keto-chocolate-mug-cake/ PHOTOS AND RECIPE HERE: OH CLARY
7. Bacon, Cheddar And Chive Mug Cake
Take a break from the sweet mug cakes and try this bacon and cheddar and chive cake to quench a savory craving. Think of it as a quick grab and go breakfast muffin that will help you stay on track with your diet while leaving you full and satisfied until your next meal.
To make this recipe extra easy make sure to save cooked bacon from a previous meal to add to your mug cake. Then, with a small handful of other ingredients, you'll have this delicious meal ready in no time.
https://www.ruled.me/bacon-cheddar-chive-mug-cake/ PHOTOS AND RECIPE HERE: RULED ME
8. Keto And Gluten-Free Flaxseed Muffin In A Mug
If you prefer a sweeter start to your morning then instead of a bacon muffin you could try this recipe instead. This muffin is full of nutrition and simple ingredients for an easy breakfast or quick treat.
Instead of regular flour, this recipe requires flax meal. To give it a sweet bite frozen or fresh raspberries are added with sugar-free chocolate chips. Lastly, all you'll need is 1 minute to cook this perfect little muffin in the microwave.
https://www.sweetashoney.co/flaxseed-muffin-in-a-mug/ PHOTOS AND RECIPE HERE: SWEE AS HONEY
9. Keto Lemon Mug Cake
There's something about the flavor of lemon in a cake that makes me dream of summer whenever I'm enjoying it. If you need a lighter, brighter treat in your life you'll definitely want to try out this easy lemon mug cake recipe.
All you'll need is 6 simple ingredients and 4 minutes out of your busy day to make this delightful treat. Lemon liquid stevia will give this cake it's desirable sweet and unique flavor and coconut flour allows it to remain low carb.
https://www.sugarfreemom.com/recipes/sugar-free-lemon-mug-cake/?utm_source=MadMimi&utm_medium=email&utm_content=Sugar-Free+Lemon+Mug+Cake&utm_campaign=20150306_m124719816_RSS+Feed+for+http://feeds_feedburner_com/SugarFreeMom&utm_term=Sugar-Free+Lemon+Mug+Cake PHOTOS AND RECIPE HERE: SUGAR FREE MOM
10. Vanilla Mug Cake
Even if your entire family isn't on board with your keto diet once you start making these mug recipes they'll want in too, if you're willing to share that is. This is another great cake recipe that keeps the flavors and ingredients simple.
This recipe calls for a combination of coconut flour and almond flour to give it a cake-like texture that is keto-approved. A sugar-free vanilla extract will give it an authentic flavor and erythritol will make it extra sweet and delicious.
https://ketodietapp.com/Blog/lchf/vanilla-keto-mug-cake PHOTOS AND RECIPE HERE: KETO DIET BLO
11. Cauliflower Pizza In A Mug
When you've ordered pizza for the entire family and are fighting the urge not to derail your keto diet then stay calm and make this quick and easy pizza for one recipe. You'll devour all the same flavors you love about pizza without the guilt.
Instead of regular pizza dough, cauliflower, parmesan cheese and an egg with be used as a crust for the pizza. A minute and a half are all it takes to cook the cauliflower crust. Then, you'll add the savory layers you love about pizza, microwave for another 30 seconds and then enjoy!
https://kirbiecravings.com/cauliflower-pizza-mug-cake/ PHOTOS AND RECIPE HERE: KIRBIE CRAVINGS
12. 1-Minute Low Carb Brownie
Although on the exterior a brownie might look like another chocolate cake, to a true chocolate lover, they truly are different. This low carb brownie is not only keto approved but takes just 1 minutes to cook! That's enough time to whip up, cook, devour and no one will even have time to notice!
Chocolate protein powder and unsweetened cocoa powder give this brownie a dreamy chocolatey flavor. The coconut flour is used once again to allow it to remain low carb. Make sure to opt for sugar-free chocolate chunks to keep it keto-approved.
https://thebigmansworld.com/2017/01/28/healthy-1-minute-low-carb-brownie/ PHOTOS AND RECIPE HERE: THE BIG MAN'S WORLD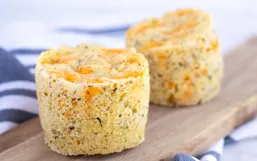 Many people are experiencing success on the Ketogenic diet and making swaps in their diet to follow it closely.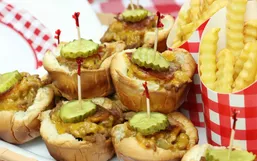 When it comes to patio weather, picnics and pool party season finger foods are an essential for these (not to mention all those...
Loving your life on the Keto diet, but desperately missing the sweet life?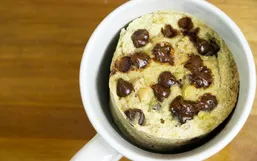 There's nothing quite like the smell of freshly baked banana bread, is there?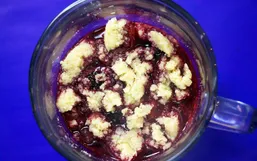 Fruit cobbler is a delicious, light dessert that is best enjoyed warm, gooey, and straight from the oven!
I'd like to personally thank whoever invented the idea of mug recipes.
Switching to any new diet can be difficult. Often, you're forced to give up the foods you love but I believe the key to success is...
Staying on track with your diet during any holiday can be extremely difficult.
Who doesn't love a good potluck? They're the best because it often means that there will be loads of food and a wonderful variety...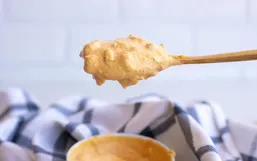 Has anyone else been seeing versions of Big Mac Sauce popping up at the grocery store? I sure have.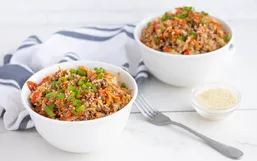 Egg rolls are delicious, let's be honest. But they're crazy unhealthy because they're usually deep fried in those little wrappers!
Many of us start our day with a trip to Starbucks and fuel our day with a cup of coffee.