Attention keto-dieters, Birch Benders has a new lineup that you don't want to miss! The natural pancake and waffle mix brand, unveiled their new microwavable cups earlier this week and they're already selling out! This new line-up offers low-carb, no sugar added, keto-friendly pancakes and baked goods that are ready to eat in just one minute!
So here's how it works: simply add water, microwave for a minute and enjoy! The lineup includes 7 delicious choices including Classic Maple Pancake, Chocolate Chip Pancake, Strawberry Shortcake Pancake, Double Chocolate Brownie, Blueberry Muffin, Chocolate Chip Cookie, and Birthday Cake. These guilt-free microwavable cups are made with clean ingredients, range between 3 and 6 net carbs per cup and will surely fulfill your breakfast, snack, and dessert needs.
The new lineup of microwavable cups is available now exclusively on the Birch Benders Website and Amazon.
"This launch is an exciting one for us," says Matt LaCasse, Founder and CEO. "We saw potential in the keto market a few years ago and experienced great success when we were the first brand to launch a Keto Pancake Mix. As one of the most trusted and respected brands in the breakfast space, we've found that our low-carb, low-sugar, clean keto products aren't just for those following the keto diet – they're loved by all consumers looking to maintain a balanced lifestyle. This is our sixth first-to-market launch, and we love continuing to surprise and delight our loyal fanbase."
Let's take a closer look at the new microwavable cups:
Classic Maple Pancake
Why wait for the weekend when you can enjoy pancakes on the go with Birch Bender's Microwavable Pancake Cups. This cup features delicious classic maple flavor — delicious!
https://birchbenders.com/ Source: Birch Benders
Chocolate Chip Pancake
You can never go wrong with chocolate chip pancakes — these will surely be a hit with children and adults alike!
https://birchbenders.com/ Source: Birch Benders
Strawberry Shortcake Pancake
Enjoy the sweet sweet flavor of strawberry goodness in these Strawberry Shortcake Pancakes.
https://birchbenders.com/ Source: Birch Benders
Double Chocolate Brownie
Chocoholics, this one is for you! Who can resist an ooey-gooey chocolate brownie, better yet one that contains only 3 grams of net carbs, and no added sugar!
https://birchbenders.com/ Source: Birch Benders
Chocolate Chip Cookie
You can never go wrong with a classic like a chocolate chip cookie. Toss the cup in the microwave and in no time your kitchen will be smelling like freshly baked cookies!
https://birchbenders.com/ Source: Birch Benders
Birthday Cake
A delicious dessert that is grain-free, has no sugar added, and contains only 4 grams of net carbs is worth celebrating! Enjoy this keto-friendly Birthday Cake any time of day, guilt-free!
https://birchbenders.com/ Source: Birch Benders
Blueberry Muffin
The perfect on-the-go snack can be ready to enjoy in just 1 minute with this Blueberry Muffin Cup. Made with real blueberries, no added sugar, and just 6 grams of net carbs per serving!
https://birchbenders.com/ Source: Birch Benders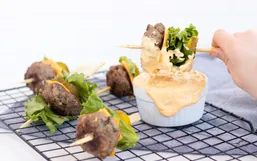 Whether you're a seasoned Ketogenic dieter, or new to the game, you've likely struggled with one major thing - SNACKS.
Summer is officially here and what better way to treat yourself and stay cool than with a refreshing beverage in hand!
We might be right in the middle of a blazing hot summer but if you find yourself missing everything about fall then we have...
Merry Christmas... in July?! Yes, Mars, Incorporated wants to get you in the holiday spirit early this year!
Every day will feel like your birthday when you enjoy a Funfetti treat!
Every coffee lover knows that there is nothing quite like starting your morning with a delicious cup of coffee to get your day...
Ice cream is one of the best treats to enjoy in the summer. It's sweet, refreshing and there is virtually a flavor for everyone!
Fairlife is renowned for its wide range of better-for-you products like their ultra-filtered milk which features 50 percent more...
Mmm... is there anything more delicious than chicken parm? It's perfectly crispy on the outside with tender chicken on the inside...
This year has proven to be the year of the tiger! Earlier this year, Netflix's American true-crime documentary miniseries, 'Tiger...
IKEA is renowned for its modern, affordable furniture but they also offer delicious food.
Chipotle Mexican Grill is committed to serving its guests fresh meal items and is dedicated to sourcing ingredients from ethically...