Suppertime can be the best time or a time of chaos and dread. Why? Because making a healthy meal before you get hangry is a real struggle! If you can make it home in time to whip up something amazing for yourself and the family in less than thirty minutes, you're a hero. To help you with your heroic dinner efforts, here are some recipes that are quick and filling for the whole crew to enjoy.
1. Hippie Macro Glow Bowl
This glow bowl will not only leave you feeling full, but energized as well! Filled with all the colors of the health rainbow, you will not be disappointed with this bowl of goodness.
http://www.theglowingfridge.com/hippie-macro-glow-bowl/ Photos and Recipe By: The Glowing Fridge
2. Lemon Chicken & Asparagus
Pack up your supper into a single square of foil and pop it in the oven or on the grill! It's a great way for supper to be ready quickly with next to no dishes.
http://www.lecremedelacrumb.com/lemon-chicken-asparagus-foil-packs/ Photos and Recipe By: Le Creme De La Crumb
3. Spiralized Sweet Potato Spaghetti Casserole
Wanting to make a casserole you can throw in the oven after work? Spiralize some sweet potato and get started on creating a healthy casserole that has all the good carbs in it along with fresh veggies.
http://www.cottercrunch.com/sweet-potato-spaghetti-casserole-grain-free/ Photos and Recipe By: Cotter Crunch
4. Creamy Dairy Free Pumpkin Alfredo
Craving something hot and creamy? Skip the fatty fettuccine sauces and make your own version that will blow your pumpkin spiced mind!
http://www.forkly.com/recipes/creamy-dairy-free-pumpkin-alfredo/?utm_medium=social&utm_source=pinterest&utm_campaign=FO_PNT_ZZ_BOTH&utm_content=pins Photos and Recipe By: Forkly
5. Sheet Pan Bruschetta Chicken
This is one of my favorites because it can be served any time of the year and is always rich in flavor.
http://damndelicious.net/2016/09/24/sheet-pan-bruschetta-chicken/ Photos and Recipe By: Damn Delicious
6. Herb Butter Salmon and Asparagus Foil Packs
You can serve up a gourmet supper without working away for hours in the kitchen. Just make sure your dinner guests don't see the tin foil!
http://www.lecremedelacrumb.com/herb-butter-salmon-asparagus-foil-packs/ Photos and Recipe By: La Creme De La Crumb
7. Spiralized Beet Quinoa Salad
This tangy and salty meal will blow your mind and revolutionize the way you look at salad. Things will never be the same after this dish is in your belly.
https://laurenkellynutrition.com/spiralized-beet-quinoa-salad/ Photos and Recipe By: Lauren Kelly Nutrition
8. Fall Harvest Protein and Veggies
Spice up your regular veggie and protein supper with some walnuts and fall seasonings! By adding new flavors to your greens, you'll never get tired of them.
http://www.forkly.com/recipes/fall-harvest-protein-veggies-sheet-pan-dinner/?utm_medium=social&utm_source=pinterest&utm_campaign=FO_PNT_ZZ_BOTH&utm_content=pins Photos and Recipe By: Forkly
9. Mexican Zucchini Burrito Boats
Pack your zucchini boats with all the fixings of a burrito and watch it be ready to serve in 20 minutes or less! You can also swap out the taco seasoning, corn and beans and replace with pepperoni and cheese for a pizza boat!
http://makingthymeforhealth.com/mexican-zucchini-burrito-boats/ Photos and Recipe By: Making Thyme For Health
10. Creamy Vegan One Pot Pasta
This simple pasta only uses one dish and is vegan as well! Serve at any gathering to please everyone's dietary restrictions.
https://veganheaven.org/recipe/creamy-vegan-one-pot-pasta-asian-style/ Photos and Recipe By: Vegan Heaven
Salads aren't just for those on a diet anymore. Properly made, they can be a filling and delicious meal.
Let's talk about superfoods. They are nutrient rich foods that will benefit your health and wellness significantly.
When you think of summertime, what's the one fruit that stands out to you as THE fruit of the summer?
When you think about health food craze foods, Zucchini is probably one of the first foods that comes to your mind.
Having a backyard garden is one of the amazing ways you can cut down on your grocery costs while filling your body with fresh,...
When everyone is back at school and extra curricular activities kick in, it can be difficult to find time to have an after school...
We hear about making sure we all eat enough healthy fats all the time, whether it's on the internet, in the news or from friends.
Finding the right protein bar that isn't packed with sugar and additives can be a difficult task.
Chickpeas are always thought of as the ingredient required to make hummus and a bunch of other healthy foods.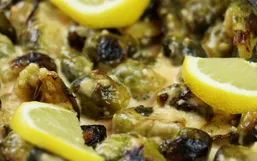 I remember when someone told me their favorite vegetable dish was Roasted Brussels Sprouts. I was not only shocked, but disgusted.
Cooking vegetables can be as simple or as complicated as you make it but at the end of the day, you want a delicious dish with the...
Have you been walking the grocery aisles and seeing "organic this, organic that"?