In case you didn't get the opportunity to enjoy Cookies and Cream flavored Twix back in the '90s, you can try them now! Mars Inc confirmed the new flavor will be a permanent addition to the Twix lineup. Instead of the iconic caramel-filling, Twix fans can enjoy a soft creme center filled with crunchy cookie bits. The chocolate bar is then covered in creamy milk chocolate.
But this isn't the only good news! In celebration of the re-release of the Cookies and Cream Twix, iconic sneaker customizer, Dominic Ciambrone (AKA, The Shoe Surgeon) partnered up with the brand to give away limited-edition Cookies & Creams Sneakers. The outer layer of the shoe features corduroy fabric which is meant to represent the bold blue wrapper that can actually be torn away to reveal a black and white polka dot pattern. The design features smooth white patent leather (meant to represent the creme center) and a black and white stingray leather (meant to represent the cookie bits). The limited-edition shoes also feature gold accents throughout that pay homage to the iconic colors of Twix packaging. The blue soles also feature the words Left Twix or Right Twix to correlate with the proper shoe. Watch the video below to catch the full design!
"TWIX Cookies & Creme pairs one of America's most popular cookie flavors with its most popular cookie bar, creating a crave-worthy treat that appeals to loyal TWIX fans and welcomes new consumers to the brand," says Michelle Deignan, TWIX Brand Director, Mars Wrigley. "Our sneaker collaboration brings our new flavor to life in a fresh, unexpected way, one that celebrates the relevance of cookies & creme within sneaker culture and the left and right roots of our brand."
Want to get yourself a pair of these shoes? Lucky fans will have the opportunity to score a pair for free starting February during in-store and online drop events. Unfortunately, the dates for these events have remained a secret until closer to event time. You can bet that the in-store drops will happen at some of the country's top sneaker shops. Keep your eyes on the brand's social channels for further announcements for these events. You can catch Twix on Facebook, Twitter, and Instagram.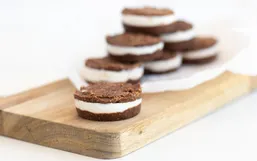 Fat bombs are an essential part of the Keto diet, allowing you to intake a large amount of healthy fats in just a couple of bites.
Summer is officially here and what better way to treat yourself and stay cool than with a refreshing beverage in hand!
The microwave is an amazing kitchen appliance. It can heat up leftovers quickly, help make delicious snacks like popcorn, and so...
Disney theme parks and Disney Cruise Lines may be temporarily closed and suspended but that isn't stopping Disney from finding...
Hard seltzers have become the trendiest drink as of late and for good reason!
It's time to check your freezers because over 59-thousand pounds of fully cooked frozen chicken nuggets are being recalled due to...
Disney's theme parks are renowned for many things from the exciting rides to friendly characters, and of course its delicious...
Dunkin' is renowned for its coffee, tea, and delicious donuts but now the chain is entering a new drink category by offering new...
Over the last few months, Disney has shared some of their most coveted recipes with their fans so you can at least feel like...
Summer is officially in full swing and now you can make the most of it with Shake Shack's new beverages!
Taco Bell is no stranger to innovative and exciting menu items.
National Lasagna Day is quickly approaching (July 29, 2020), and North Italia wants to help you celebrate!