Alright Taco Bell fans, you're in for a treat today! You can now take your favorite Taco Bell flavors on the go with you with the launch of their new Cheddar Crisps snacks! The new Cheddar Crisps are available in 2 sizes and 3 varieties all inspired by iconic Taco Bell flavors from Nacho to Mild Sauce and Fire Sauce. The snacks are made by baking 100% real cheese into delicious crisps and then are seasoned with bold Mexican spices. You can find the new Taco Bell Cheddar Crisps on the shelves in participating U.S. 7-Eleven and Kroger locations. And for even more convenience, soon you'll be able to buy them online on Amazon! Not only are the Cheddar Crisps packed with flavor but they're also keto-friendly, gluten-free, a certified vegetarian snack, and are made with no artificial flavors or colors.
"From the classic Cheesy Gordita Crunch to the Toasted Cheddar Chalupa, we've been giving fans new and exciting ways to satisfy their cheesy cravings for years. Cheddar Crisps are the next evolution to give our fans a new way to satisfy their Taco Bell cravings," said Taco Bell's Senior Director of Brand Marketing, Taylor Montgomery. "Our ability to package up the bold Taco Bell flavors fans love into these new crisps is our distinct advantage when it comes to entering this new crisps category."
Source: Taco Bell
Taco Bell Mild Cheddar Crisps
These crunchy crisps feature the flavors of Taco Bell's iconic mild sauce packet that provides loads of flavor but not too much heat.
Taco Bell Nacho Cheddar Crisps
These Cheddar Crisps are loaded with lots of cheesy flavors and are made to taste like Taco Bell's nacho cheese sauce!
Source: Taco Bell
Taco Bell Fire Cheddar Crisps
This cheesy variety features a lot of heat and is inspired by Taco Bell's fiery sauce packet.
Source: Taco Bell
Want to try making your own homemade keto-friendly cheese crisps? Check out this 1-Ingredient Keto-Friendly Baked Cheese Crisp Recipe!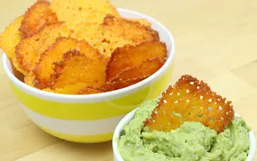 The keto lifestyle can be a crazy one to wrap your head around - where fat is good, and carbs are bad. Wait, fat is good?
Summer is officially here and what better way to treat yourself and stay cool than with a refreshing beverage in hand!
The microwave is an amazing kitchen appliance. It can heat up leftovers quickly, help make delicious snacks like popcorn, and so...
Disney theme parks and Disney Cruise Lines may be temporarily closed and suspended but that isn't stopping Disney from finding...
Hard seltzers have become the trendiest drink as of late and for good reason!
It's time to check your freezers because over 59-thousand pounds of fully cooked frozen chicken nuggets are being recalled due to...
Disney's theme parks are renowned for many things from the exciting rides to friendly characters, and of course its delicious...
Dunkin' is renowned for its coffee, tea, and delicious donuts but now the chain is entering a new drink category by offering new...
Over the last few months, Disney has shared some of their most coveted recipes with their fans so you can at least feel like...
Summer is officially in full swing and now you can make the most of it with Shake Shack's new beverages!
Taco Bell is no stranger to innovative and exciting menu items.
National Lasagna Day is quickly approaching (July 29, 2020), and North Italia wants to help you celebrate!