Alright, coffee lovers buckle up because you're in for some exciting news today! Panera just announced that they're offering free coffee all summer long to anyone signed up for the MyPanera+Coffe subscription. If you're not signed up yet, be sure to do so soon because you'll only have until Saturday, July 4, 2020, to take advantage of this offer!
Once you're registered for the MyPanera+Coffee subscription you can get any size, any flavor coffee for free once every two hours with unlimited refills in the bakery cafe. You'll definitely have plenty of coffee to pair with your favorite breakfast, treat or afternoon pick me up! The subscription regularly costs $8.99/month plus tax but Panera will pause the monthly payments for current subscribers through Labor Day so you can score free coffee all summer long!
Source: Panera
Panera offers drip and iced coffee in two blends including Light Roast and Dark Roast. Both coffee blends are available in Decaf as well as Hazelnut and yes, these are included in the coffee subscription too! Panera's coffee is made from 100% Arabica whole beans and is freshly ground every single day!
You can get your coffee in Panera bakery-cafes nationwide and you can order through Panera's website or through their app. Pick up your coffee inside the cafe or order your coffee via curbside pickup or contactless delivery — your choice! So are you ready for free coffee? Sign up HERE!
"We asked America if they wanted it, and the answer was a resounding YES—so we're excited to kick off a summer of free, unlimited premium coffee for our guests through Labor Day," said Eduardo Luz, Chief Brand & Concept Officer for Panera Bread. "This is our way of sharing the famous Panera Warmth in a new way, as we may be all celebrating summer a little differently this year."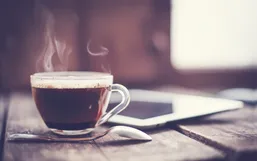 We know that you probably wouldn't give up your morning coffee—regardless of the health risks.
Summer is officially here and what better way to treat yourself and stay cool than with a refreshing beverage in hand!
The microwave is an amazing kitchen appliance. It can heat up leftovers quickly, help make delicious snacks like popcorn, and so...
Disney theme parks and Disney Cruise Lines may be temporarily closed and suspended but that isn't stopping Disney from finding...
Hard seltzers have become the trendiest drink as of late and for good reason!
It's time to check your freezers because over 59-thousand pounds of fully cooked frozen chicken nuggets are being recalled due to...
Disney's theme parks are renowned for many things from the exciting rides to friendly characters, and of course its delicious...
Dunkin' is renowned for its coffee, tea, and delicious donuts but now the chain is entering a new drink category by offering new...
Over the last few months, Disney has shared some of their most coveted recipes with their fans so you can at least feel like...
Summer is officially in full swing and now you can make the most of it with Shake Shack's new beverages!
Taco Bell is no stranger to innovative and exciting menu items.
National Lasagna Day is quickly approaching (July 29, 2020), and North Italia wants to help you celebrate!