Are you tired of forking out money every day for that beloved morning cup of coffee? Well, coffee-lovers, Panera is making your dreams come true! Starting today, Feb 27, 2020, you can score yourself a coffee subscription that costs just as much as your Netflix account and gets you bottomless coffee! The subscription will set you back just $8.99 a month (plus tax) which gains you access to unlimited coffee at more than 2,100 Panera Café locations across the U.S. But wait, the subscription gets better, not only can you get bottomless hot coffees but you can also score unlimited iced coffees and hot teas!
https://www.panera.com/en-us/home.html Source: Panera
So here's how it works: simply sign up for the unlimited coffee subscription by visiting www.panerabread.com or sign up through the Panera app. Once you complete your subscription you can get one cup of hot drip coffee, hot tea, or iced coffee every 2 hours during regular hours at participating U.S. Panera Bread bakery-cafes.
Panera recently expanded its coffee offerings by launching new coffee blends including light roast and dark roast. Along with both coffee blends, you will also have your choice of Decaf and Hazelnut. Additionally, Panera also removed the upcharge for plant-based milk in all U.S. Panera bakery-cafes. Almond milk will now be available on all coffee stations — free of charge.
https://www.panera.com/en-us/home.html Source: Panera
"Coffee is an important daily ritual for so many –it can give you a dose of optimism –it lifts you up. We kept asking ourselves, why can't it be more accessible, more affordable? Moreover, could unlimited coffee translate to unlimited optimism?'" said Niren Chaudhary, Panera CEO. "Today, we're changing the game for coffee drinkers across the country with our no compromises, unlimited subscription service—great coffee at an amazing value. We are eliminating the price barrier and the false choices between convenience and quality–between good coffee and crave-able food. At Panera, there's no more compromise—and your cup is always full."
Chaudhary added, "From helping create the fast-casual category, to technology breakthroughs with Panera 2.0, to clean food—Panera has a history of industry-leading innovation that creates value for and adds to the guest experience. Panera is a challenger brand and with unlimited coffee we are disrupting the coffee business. We are challenging the status quo because we believe everyone deserves a full cup, literally and figuratively."
https://www.panera.com/en-us/home.html Source: Panera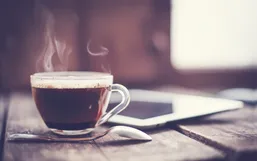 We know that you probably wouldn't give up your morning coffee—regardless of the health risks.
Summer is officially here and what better way to treat yourself and stay cool than with a refreshing beverage in hand!
We might be right in the middle of a blazing hot summer but if you find yourself missing everything about fall then we have...
Merry Christmas... in July?! Yes, Mars, Incorporated wants to get you in the holiday spirit early this year!
Every day will feel like your birthday when you enjoy a Funfetti treat!
Every coffee lover knows that there is nothing quite like starting your morning with a delicious cup of coffee to get your day...
Ice cream is one of the best treats to enjoy in the summer. It's sweet, refreshing and there is virtually a flavor for everyone!
Fairlife is renowned for its wide range of better-for-you products like their ultra-filtered milk which features 50 percent more...
Mmm... is there anything more delicious than chicken parm? It's perfectly crispy on the outside with tender chicken on the inside...
This year has proven to be the year of the tiger! Earlier this year, Netflix's American true-crime documentary miniseries, 'Tiger...
IKEA is renowned for its modern, affordable furniture but they also offer delicious food.
Chipotle Mexican Grill is committed to serving its guests fresh meal items and is dedicated to sourcing ingredients from ethically...