It's hard to resist sampling that delicious cookie dough but as we all know, it comes with a risk! Eating raw cookie dough could pose a health risk as it could contain salmonella (from raw eggs), and E. coli (from uncooked flour), but that doesn't usually stop us from sampling it. Thankfully company's like Nestlé Toll House have created safe ways for us to dig into cookie dough, guilt-free! They launched their edible cookie dough last year and now they're back again with 2 new delicious flavors; Funfetti, and Fudge Brownie!
Both new flavors are made with the same ingredients you'd find in your mixing bowl but Nestlé has found a way to make it perfectly safe to eat the dough right out of the container! It's worth noting that to make the dough safe to eat, ingredients such as eggs have been removed which means it's not recommended that you try baking these products.
These new flavors will become available nationwide at Walmart, ShopRite, Hy-Vee, Meijer and more in late January 2020. Each 15 oz. tub of Edible Cookie Dough has a suggested retail price of $5.39. To find out more read HERE.
"We wanted to expand our edible cookie dough offerings to make it even easier to enjoy your favorite dessert right out of the container," said Samantha Set, Associate Brand Manager, NESTLÉ® TOLL HOUSE®. "This expanded collection of edible cookie doughs provides even more ways to create fun, lasting memories while snacking on your favorite treats – no baking needed!"
Funfetti Edible Cookie Dough
Funfetti Edible Cookie Dough features flavors of classic sugar cookie dough filled with bright colored candy sprinkles. It's basically a party in your mouth!
Source: Nestlé Toll House
Fudge Brownie Edible Batter
Fudge Brownie Edible Batter is perfect for chocoholics. The rich decadent flavors will surely quench your next chocolate craving!
Source: Nestlé Toll House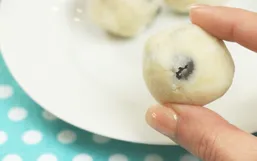 This is the part where I bashfully admit that this recipe came after a craving for cookie dough, and dietary restrictions don't...
Summer is officially here and what better way to treat yourself and stay cool than with a refreshing beverage in hand!
The microwave is an amazing kitchen appliance. It can heat up leftovers quickly, help make delicious snacks like popcorn, and so...
Disney theme parks and Disney Cruise Lines may be temporarily closed and suspended but that isn't stopping Disney from finding...
Hard seltzers have become the trendiest drink as of late and for good reason!
It's time to check your freezers because over 59-thousand pounds of fully cooked frozen chicken nuggets are being recalled due to...
Disney's theme parks are renowned for many things from the exciting rides to friendly characters, and of course its delicious...
Dunkin' is renowned for its coffee, tea, and delicious donuts but now the chain is entering a new drink category by offering new...
Over the last few months, Disney has shared some of their most coveted recipes with their fans so you can at least feel like...
Summer is officially in full swing and now you can make the most of it with Shake Shack's new beverages!
Taco Bell is no stranger to innovative and exciting menu items.
National Lasagna Day is quickly approaching (July 29, 2020), and North Italia wants to help you celebrate!