Dunkin' has provided delicious treats and energizing cups of coffee and espresso for 70 years. Over the years they have unveiled new and exciting innovations and they're not done yet! In just a few short days Dunkin' will launch a brand new way for you to start your day with an energizing beverage or to provide that perfect afternoon pick-me-up. On February 26, 2020, Dunkin' guests across the U.S. (at participating locations) will have the opportunity to indulge in the all-new Matcha Lattes.
For those that don't know, matcha is a finely ground powder of specially grown and processed green tea leaves. Unlike green tea, where the tea leaves are steeped, matcha is made by stone grinding young green tea leaf buds into a fine powder. Since the entire leaf is used in matcha rather than simply steeping the tea leaves in water, matcha is more concentrated in both caffeine and antioxidants than green tea. Dunkin' is committed to preparing its Matcha Lattes with high-quality matcha green tea powder from the Nishio region of Aichi prefecture, Japan. The Matcha Lattes can be blended with Dunkin' guests' choice of milk and can be served either hot, iced, or frozen. The Matcha Lattes feature a bold green tea flavor with a subtle sweetness and you're seriously going to love it!
"Whether you're an avid Matcha Latte drinker or are trying it for the first time, guests can expect an authentic, quality experience with Dunkin's Matcha Lattes. We're excited to offer millions of Americans a delicious new way to run on Dunkin' that perfectly matches the iconic brightness and energy that they know and love from our brand." said Paul Racicot, Director of Global Culinary Innovation at Dunkin' Brands.
In addition to the new Matcha Lattes, Dunkin' guests will also have the opportunity to try the all-new Protein Muffin. The new protein-packed treat offers 16 grams of protein per muffin and features cranberries, blueberries, sunflower seeds, and pumpkin seeds. The Protein Muffins debuts on February 26, 2020, at participating restaurants nationwide. Keep in mind, you'll want to score a Protein Muffin ASAP because this new offering is only available for a limited time!
https://www.dunkindonuts.com/en Source: Dunkin'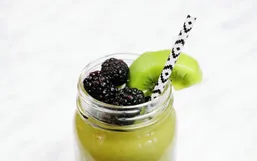 Matcha powder is high quality green tea, in powder form. Green tea is known for it's health benefits, including being a quality...
Summer is officially here and what better way to treat yourself and stay cool than with a refreshing beverage in hand!
The microwave is an amazing kitchen appliance. It can heat up leftovers quickly, help make delicious snacks like popcorn, and so...
Disney theme parks and Disney Cruise Lines may be temporarily closed and suspended but that isn't stopping Disney from finding...
Hard seltzers have become the trendiest drink as of late and for good reason!
It's time to check your freezers because over 59-thousand pounds of fully cooked frozen chicken nuggets are being recalled due to...
Disney's theme parks are renowned for many things from the exciting rides to friendly characters, and of course its delicious...
Dunkin' is renowned for its coffee, tea, and delicious donuts but now the chain is entering a new drink category by offering new...
Over the last few months, Disney has shared some of their most coveted recipes with their fans so you can at least feel like...
Summer is officially in full swing and now you can make the most of it with Shake Shack's new beverages!
Taco Bell is no stranger to innovative and exciting menu items.
National Lasagna Day is quickly approaching (July 29, 2020), and North Italia wants to help you celebrate!