Move over peppermint latte, you're about to get replaced by a new chilly treat in town! Dairy Queen announced that their new Blizzard flavor of the month is Peppermint Hot Cocoa. This delicious flavor can be enjoyed nationwide at participating locations but it's only here for December so scurry on down to your local Dairy Queen to try it!
The Peppermint Hot Cocoa Blizzard features Dairy Queen's iconic vanilla soft serve with swirls of candy cane pieces, loads of choco chunks and cocoa fudge for good measure. This delicious blizzard is served with a dollop of whipped topping and candy cane pieces.
https://www.dairyqueen.com/us-en/Menu/Treats/?localechange=1&gclid=EAIaIQobChMIsd6l8dyZ5gIVVtyGCh34iQ9PEAAYASAAEgKkefD_BwE& PHOTO HERE: DAIRY QUEEN
But the Peppermint Hot Cocoa Blizzard isn't the only limited-time holiday treat you can enjoy. Dairy Queen also has a delicious Snickerdoodle Cookie Dough Blizzard that you'll enjoy too! This Blizzard starts with their famous vanilla soft serve and is mixed with chunks of snickerdoodle cookie dough and a dash of cinnamon sugar. Whichever flavor you choose to enjoy will surely excite your taste buds and will put you in the holiday spirit!
https://www.dairyqueen.com/us-en/Menu/Treats/US/Blizzards/Limited-Time/Snickerdoodle-Cookie-Dough-Blizzard-Treat/ PHOTOS HERE: DAIRY QUEEN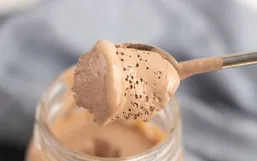 We love a good copycat recipe here at Forkly and this Wendy's chocolate frosty is no exception!
Summer is officially here and what better way to treat yourself and stay cool than with a refreshing beverage in hand!
The microwave is an amazing kitchen appliance. It can heat up leftovers quickly, help make delicious snacks like popcorn, and so...
Disney theme parks and Disney Cruise Lines may be temporarily closed and suspended but that isn't stopping Disney from finding...
Hard seltzers have become the trendiest drink as of late and for good reason!
It's time to check your freezers because over 59-thousand pounds of fully cooked frozen chicken nuggets are being recalled due to...
Disney's theme parks are renowned for many things from the exciting rides to friendly characters, and of course its delicious...
Dunkin' is renowned for its coffee, tea, and delicious donuts but now the chain is entering a new drink category by offering new...
Over the last few months, Disney has shared some of their most coveted recipes with their fans so you can at least feel like...
Summer is officially in full swing and now you can make the most of it with Shake Shack's new beverages!
Taco Bell is no stranger to innovative and exciting menu items.
National Lasagna Day is quickly approaching (July 29, 2020), and North Italia wants to help you celebrate!